Amanda Brugel is a well-known Canadian TV personality currently famous among her fans for starring in the CBC comedy series Kim's Convenience. Besides, the beautiful and glamourous actress, Brugel is also the star of the dystopian tragedy TV series, The Handmaid's Tale. She has played several roles in numerous films and TV series to date, such as Sex After Kids, Maps to the Stars, and Suicide Squad. Apart from that, Amanda Brugel is also an activist who founded a non-profit organization that focuses on women and children named Brugs Army.
The Pointe-Claire, Quebec-born actress Amanda Brugel is currently in a romantic relationship with filmmaker and actor Aiden Shipley. However, before this, she was in a marital relationship with a police officer, Marcel Lewis, from 2008 to 2018. With him, Brugel has two biracial sons, Jude Mason Lewis and Phoenix Lewis. Here, know some more about Amanda Brugel's sons and her journey of motherhood.
ALSO READ: Paul Scheer's Sons With His Wife, June Diane Raphael
Amanda Brugel's First Child With Marcel Lewis
The star of the CBC comedy series Workin' Moms, Amanda Brugel married her former husband, Marcel Lewis, on 7 March 2008. Few years after their marriage ceremony, Amanda gave birth to her first son with Marcel, Jude Mason Lewis, in 2011.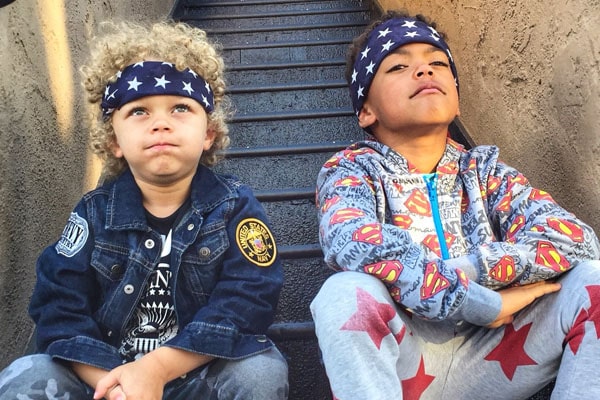 As mentioned by Amanda on her Instagram page, while wishing Jude on his birthday, she sang 'Childhood Dreams' by Nelly Furtado to him every single day until he arrived on this earth. She even sang the same song in the car on the way to the hospital. According to Amanda, one verse of that song saying 'I can't believe my shoulders would carry such important weight' still rings true.
As Amanda Brugel's son, Jude Mason Lewis is too young to have a social networking page, his mom posts his pictures on his behalf. Seeing the pictures of Jude, posted by Amanda, it seems like he has a great passion for modeling and sports too.
View this post on Instagram

Furthermore, Jude has an interest in political affairs as well. He even watches the Daily Show and Shaun King's posts regularly because he enjoys talking about the real things with his mom every now and then. It seems like Jude is making his mom proud from such an early age with his acts like a mature and responsible man.
Brugel's Second Child With Marcel Lewis
Some years after Jude Lewis's birth, Amanda welcomed her second child with Marcel, again a son, Phoenix Marcel, in 2014. The then-husband-wife duo, Amanda and Marcel, raised their sons together till their separation in 2018. After their divorce, they shared the custody of both of their sons.
Amanda Brugel's son, Phoenix, enjoys going for outings and enjoying nature with his caring mom, Amanda, and big brother, Jude. He is just six years old at the moment. So, currently, Phoenix does not seem to have as much interest in politics as his brother. However, watching his talks with his mom on Instagram, it seems like he also shows interest in current affairs.
Unicorns and Birthday Cake. Happy 4th Phoenix!!! pic.twitter.com/FpsFcAJ0Av

— Amanda Brugel (@AmandaBrugel) June 20, 2018

While talking to the US Weekly, Amanda revealed that her son, Phoenix Lewis is more of the artistic type, unlike his brother Jude, who is into soccer. The youngest Lewis sibling, Phoenix, enjoys doing art, dancing, and surfing as well. He and his big brother even help their momma, Amanda, to get dressed.
Nevertheless, Amanda Brugel's sons, Jude Lewis and Phoenix Lewis are growing up so well. Their celebrity mom is not only giving them a luxurious lifestyle but also good manners and practical knowledge. She understands them and helps them out whenever there are in confusing regarding their daily life activities. Amanda even organizes family awards so that her sons learn about the acting field.
Name Meaning: Jude Mason Lewis And Phoenix Lewis
The Greek origin name Jude means praised. Likewise, the middle name Mason refers to the one who works with stone.
The masculine given name Phoenix is of Greek origin, which means dark red.
Explore more on eCelebrityBabies and get updates on Celebrity Babies, Celebrity Parents, Celebrity Siblings, and More.