Arianna Vogel is the daughter of the famous American professional basketball coach Frank Vogel. Currently, Frank is the head coach of the Los Angeles Lakers of the NBA. Before this, he also worked as the head coach of other prestigious basketball teams, including Indiana Pacers and Orlando Magic. Moreover, Vogel served as an assistant coach of the Pacers, Philadelphia 76ers, and Boston Celtics for some years.
The two times NBA All-Star Game head coach Frank Vogel is in a happy marital relationship with Jenifer Vogel since 2002. Together the Vogel couple has two beautiful daughters who are in their teenage at the moment. In this article, learn some facts about Frank Vogel's daughter, Arianna Vogel, and get to know her better.
Arianna Vogel Is Frank Vogel's Youngest Daughter
As we mentioned earlier, Frank and Jenifer Vogel are parents to two daughters. And Arianna is the youngest of two Vogel siblings. She has an elder sibling named Alexa Vogel, who is just two years older than her.
At the moment, Arianna is in her eighth grade while her sister, Alexa in high school. After school, the two Vogel sisters enjoy spending time together. According to some sources, both are on the soccer team of their respective schools, and they are very good at it. Sometimes, Arianna's father, Frank, even separates some times from his busy schedule to coach her and her sister's soccer teams.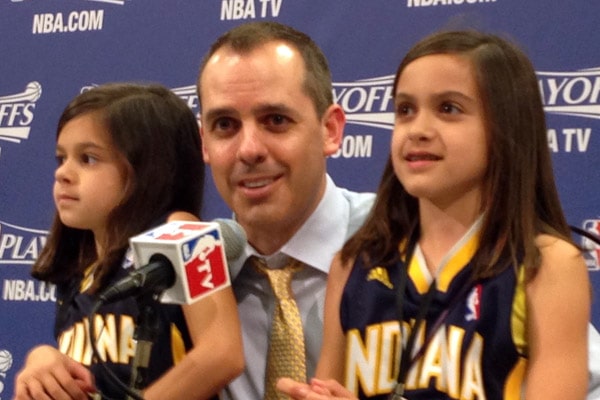 Although Arianna and her family members are quite secretive while it comes to their family life, it seems like they share a great bonding together. In some interviews, Arianna expresses her sadness for not spending much time with her dad due to his busy schedule. However, whenever Frank goes home, she is also happy that he gives all of his time to have fun with his family.
She Enjoys Playing Basketball With Her Dad
Like many other kids of the sports personalities, Frank Vogel's daughter, Arianna, has also inherited some sports genes from her dad. Besides being a good soccer player, she is also passionate about basketball as well.
Being the main coach of a professional basketball team, Arianna's dad, Frank, usually have to stay away from his family. However, whenever Frank goes home after his work, he makes sure he gives enough time to play with his daughters. Arianna often gets to shoot hoops with her professional basketball coach dad in their yard.
ALSO READ: Brittany McMillan, Facts About Nate McMillan's Daughter With Michelle McMillan
Sometimes, Arianna makes so many shots that she thinks that she stole some professional basketball players' talent. But, there is still much more to accomplish for Arianna to be professional at a basketball game. We hope she will shine out soon, just like her dad, with her special and unique talent in the media.
You Can Connect With Her In TikTok
Frank Vogel's daughter, Arianna, usually stays away from media attention. Moreover, her privacy-loving parents also always make sure that her father's popularity does not affect her everyday life. So, Arianna does not appear much in the limelight. She does not seem to be available on social media handles like Facebook, Instagram, and Twitter.
However, Arianna uses the present day's trending fun app TikTok.

As of November 2020, Arianna Vogel's TikTok has 445 followers with over 18K likes on her videos. She can often be seen doing acts on her TikTok, wearing t-shirts and the hoodies of the team where her father coaches.
Also, according to Arianna's TikTok, she is also available on Snapchat under the username Ariv101.
Name Meaning: Arianna Vogel
The greek origin girl name Arianna means most holy in Hebrew.
Explore more on eCelebrityBabies and get updates on Celebrity Babies, Celebrity Parents, Celebrity Siblings, and More.