James Spader, born James Todd Spader, is a notorious American producer and actor. Spader is mainly famous for his eccentric roles in American blockbuster films, including the drama Sex, Lies, and Videotape. The extremely secretive Boston-born actor and producer James Spader is a father to three talented sons with two different women. Spader has two sons from his previous marriage with the home designer Victoria Kheel and one son with his current partner, former actress, and sculptor Leslie Stefanson.
In this article, be familiar with all the three James Spader's sons, Sebastian Spader, Elijah Spader, and Nathaneal Spader.
Eldest Son Of James, Sebastian Spader Is A Realtor
Sebastian Spader is the first-born of The Blacklist star James Spader, with his ex-wife, Victoria Kheel. The estranged couple, James and Victoria, welcomed their son, Sebastian, in 1989. After the separation of the former husband-wife duo, Sebastian lived with his mother. Currently, James Spader's son, Sebastian, is a grown-up man and resides at his home in Los Angeles, California.
Sebastian Spader worked in the American Entertainment Industry for a couple of years in the past. He served as a producer and director for some acclaimed movies, including Machete, Slice, and Ridden. Moreover, he was also the producer at the comedy production company, Funny Or Die. Also, he is the former post-production at Warner Brothers Television and Troublemaker Studios.
However, later, James Spader's son, Sebastian, decided to develop a career in the field of real estate. During the beginning of his career in the real estate business, Sebastian worked as a realtor at Kelly Williams Realty Inc. There, he provided his service for one and a half years, from October 2016 to March 2018. Currently, Sebastian Spader is a realtor at The Agency RE.
James Spader's Son, Elijah, Is A Member Of the LDYKLR Band
Elijah Spader is the second child of James Spader with his former spouse, Victoria Kheel. The divorced couple gave birth to their son, Elijah, in 1992, long before their official separation in 2004. Like his elder brother, Sebastian, Elijah also stayed with his mom, Victoria, after his parents' disunion.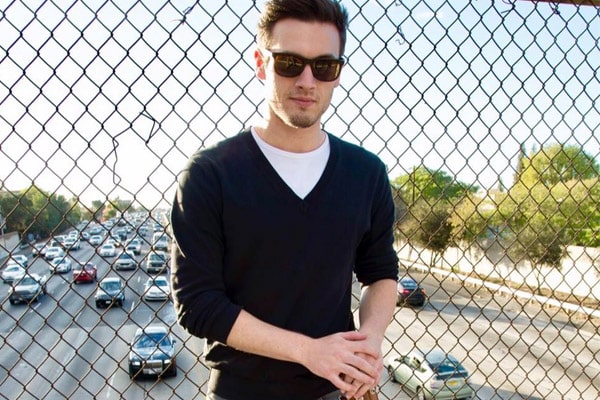 James Spader's son, Elijah Spader, is also a part of the American Film Industry. Unlike his father, Elijah works in the music department. He is best identified for his work as a music artist in films such as The Marksman and The Blacklist. Moreover, Elijah is also the re-recording mixer and sound designer of the upcoming sci-fi drama With Night Comes Wolves.
Furthermore, Elijah Spader is a member of the alt-rock based in LA, LDYKLR, short for Lady Killer, for a couple of years now. His band is a group of five talented musicians, Madison as lead vocalist, Nick Sampson as a drummer, Jesse as a bassist, and Josh and him as a guitarist.
The Emmy Award Winner, James' Youngest Son
James Spader became a proud father for the third time with the birth of his son, Nathaneal Spader. The multiple-award winner, James, and his current partner, Leslie, gave birth to their son, Nathaneal, on 31 August 2008. Probably, he is the last child of James Spader. In an interview with Rolling Stone, James said that he believes in negative population growth.
ALSO READ: Jolie Jones Levine's Sons, Donovan Levine, And Sunny Levine
James Spader's son, Nathaniel Spader, now 12 years old, lives with his parents in Greenwich Village, New York City. He rarely shows off in public with his celebrity mom and dad. Moreover, James and Leslie also seem to prefer their son to avoid unnecessary media reach and live his everyday life like a normal child. As for now, James Spader's son with Leslie Stefanson might be focused on his studies and enjoying his childhood peacefully.
Although all the three sons of James Spader have not appeared in the social media handles together to date, we hope they share great brothers bonding behind the camera. We wish James Spader's sons all the best for their future endeavors.
Furthermore, James' kids are also close to their aunts, Libby Spader, and Annie Spader.
 Name Meaning: Sebastian, Elijah, Nathaneal Spader
The name Sebastian originated from the Greek word sebastos, which means honorable or venerable. Similarly, Elijah is a Hebrew for My God is Yahweh. And, the name Nathaneal's meaning is God has given.
Explore more on eCelebrityBabies and get updates on Celebrity Babies, Celebrity Parents, Celebrity Siblings, and More.