Will Ferrell, born John William Ferrell, is an acclaimed actor, producer, comedian, and writer of the American Entertainment Industry. He gained fame in the film industry in the mid-90s as a cast member of the NBC late-night TV sketch comedy show Saturday Night Live. Besides, Ferrell is also famous for his performance in comedy shows and movies, including Talladega Nights, The Other Guys, and Anchorman 2: The Legend Continues. Moreover, he is also the co-founder of the comedy website Funny or Die.
The receiver of a star on the 2015 Hollywood Walk of Fame, Will Ferrell has a brother named Patrick Ferrell. Here, know if Will Ferrell's brother, Patrick Ferrell is also in the Entertainment Industry or pursuing his career in any other field. Also, get to know some more about Patrick's professional and personal life.
Will Ferrell's Brother Is A Producer And Director
Since his early childhood, Patrick Ferrell, Will Ferrell's brother, always had a dream to be in the American Film Industry. Growing up, he attended the University of Southern California, from which he completed a Bachelor of Arts in Film, Cinema, and video studies. Later, he did a Masters of Fine Arts in Cinematography and Film/Video Production from the same university.
With an aim to be a successful film producer and director, Will Ferrell's sibling, Patrick, worked in the Paramount Pictures. He was the production assistant to Amy Heckerling in the 1998 American comedy film A Night at the Roxbury.  Then, Ferrell served as an assistant of his brother, Will Ferrell, in the movies Anchorman: The Legend of Ron Burgundy and Wake Up Ron Burgundy.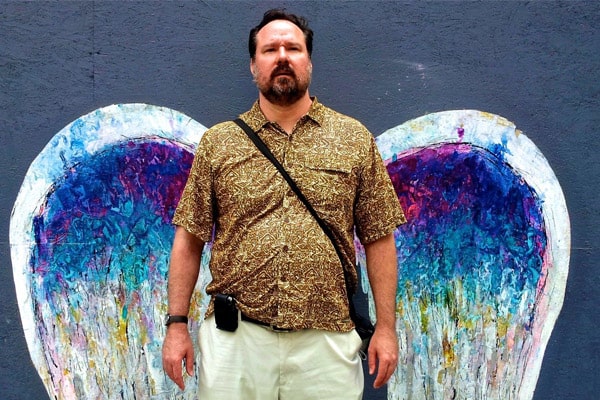 Furthermore, Patrick Ferrell also worked in various other production companies to sharpen his film producing and directing skills. He was a freelance production assistant at MTV Special and Production Events. Similarly, Patrick worked at Gary Sanchez Productions as a production assistant on the Netflix series Dead To Me. Also, he was the production assistant on the feature film, Birds of Prey, and ABC Series, Schooled.
Moreover, Patrick is also the producer of short movies, including Liberty and No Age for Us. As a director, he directed short comedy projects like Allergy Guy and You're Welcome.
Patrick Is Also An Actor
Like his celebrity brother Will Ferrell, Patrick Ferrell has also performed in several movies as an actor. Although he has not achieved much success like Will, he has shown his acting skills in numerous movies. Patrick debuted as a voice actor in the 1995 video game The Berenstain Bears Get in a Fight. Some years later, in 1998, he portrayed the role of a waiter in the film A Night at the Roxbury, starred by his brother, Will Ferrell, and actor Chris Kattan.
ALSO READ: B.J. Novak's Brother, Lev Novak Is A Stand-up Comedian
Furthermore, Will Ferrell's brother, Patrick Ferrell, also appeared in the films Elf, The Other Guys, and many other blockbuster movies starred and produced by his brother. Patrick's latest screen appearance was in the 2017 short comedy movie Richual, portraying the role of a club bouncer. Since then, Patrick Farrell does not seem to have done any major roles. However, we hope he is still continuing his acting career in unreleased short dramas and movies.
Youngest Son Of Lee Ferrell and Kay Ferrell
Patrick Ferrell is the youngest brother of Will Ferrell. The Ferrell brothers were born to the Righteous Brothers keyboardist Roy Lee Ferrell and teacher Betty Kay Ferrell. Lee and Kay welcomed Will on 16 July 1967 while Patrick joined the family on 17 May 1970 in Irvine, California.
Patrick and Will undoubtedly share a great bonding together. As an elder brother, Will always supported Patrick in his career in the Entertainment industry. As mentioned above, the brothers' duo has even worked together in numerous films as both chose the same field as their career. The only difference is that Will earned a bit more fame and success than Patrick. But, we hope Patrick will also gain similar success and fame in the near future.
Patrick Ferrell's Married Life
Going through the social media profiles of Will Ferrell's brother, Patrick Ferrell, he seems to be a married man. He often poses with a woman who looks like his wife. However, there is no proof of it. As a result, Patrick Ferrell's wife and children's exact name and details are not available to the public to date.

But, we know that Patrick Ferrell is the brother-in-law of Will Ferrell's wife, the Swedish actress Vivica Paulin. Patrick is also a proud uncle to Will Ferrell's sons, Magnus Paulin Ferrell, Axel Paulin Ferrell, and Mattias Paulin Ferrell. We hope we will soon get to know about Patrick Ferrell's children and their names too.
Nevertheless, Patrick is currently living a peaceful life far from the media reach in Los Angeles, California. And, probably, he might be working secretly on some projects to shine out soon in the American Entertainment Industry just like his brother.
Explore more on eCelebrityBabies and get updates on Celebrity Babies, Celebrity Parents, Celebrity Siblings, and More.