John Cena is not just famous for being one of the most impressive professional wrestlers in WWE. He has also gained fame as a successful actor in the American Entertainment Industry. He is famous for his roles in hit films such as The Marine, 12 Rounds, Legendary, and Fred: The Movie. Besides, John Cena is also a television presenter who currently hosts Nickelodeon's Are You Smarter Than a Fifth Grader?
Almost every people are well-known about the professional career of John Cena. However, very few know about his personal life. Moreover, few might know that he has four brothers, and one of them is a police officer. In this article, here, indulge yourself in some unknown facts on one of John Cena's brother, Dan Cena, who is in the West Newbury Police department.
John Cena's Brother, Dan Cena, Is A Police Sergeant
A graduate of Pentucket High School, Dan Cena is currently a West Newbury police sergeant since 2008. He joined the West Newbury Police department at the age of 19 in 1998 to work in the post of West Newbury dispatcher and an auxiliary police officer. Two years later, in 2000, John Cena's brother, Dan, began working as a reserve police officer and then Newbury Police Officer for some period.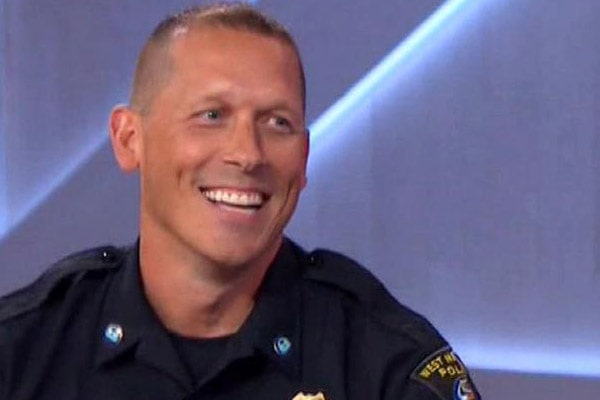 In 2008, the holder of a criminal justice degree from UMass-Lowell, Dan Cena, got promoted to the post of West Newbury Police Sergeant. The selectmen appointed him in the Sergeant position because they felt Dan would be the best fit for the Newbury Police Department due to his knowledge and experience of the job.
Furthermore, Dan Cena has no-trouble establishing himself in West Newbury because he grew up in the same town. Also, he knows the area and the people of the West Newbury community well due to which he is performing his duty as a Police Sergeant so well.
Dan Cena Frequently Appears On Media With His Celeb Brother
John Cena's brother, Dan Cena, appears alongside his celebrity brother frequently on several TV programs. In 2019, he attended the Kelly Clarkson Show alongside his famous brother, John Cena.
In the show, Dan and John Cena discussed their childhood days in West Newbury with their three other brothers, Sean Cena, Steve Cena, and Matt Cena. Moreover, John also made some touching comments about Dan in front of Kelly Clarkson and the show's viewers. He expressed his appreciation for Dan's dedication to his profession and how he handles his work and family so well.

In Kelly Clarkson's show, John also revealed that Dan is a wonderful husband, a brother, and a father too. However, as Dan Cena is a secretive person and is not that active on any social networking handles, details on Dan Cena's wife and children are still not available for the public yet.
John Cena's Brother, Dan Cena's Devastating Head-On-Crash In 2007
In 2007, while John Cena's brother, Dan Cena, was working just after Super Bowl Sunday, he had a horrific car crash. After issuing a summons in Byfield, Dan stopped to borrow a flashlight from Officer Larry Kent. Few seconds after getting the flashlight from Kent, who was on a Verizon traffic detail along Route 1, Dan was hit head-on by a Chevy S-10 driven by Rowley's Robert Nolan. 
Dan Cena's car spun sideways, ending up in both lanes. His airbags deployed, and the wiring of his car caught on fire. Dan tried to open his car's doors, but he could not open it as his left leg was broken in several places below his knee. Simultaneously, Officer Steve Jenkins rushed to the accident site and helped Dan out of his cruiser, dragging him a safe distance away from it.
The rescuers moved Dan to the nearest Anna Jaques Hospital in Newburyport. He had a couple of operations on his left leg. Later, Dan told in his interviews that after his accident, he felt that no one is safe from drunk drivers, not even the police. So, after the accident, he and his wrestler brother organized an event to raise money for alcohol education and drunk driving prevention.
Furthermore, to prevent hit and run cases resulting from drunk drivers, Dan donated top quality breathalyzing equipment to various police departments around the Newbury area.
In the present, Dan Cena is fully recovered from his injuries brought up by his accident. And he is continuing his duty as a West Newbury Police Sergeant with dedication. He is the pride of the Cena family.  
Explore more on eCelebrityBabies and get updates on Celebrity Babies, Celebrity Parents, Celebrity Siblings, and More.