John Cena is the world-famous and one of the beloved professional wrestlers of all time. Besides, he has gained fame as a celebrated action actor for several films, especially in later years. His movie credits go to blockbuster films such as The Marine, 12 Rounds, and Legendary. John Cena is undoubtedly a famous guy. However, while his career accomplishments are familiar to many, his personal life is often not talked about.
There are some personal facts about John Cena, which you might be unfamiliar with. Few only know that he has a younger brother named Matt Cena, who is way more buffed than him. Here, in this article, learn some facts on John Cena's brother, Matt Cena.
Matt Cena Is Seems More Buffed Than His Wrestler Brother
John Cena might be one of the most massive, muscular guys in the wrestling business. However, when compared to his brother Matt Cena, Matt seems more athletic than him. The Cena brothers frequently appear together in various muscle and fitness magazines, showing their muscular body.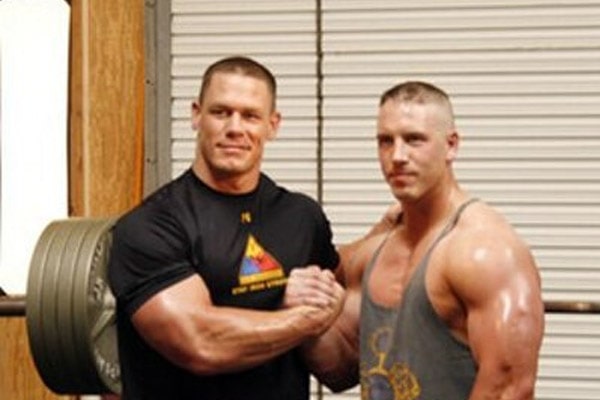 Seeing the photos of John Cena and his brother, Matt, on the fitness magazines' cover page, we can see it clear that Matt has a more fit body than John. As Matt Cena used to participate in various body builder's competition in the past, it might have helped him to have such a fit and attractive body than his brother.
Nevertheless, both John Cena and his brother, Matt Cena, are doing great in their own field. And, both are achieving success and fame in their respective profession.
John Cena's Brother, Matt Cena's Profession
Although John Cena's brother, Matt Cena, has a way more muscular physique than him, he does not seem to have chosen wrestling as his career like his brother. Currently, he is working as an automotive service director in Ira Toyota Manchester at Group 1 Automotive. 
According to the Linkedin Profile of Matt Cena, he joined Group 1 Automotive as an automotive service director in June of 2019. Besides, he is also an automotive service advisor at Ira Motor Group and Mortage Loan Officer at Bank of England Mortgage.
Flashback to my Gold's Gym Venice days. Comparing guns with none other than Big Poppa Pump pic.twitter.com/rxNxiDV6yH

— Matt Cena (@Matt_Cena) June 7, 2019

Before that, John Cena's brother, Matt Cena, served as a service manager in Jaffarian Volvo Toyota from October 2018 to May 2019. He was also the service advisor for Mercedes-Benz of Manchester and Boston and the service consultant of the Village Automotive Group.
Matt Cena is very dedicated to his work in the Automobile field for nearly a decade. For the dedication and hard work of Matt Cena to his profession, he won the Operator of the Year in 2013.
Aforementioned, besides flourishing a career in the Automobile Industry, Matt Cena also gets featured in various fitness magazines along with his wrestler brother John Cena.
Matt Cena's Wife And Children
John Cena's brother, Matt Cena is a married man and a father of two daughters. He often shares photos of his wife and little princess on his social media pages. Although there is no other information revealed on the public about Matt Cena's wife, seeing the posts on Matt's Twitter, we can be clear that the couple were married in 2009. Matt never forgets to wish his spouse on their anniversary every year via his social media pages.
View this post on Instagram

According to Matt Cena's Twitter, his elder daughter's name is Shelby Cena and the younger one's name is Noelle Cena. Noelle was born in February 2014. Both little girls of Matt love spending their time together with their mom and dad.
Matt Cena's Siblings
Matt Cena is one of the five sons of Carol Cena and John Cena Sr. Besides John Cena, Matt Cena has three more handsome brothers named Dan Cena, Steve Cena, and Sean Cena.
Matt Cena and John Cena's brother, Dan Cena, is a police sergeant based in West Newbury. The graduate of Pentucket High School, Dan Cena holds a criminal justice degree from UMass-Lowell.
Similarly, Steve Cena is a voice actor and a puppet artist. Talking about their youngest brother, Sean Cena, he is a cancer survivor. Sean had an inoperable stage 3 brain tumor, but he stood up against it and beat it later.
So, in terms of physical strength, all five Cena siblings are muscular and have an impressive body. However, in terms of physical appearance, John Cena's brother, Matt Cena, looks way more buffed.
Explore more on eCelebrityBabies and get updates on Celebrity Babies, Celebrity Parents, Celebrity Siblings, and More.