Almost no one worldwide is unknown to the world-popular American professional wrestler, actor, and television presenter, John Cena. Currently, endorsed to WWE on a part-time deal, John Cena also hosts the Are You Smarter Than a Fifth Grader? on Nickelodeon. Besides, he has also performed in numerous notorious films.
Wrestler John Cena, born on 23 April 1977, is the second child of Carol Cena and John Cena Sr. His mom, Carol, is of English and French-Canadian descent, whereas his father, John Cena Sr, is of Italian ancestry. Here, keep reading to know more about John Cena's parents, Carol and John Cena Sr.
John Cena's Father, An Announcer
Born on 16 June 1944 in Massachusetts, USA, John Cena Sr, aka Johnny Fabulous. is a former wrestling announcer. He is famous for being an announcer for Chaotic Wrestling: Cold Fury 7 (2008) as Johnny Fabulous. According to some sites, John Cena Sr is also the former commissioner of East Coast Championship Wrestling (ECCW).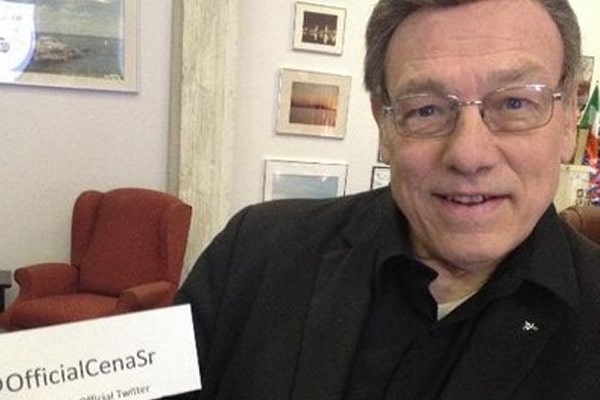 Besides, John Cena's father is also best-known for his appearance in the WWE Raw and WWE: Superstar Collection-John Cena. Apart from that, he has performed in other unreleased short movies and minor commercials as well.
John Cena's Mother
Aforementioned, John Cena's father, John Cena Sr., was an announcer for various wrestling series. While talking about John Cena's mother, Carol Cena does not just attend her sons' shows to support him, but she is also a woman full of skills.
Carol Cena, born Carol Frances Lupien, frequently appears on various TV programs alongside her celebrity son, John Cena. Moreover, she works in commercials with her son. Don't miss beautiful Carol Cena advertising Hefty's Ultra Strong bags in the video below.

Focusing on John Cena's mama's early life, Carol is one of four daughters of Ulysses John Lupien, aka Tony Lupien and Natalie Nichols. Her dad was a talented baseball player who played for several reputable teams, including the Boston Red Sox and Philadelphia Phillies. It is said that Lupien was the inspiration behind his grandson John Cena's career in sports.
According to Carol Cena's Facebook profile, she resides in her Massachusetts home built by her son, John Cena. The Washington Post notes that John Cena secretly built the house for his mom to foster a closer relationship with her.
John Cena And His Siblings Grew Up With Their Father
Aforementioned, John Cena is the second child of his parents. Besides, he has an elder brother Steve Cena, and three younger siblings; Dan Cena, Matt Cena, and Sean Cena. When John Cena was a schoolboy, he witnessed his mom and dad's divorce.
After the official separation of John Cena's parents, he lived with his father. He rarely used to meet his mom, Carol, due to which his bonding with her became weaker. However, as an adult, he reunited with his mom. Aforementioned, John also built a house for her as an appreciation for raising him and his siblings.
Senior John Cena Attacked By Randy Orton In 2014
The WWE Universe always appeared to be divided when Randy Orton and John Cena unveiled a bad-blood rivalry against each other. To resolve the dispute, WWE officials lined up Cena and Orton on various occasions. However, battling inside the ring did not seem to be enough for the WWE experts. On one occasion, Randy Orton attacked John Cena's father, John Cena Sr. while he was present amongst the spectators.
John Cena's father was immediately taken under medical consideration, and the medical team updated that he was strong enough to bear such heavy blows from Orton. After all, he is the father of one of the toughest wrestlers in WWE, and he became fine soon. However, Orton was highly condemned for his action by WWE fans around the globe.
So, this is all we have about John Cena's mother and father for now. If we get any updates about them, we will surely share them with you.
Explore more on eCelebrityBabies and get updates on Celebrity Babies, Celebrity Parents, Celebrity Siblings, and More.