Delora Vincent has made a professional career for her work as an astrologer and a psychologist. However, she is not only famous due to that. Delora has gained a considerable amount of limelight as Vin Diesel's mother.
As we all know, Vin Diesel is one of the most famous actors in the world, but what do we know about Vin Diesel's momma? Keep on reading to learn!
Vin Diesel's Mother Has Been Married Twice
Delora Vincent is currently married to her African-American lover, Irving Vincent. The lovely pair shared the wedding vows in 1970. Her husband is an acting instructor, as well as a theater manager. Together, Delora and Irving share two children, a son named Tim Vincent and a daughter named Samantha Vincent.
View this post on Instagram
Previous to her marriage with Irving, Delora was married to another man. But, until now, she has not even disclosed the name of him. With her unknown partner, she gave birth to fraternal twin sons, Paul Vincent and Vin Diesel (July 18, 1967). However, their marriage life didn't last long due to some undisclosed reasons, and they eventually divorced.
As of now, Delora lives together with her current husband, Irving, and four children.
Delora Has A Close Bond With Her Children
Every mother has a very close relationship with their children. And just like that, Delora Vincent also has a close bond with her children, especially with her eldest son, Vin Diesel.
Vin Diesel, his mother, and his family can be seen together on numerous occasions, whether at some shows or some functions. On 26th August 2013, Vin Diesel and his mother and other family members were seen together in Culver City, California, when the star actor was honored on the Hollywood Walk Of Fame.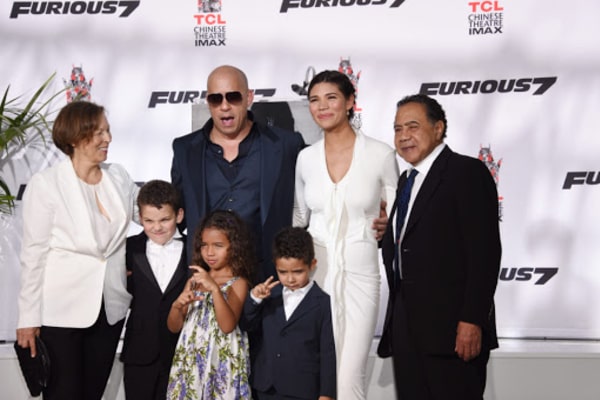 Furthermore, on 26th September 2017, the amazing mother-son duo was seen again when both of them attended the world premiere of HBO's 'Spielberg' at Paramount Studios in Hollywood, California.
She Has Three Grandchildren From Son, Vin Diesel
Mark Sinclair, professionally known as Vin Diesel, has given a lot of happiness to his mother, Delora Vincent. With his model partner, Paloma Jimenez, Vin Diesel has been blessed with three lovable children, a son, and two daughters.
Vin Diesel's mother, Delora Vincent, first became a grandmother on 2nd April 2008 as Paloma gave birth to an adorable daughter named Hania Riley Sinclair. Likewise, in 2010, Delora got the chance to play with her grandson named Vincent Sinclair Diesel. And in 2015, Delora got her third grandchild, a daughter named Pauline Sinclair, whom Vin Diesel named after his late Fast and Furious' co-star Paul Walker.
She Has A Healthy Net Worth
Delora Vincent lives a very private life, but it doesn't become much of private life for the mother of such a world-renowned actor. We all know that Vin Diesel's mother works as an astrologer and a psychologist. And, by seeing her lifestyle, it can be guessed that she is well paid for her profession.
However, it is still unknown how much her net worth is. Nevertheless, as per Celebrity Net Worth, Delora Vincent's son, Vin Diesel, has a hefty net worth of $225 million.
Nevertheless, we can see how much love Vin Diesel has got for his mother Delora. And she must also be very proud of her son. Let's hope to see the bond between the mother-son duo remains the same till the eternity of time.
Explore more on eCelebrityBabies and get updates on Celebrity Babies, Celebrity Parents, Celebrity Siblings, and More