American actor and comedian Aziz Ismail Ansari is best known for his role as Tom Haverford on the NBC series Parks and Recreation. He is also the main character and creator of the Netflix series Master of None. Ansari has also won two Emmys and a Golden Globe, which was the first award received by an Asian American actor for acting on television.
Aziz has been definitely a top-notch actor through his own dedication and hard work but have you ever wondered what role did his family play in his success? Aziz was born to parents Fatima Ansari and Shoukath Ansari, and also has a brother, Aniz Ansari. Even though the Ansar family is pretty secretive about their personal life, we have accumulated some interesting facts about Aziz Ansari's father, so let's check that out.
Aziz Ansari's Father Shoukath Is A Gastroenterologist
Like many other Indians out there, Aziz Ansari's father, Shoukath Ansari, is also a doctor. Shoukath is a gastroenterologist as well as the medical director of Hamlet, N.C.-based Sandhills Endoscopy Center. He completed his medical degree from Tirunelveli Medical College in India before coming to the US and completing his residency at multiple places like St. Francis Medical Center, Capital Health Medical Center, University of South Carolina School of Medicine, Columbia, Richland Memorial Hospital, and William Jennings Bryan Dorn Veterans Hospital.
After completing his fellowship at the University of South Carolina, Dr. Ansari has been the medical director of the Sandhills Endoscopy center for 32 years. He also won the physician of the year in 2017 awarded by Richmond Memorial Hospital. Shoukath has been a dedicated doctor for decades, and he will continue to serve for many more to come.
Shoukath Became A Breakout Star In Master of None
Aziz Ansari's father Shoukath's career is not bounded by his medical practices. Apart from being an acclaimed doctor, he also gained his respect as a breakout star from his son's show Master Of None. Shoukath is cast as the father of Aziz's character, and the fans are in absolute love with him. He brings his genuinity to the acting, making his acts truly authentic.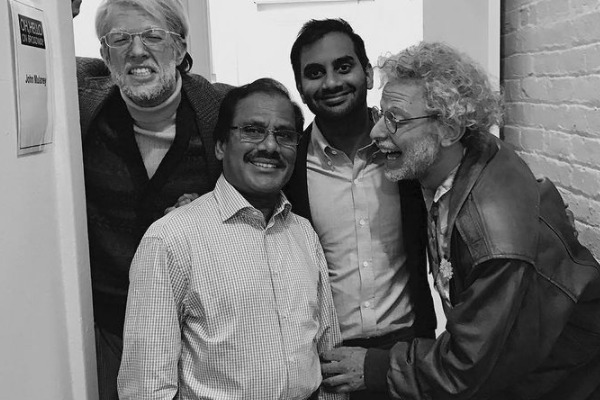 Aziz previously complained that every other time when Indian parents are portrayed on TV or film, they are not three dimensional and filled with hacky ethnic jokes. By casting his real parents on the show, he wanted to bring the genuinity to the table. Master Of None's major success is due to the fact that we get to see a real family on TV interacting and reconciling their problems. It's truly amazing to see Shoukath's performance on the show.
Also Read: What Was Penelope Ann Miller's Mother Beatrice Miller's Career Like? 
He Beat 18 Actors To Play Himself
Well, playing the role of the lead character's father did not come easy for Shoukath. According to his interview with The Vulture, he had to beat 18 other actors for bagging the role. Shoukath mentioned that he beat all those auditioners by just being himself. His audition scene was playing with an iPad, and he had always struggled with technology, so the role came naturally to him. Aziz had also given him the heads-up telling him to do not act and just be himself.
Shoukath Was Snubbed From An Emmy Nomination
Shoukath's first-time performance as an actor in the Master Of None was critically acclaimed, and viewers also loved to see him on the show. Many speculated that he should get nominated for an Emmy for Outstanding Guest Actor, but he could not make the final cut. The actor cum doctor also had a billboard dedicated for himself, which surely made Aziz a proud son.
View this post on Instagram

Master of None brought the two Ansaris closer to each other, and the younger one lobbied hard for his father's Emmy nomination, so it was pretty sad to see him getting snubbed from the final cut.
Explore more on eCelebrityBabies and get updates on Celebrity Babies, Celebrity Parents, Celebrity Siblings, and More.