Andy Samberg is an American actor who has redefined comedy in the last decade. The multitalented actor first gained fame as a crew member of Saturday Night Live, which is the show he was also a fan of during childhood. He has appeared in some major successful projects throughout recent years, which include the likes of Hotel Transylvania, Brooklyn Nine-Nine, Hot Rod, I Love You, Man, and That's My Boy.
While Andy's professional life has been nothing short of a fairytale ride, his personal life remains pretty secretive. He was born and raised in a Jewish family to father Joe Samberg and mother, Marjorie Samberg. The Sambergs are pretty secretive about their personal life, but we have collected some interesting information about them, so let's have a look at Andy Samberg's parents with this short article.
Andy Samberg's Father Joe Is A Professional Photographer
Andy Samberg's father, Joe Samberg, is a professional photographer. Joe was a pretty well-known photographer back in the day and was known for his fabulous portraits.  He also has his own Instagram handle dedicated for his photographs. Joe has been in the photography scene for more than five decades and has shot in the streets and in the studio, from Manhattan to Berkeley to Jerusalem. He began his photographic career in New York and has shot portraits of New Yorkers in their diverse attitudes and styles.
Joe still enjoys photography thoroughly. Some of his best photos are available to see on his website. Joe opened his own studio and launched a series of still life photographs. The photos were in deeply saturated colors which were pretty reminiscent of the hues, lights, and deep shadows of Dutch still life painting. He subsequently incorporated live models into his studio work afterward.
Andy must be proud that his father has been doing some great works over the years. From hippies in Berkeley to the busy life of New York, Joe's photography takes a different approach to the world we see.
Andy's father, Joe, documented 1970s Telegraph Avenue
After moving to Berkeley from New York in the 70s, Joe decided to document the street kids of Telegraph Avenue during the hippies era. Samberg documented their world of sex, drugs, and broken couches, for three years. Joe even has an exclusive interview during his time photographing the Avenue. Joe moved from New York to Berkely in hopes of getting some grass and making his miserable life happier. During his college years, his girlfriend had died in a car accident when they were just having talks about getting married. Andy's father Joe went through another tragedy when his mother also left the world due to cancer.
View this post on Instagram
Joe's tragedy was the reason he got involved in the life of drugs and the reason for his move to Berkely. He had no money to eat properly and used his earnings primarily for drugs, film, and then only food. He had no cloth except the ones he was wearing. Joe liked to call himself a hip rather than a hippie because he wore black boots with black jeans and a leather jacket.
Joe's photograph documents some really fascinating things about the hippie culture of telegraph avenue. When he first got there, he was fascinated by them and started to take pictures. He never sold his camera for drugs and thanks to that we got to see some really great depiction of Telegraph Avenue. Joe has now diversified his photography from black and white portraits to colorful depictions of paintings, he has done it all.  It is quite thrilling to know Joe had to go through so much and made his incredible career as a photographer. Joe believes there was a revolution after the hippie culture and even though it was not the type they expected.
Andy's High School Teacher Told Joe That Andy Was The Funniest Guy He Ever Met
We all know how charmingly comedic Andy is but, his father has known this for a very long time. While Andy was not the brightest student in his class at Berkeley High School, he was certainly the funniest. Andy's highschool teacher also mentioned this to his father by saying, " Don't worry about Andy's failing grades because he is the funniest person I have ever met." Even his teacher had already seen what Andy was capable of. Well, Joe certainly wasn't happy back then, But he must be a proud dad now that Andy has been doing so great with his life.
Also Read: Whoopi Goldberg's Parenting Journey From Being A Mother To Being A Great Grandmother 
Andy Samberg's Mother Marjorie Just Recently Got To Know Her Biological Parents
Andy Samberg's mother, Marjorie, who worked as an elementary teacher, just got to know about her biological parents in 2019. The big reveal about Marjorie's parents came as a surprise for her and happened through the episode of Finding Your Roots. Marjorie's biological parents were Salvatore Maida, who immigrated in 1925 from Italy, and a German Jewish refugee Ellen Philipsborn.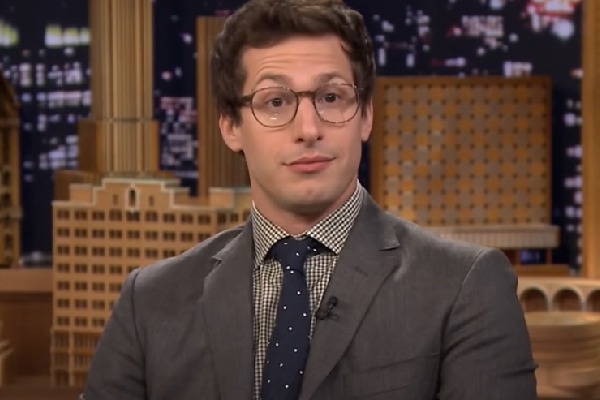 Marjorie already knew she was adopted from a very young age while living with her adoptive parent. Her adoptive father, Alfred J. Marrow, was an industrial psychologist and a philanthropist, so Marjorie got to live a pretty decent life. Even though Marjorie had long accepted her loss of biological parents, she was still curious about their identity, which finally came to an end a year ago.
Joe And Marjorie Are Parents Of Three
Andy Samberg's parents Joe and Marjorie, share three children together. The Jewish couple gave birth to two daughters Darrow Samberg and Johanna Samberg, except their son Andy. The family of five is closely bonded together, making it really wholesome. The only bummer now is that the Sambergs are totally secretive about their family relationship, so we have to wait for more info to come out.
Explore more on eCelebrityBabies and get updates on Celebrity Babies, Celebrity Parents, Celebrity Siblings, and More.