Carol M. Baldwin is mostly known among peoples as the proud mother of the renowned Academy-Award nominated actor, Alec Baldwin. Alec Baldwin's mother, Carol, is also known as one of the toughest women who not only fought but eventually overcome the problems she faced while being associated with breast cancer.
Hailing from Syracuse, New York, Carol was born on 15th December 1929 as Carolyn Newcomb Martineau. She is the daughter of Marion Alice Sidnam and Daniel Leroy Martineau.
Carol M. Baldwin's Husband Was Diagnosed With Cancer Too
Not only Alec Baldwin's mother, Carol M. Baldwin, was diagnosed with cancer, but his father, Alexander Rae Baldwin Jr., was also diagnosed with it too. But, in the case of his father, he had lung cancer.
Carol M. Baldwin shared the wedding vows with Massapequa High School's teacher and football coach, Alexander Rae Baldwin Jr., in 1954. Their marriage was lasting very happily until Alexander caught up with Lung Cancer. Unfortunately, in 1983, cancer took away his life, ending his 29 years of marriage with Carol.
Carol Is A Proud Mother Of Six
While she was married to Alexander Rae Baldwin Jr., the Syracuse University alumna, Carol M. Baldwin got to be the proud mother of six children; Alec Baldwin, Stephen Baldwin, Daniel Baldwin, William Baldwin, Jane Sasso, and Elizabeth Keuchler. Alec Baldwin's mother, Carol, and her late husband raised their children mostly in Massapequa, Long Island.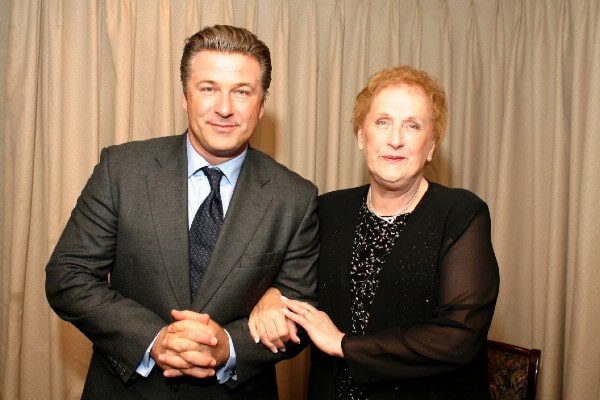 However, after her husband's death, the family of seven moved back to Carol's hometown of Syracuse, New York. Talking about now, each family member can self-sustain due to the massive progress in their own lives and careers.
Alec Baldwin's Mother Is The Founder Of The Carol M. Baldwin Breast Cancer Research Fund, Inc.
Carol M. Baldwin was diagnosed with breast cancer in 1990, just seven years after her husband died of lung cancer. Thereafter she realized how hard and challenging it was to live with it. Nonetheless, she never gave up and eventually defeated cancer.
After knowing all the challenges a breast cancer patient has to face, mainly financially, she decided to open her arms to the world and founded The Carol M. Baldwin Breast Cancer Research Fund, Inc. in 1996. Due to her effort and dedication, Alec Baldwin's mother was honored with a breast-care center of her name, Carol M. Baldwin Breast Care Center.
Since then, The Carol M. Baldwin Breast Cancer Research Fund, Inc. has helped breast cancer patients by supporting them financially. Moreover, until now, it has been able to fund more than $2.35 million to almost 47 research places so that the cure could be found.
Carol's Eldest Son, Alec Baldwin, Has A Remarkable Net Worth
Alec Baldwin is the eldest son, and maybe the most well-known children of Carol M. Baldwin and late Alexander Rae Baldwin Jr. During his teenage years, Alec was very much into acting, so much so that he ended up making acting as his passion. His acting career started very slowly, but he started to gain more popularity as he moved further.
In 2003, he played the role of Shelly Kaplow in the movie entitled The Cooler. His acting in the movie was so fascinating that, in 2004, he was even nominated for an Academy Award.
View this post on Instagram
Alec has played in numerous TV series and movies and has managed to win the hearts of millions of fans around the world. With such popularity, it can be made sure that he has a healthy amount of net worth in his name, which as per Celebrity Net Worth is $60 Million.
Well, Carol does, at times, attend functions and programs alongside her family.  Nevertheless, we can see that she is now enjoying her life away from the hassle of the media limelight, and we hope she remains healthy for the rest of her life.
Explore more on eCelebrityBabies and get updates on Celebrity Babies, Celebrity Parents, Celebrity Siblings, and More.