Johnny Knoxville is pretty much an iconic hero to a lot of people worldwide. He is famous for performing in numerous stunt-themed notorious television series and films. Knoxville's acting credits go to several blockbuster films, including Men in Black II, The Ringer, and A Dirty Shame. He is mostly recognized for co-creating and starring in the MTV reality stunt show Jackass Presents: Bad Grandpa as Irving Zisman.
In the Jackass film series, the character of Irving Zisman, played by Knoxville, is a foul-mouthed, sex-crazed old man who repeatedly sets a bad example for his grandkids. However, in real life, Bad Grandpa star Johnny Knoxville is an exemplary parent to three kids.
Here, get familiar with how Knoxville is regarded as a good father of his three children, along with some more facts about him.
Johnny Knoxville Is A Devoted Family Man
Stunt performer and Comedian Johnny Knoxville married two different times. His first marriage was with Melanie Lynn Cates in 1995, with whom he eventually separated in 2006 and divorced in 2008. Soon after divorce from Cates, Knoxville fell in love with Naomi Nelson. The couple married on 24 September 2010.
From Knoxville's first marriage with Melanie Cates, he has a daughter named Madison Clapp, born in 1996. Madison, Johnny Knoxville's daughter, is an actress and a writer known for the movies Jackass 3.5 and Jackass 3D.
View this post on Instagram

Similarly, Johnny Knoxville is a father to two children with his present wife, Naomi Nelson. Johnny Knoxville's son with Naomi, Rocko Akira Clapp, arrived in 2009, before his parents' wedding. Knoxville's son weighed in at 8 lbs and measured 20 inches long at the time of his birth. Johnny and Naomi's second child, daughter Arlo Clapp, made the family complete on 6 October 2011.
Johnny Knoxville enjoys spending time with all of his three kids. They often get spotted in public together, attending various red carpet events and other similar occasions. Moreover, Knoxville and his kids can be seen doing standard father-children bonding activities like shopping, traveling to various destinations, and horseback riding.
Johnny Has A Tattoo Of His Elder Daughter's Name On His Chest
The Bad Grandpa star Johnny Knoxville was a gambling addict when he was in a marital relationship with his first wife Melanie Cates. It was obviously creating a huge problem for both Melanie and Johnny. So, after the birth of their first child Madison, Knoxville decided to get himself together. He did not want his child to grow up in that environment with him being an addict.
As a result, Johnny Knoxville inscribed his daughter, Madison's name on the left side of his chest. It always reminded him of his daughter, and eventually, it made him stand up on his feet again and quit gambling.
ALSO READ: Avu Chokalingam, Mindy Kaling's Father
His Real Name Is Not Johnny Knoxville
The man whom we know with the name Johnny Knoxville was actually born with the name Philip John Clapp. He got his name after his father, Phil Clapp. Johnny felt that his real name does not seem to fit the younger Clapp's daredevil ways. He always wanted to have a name that fit his mischievous persona just if he was able to gain fame in the upcoming days.
So, Knoxville used his middle name as inspiration for his first stage name 'Johnny.' Likewise, he used his hometown, Knoxville, a famous place in Tennessee, as his last name. In this way, Johnny Knoxville came into existence, which is now a household name every parent wants their children to avoid. But, it is also the name who young kids want to be like when they mature.
Knoxville Received Only A Grades In High School
When someone puts their lives in danger for their careers, mainly if it is not obligatory, people question their intellectuality. Undoubtedly, no one would put themselves in danger if they were smart. Everyone knows that Johnny often put his life or parts of his body in danger to get better film footage. However, that does not mean Knoxville is not intelligent.
You might be surprised to know that stuntman Johnny Knoxville was a brilliant student and was always adored for his intelligence during his school and high school. He used to get A grades in high school regularly. This practical comedian was always on top of his studies and even got a scholarship to a school for dramatic arts. However, after half a month, he left school to flourish in stunt-related projects and finally achieved success after lots of trials and efforts.
Well, we can hope that Johnny Knoxville's children are also good as him in their studies.
Johnny Has Been Busy In Other Projects Lately
It's no secret to people worldwide that Johnny Knoxville lived a dangerous life. Furthermore, he sustained many injuries doing various extreme stunt work. But every cast member of Jackass is not as lucky as him. In 2011, one of the daring cast members of Jackass, Ryan Dunn, lost his life in a car accident. After Dunn's sudden demise, Johnny and his other cast members slowed down for additional Jackass progress.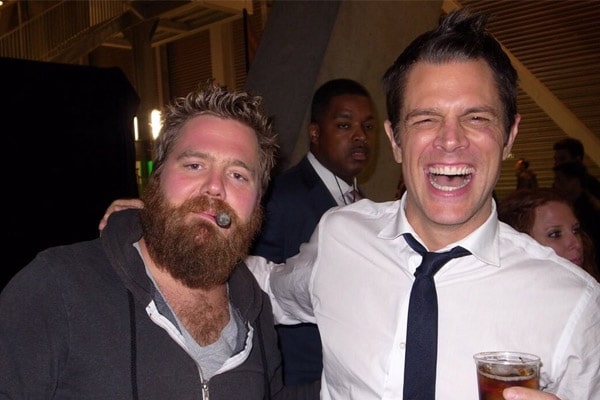 Thus, Johnny Knoxville began other projects to occupy his time. One of his works also includes writing, which he started in 2010. Knoxville has written about several television shows and films over the years. Father of three, Johnny is the writer and producer of the American comedy film Action Point and the upcoming reality tv series Jackass 4.
Furthermore, Johnny Knoxville also has his three children to invest his time on. Currently, he usually stays away from the bright spotlight to give his time to his kids, proving he is really a great dad.
Explore more on eCelebrityBabies and get updates on Celebrity Babies, Celebrity Parents, Celebrity Siblings, and More.