Mindy Kaling is an Indian descent American artist who is also a writer, director, comedian, producer, and voice artist. Kaling is known for her works in The Mindy Project, Champions, Four Weddings, and a Funeral, and Never Have I Ever. However, she is most famous for the role of Kelly Kapoor; she played on the famous American sitcom 'The Office.'
Apart from her works, she is known for being a bold and outspoken lady. She has always been the inspiration for American ladies of Indian (non- American) descent. You might be curious to know about the parents of such a brave and bold lady. Here we present facts about The Office star Mindy Kaling's father, Avu Chokalingam.
Avu Chokalingam Is The Father Of The Famous Mindy Kaling
As aforementioned, Avu is the father of Mindy Kaling.  He was born as Avupaiappan Chokalingam on February 14, 1945, in India. He was married to Dr. Swati Chokalingam, a gynecologist, but she passed away in 2012 due to pancreatic cancer.
With his late wife Swati, he had given birth to two children: Mindy Kaling and Vijay Chokalingam. Mindy is one of the most renowned comedic voices of her generation with a nomination for a Primetime Emmy Award for Outstanding Writing in a Comedy Series and five times nominations for Outstanding Comedy Series. In contrast, his son Vijay works as an educational consultant and a life coach. Avu's son Vijay is also famous for faking his identity to get into a medical school.
Avu Chokalingam is most famous for being the father of Mindy Kaling. This widower of Dr. Swati currently lives in Massachusetts, United States.
Avu Is An Architect
Mindy Kaling's father, Avu Chokalingam, is an architect by profession. He loved the midcentury modern style of architecture, and that was reflected in Mindy's childhood home, which was furnished with Danish pieces. In fact, Kaling's apartment in New York City is partly an inspiration from her father. In addition, Kaling told One Kings Lane, a home decor company:
"At one point in my life I loved wallpaper and gilded things, but now, as a 37-year-old, I am gravitating more toward my dad's style"
Mindy Kaling used the term "Moroccan midcentury" to describe her inspiration.
ALSO READ: Like Nastya's Anastasia Radzinskaya, Only YouTube Creator To Have 4 Diamond Play Buttons
Mindy Kaling's Father, Avu Chokalingam, Met Kamala Harris
On one fine day, before the elections, Kamala Harris stopped by Mindy Kaling's home in Los Angeles. She was there to catch up on life, cook an Indian cuisine Masala Dosa, and talk about their Indian heritage and upbringing.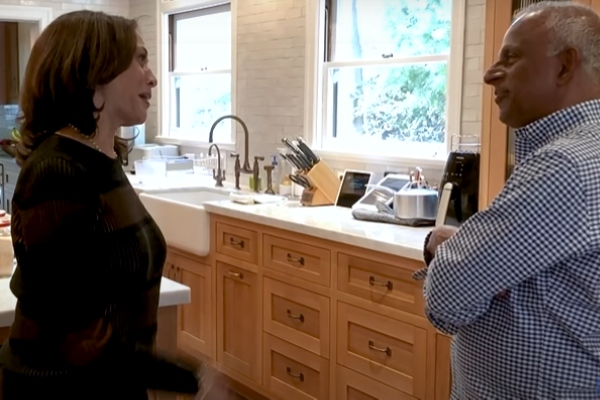 Towards the end, the two of them were surprised by a special guest appearance from Kaling's father, Avu Chokalingam. Furthermore, Avu and Kamala had some great conversations together and were really happy to see each other. It's not a small thing to have met the Vice-President (to be) of the United States.
Avu Chokalingam Appeared In One Episode Of The Famous T.V. Series 'The Office'
Kaling's dad, Avu Chokalingam, and mother Swati Chokalingam even appeared in one episode of season 3 of The office. This episode was about Diwali, an Indian festival of lights. Avu and Swati appeared as the father of Kelly Kapoor (Mindy herself). Ryan, from The Office, tries to impress them, but they try to hook Kelly up with some young Indian doctor. Furthermore, Avu and Swati ended up on the episode after disappointments from auditionees, who were either too theatrical or too amateur for the role.
Avu now lives alone in his house in Massachusetts. He has a great relationship with his daughter Mindy Kaling.
Explore more on eCelebrityBabies and get updates on Celebrity Babies, Celebrity Parents, Celebrity Siblings, and More.