If you are someone who loves the American TV industry, you must have heard the name Mindy Kaling. Kaling is best known for the role of Kelly Kapoor; she played on The Office, an American mockumentary sitcom. Additionally, she is also a writer, comedian, producer, director, and voice artist whose notable works can be seen in The Mindy Project, Four Wedding And A Funeral, Champions, and Never Have I Ever.
Mindy Kaling is an American artist of Indian descent. Apart from her works, Kaling is also famous for being a bold and brave lady who has become an inspiration to thousands of non-American ladies who are trying to make their careers in the USA. Mindy has most of her traits, like braveness, from her late-mother Swati Roysircar Chokalingam. Does the list of acquired traits include acting as well? Was Mindy Kaling's mother, Swati Roysircar, also into acting? Read the whole article to find the answers.
Mindy Kaling's Mother Swati Roysircar Chokalingam Was A Gynecologist
Swati Roysircar, born on August 15, 1945, was born to mother Amita Roysircar and her father (whose name is unknown). Swati had three siblings Partho Roysircar, Gargi Roysircar, and Sreela Roysircar. She chose to pursue the medical field and had an MD in gynecology. Furthermore, after completing her degree, Dr. Swati Roysircar worked in St. Elizabeth's Hospital, Brighton, MA, as a physician, for nearly thirty years.
Swati was married to Avu Chokalingam. Avu is an architect currently based in Massachusetts. The couple had given birth to two children: Mindy Kaling and Vijay Chokalingam. Mindy is the reason why Swati and Avu are well- known. This The Office Royalty has also been nominated for a Primetime Emmy Award for Outstanding Writing in a Comedy Series. But on the flip side, Swati's son, Vijay, is quite famous for faking his identity as a black man to get into a medical school.
ALSO READ: More Information About Robert G. Wilson and Shay Cooper, The Parents Of The Office Star Rainn Wilson
Swati Roysircar Had Appeared In One Episode Of The Office Alongside Her Husband, Avu Chokalingam
Kaling's mother, Dr.Swati Roysircar, and father Avu Chokalingam appeared in one episode of The Office. It was in Season 3, where Swati and Avu starred as the parents of Kelly Kapoor (played by their daughter Mindy herself). The episode was related to Diwali, an Indian festival of lights, where her on-screen partner Ryan tries to impress Kelly's parents. But like stereotypical Indian parents, they try to set her up with some Indian guy, who is a doctor.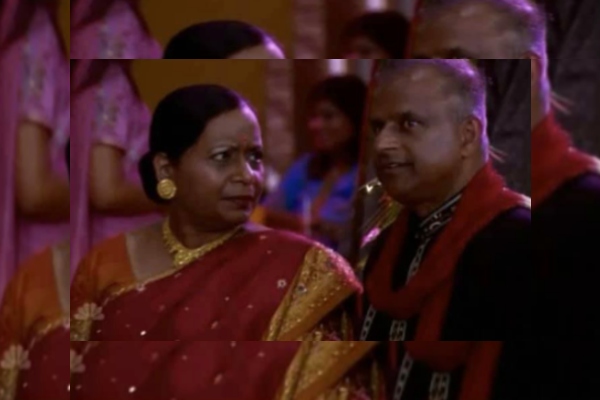 Swati was not into acting before this. She and her husband were, of course, not prepared for acting in one of the most famous series of that time. This talent of theirs was discovered accidentally when the lines of auditionees were full of outliers. Not to forget, Swati and Avu did a pretty good job there.
Mindy Kaling's Mother, Swati Roysircar, Died Of Pancreatic Cancer
Dr. Swati Roysircar was diagnosed with pancreatic cancer in May 2012. Soon after 8 months of diagnosis, Swati passed away on January 30, 2012, at St. Elizabeth's Hospital, where she used to work. Those 8 months were very tough for Swati and her family.  In addition, Swati's daughter, Mindy Kaling, even took leave from her work to spend time with her ailing mother. Undoubtedly, Swati's death left an unfillable void in the hearts of her closed ones.
Mindy was devastated after her mother's death, and it took her some time to continue her job and life. After the great loss, Mindy decided to help others impacted by pancreatic cancer. She helps raise awareness and advocates for more research towards this cancer. She teamed up with the Pancreatic Cancer Action Network (PanCAN) as a brand ambassador. Moreover, Mindy even honored her mother by naming her daughter Katherine Swati Kaling.
Explore more on eCelebrityBabies and get updates on Celebrity Babies, Celebrity Parents, Celebrity Siblings, and More.