Known for her role in the NBC sitcom Parks and Recreation, Aubrey Plaza is a comedy maestro of her generation. Her role of April Ludgate in the series, which aired from 2009 to 2015, was critically acclaimed by many, and fans too loved it. Apart from that, she has also had a variety of roles in other movies and TV shows such as Mystery Team, Funny People, Scott Pilgrim vs. the World, and Monsters University.
Aubrey was born to her parents David Plaza and Bernadette Plaza. Her father and mother raised three kids, including Aubrey. Aubrey Plaza's father has been supporting his children throughout their life, so let's have a look at some interesting facts about David Plaza that may surprise you.
David Is A Financial Advisor
Aubrey Plaza's father, David, works as a managing director and wealth management advisor at Bank of America Merrill Lynch. David has been working in the finance sector since 1986. Before becoming a managing director at Merrill Lynch, he worked at Dean Witter Reynolds Inc. as a senior financial advisor. He was also recognized by Forbes Best-in-State Wealth Advisors 2019 list as well as Barron's America's Top 1200 Financial Advisors 2019 ranking.
David graduated from Drexel University with a degree in Finance and Marketing in 1986. He has been fully committed to his work for more than 25 years and will continue to do so for many more. His main work focuses on servicing the wealth management needs of affluent families, senior corporate executives, business owners, and tax-exempt organizations.
Aubrey Plaza's Father, David Plaza, Is Puerto Rican
David Plaza is of Puerto Rican heritage as his father Ismael was born in Arecibo, Puerto Rico — 50 miles west of San Juan. Ismael moved to the US at the age of 17 and settled in Philadelphia, and still lives there as a retiree. Being of Puerto Rico, the Plaza family has a lot of relatives living there and were devasted during Hurricane Maria. Even though the Plazas there are living in well-constructed homes and are pretty much well-off, but the other families were totally devastated after the incident.
View this post on Instagram

David also organized a special private screening of his daughter's film, the comedy/drama 'Ingrid Goes West' at Theatre N (1007 N. Orange St., Wilmington), to collect funds for the affected region. He has a special place for Puerto Rico in his heart, and so does the Plaza family.
Also Read: Who Is Will Ferrell's Father Roy Lee Ferrell?
David Remarried In 2017 With Mihaela Ghetau
David married his longtime partner Mihaela Ghetau, who works in accounting at the University of Delaware, in 2017. The wedding was a visually breathtaking ceremony. The couple tied the knot at the end of a flower-lined aisle at The Union League of Philadelphia. David and Mihaela first met at the inaugural Delaware Burger Battle back in the summer of 2012. At the time he and Mihaela were both in a relationship with someone else but things changed after six months when David became single. The couple dated two years before their engagement and finally married in 2017.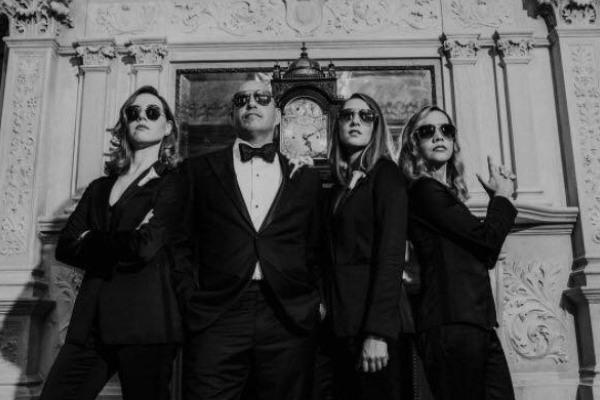 The wedding was elegant, and David was accompanied by his three daughters, Renee Plaza, Aubrey and Natalie Plaza, as the 'groomswomen,' which really looked amazing. Aubrey attended the Conan show after the wedding and expressed how wonderful the wedding was.
David and Mihaela have been married for more than three years now and are happily living together. The couple went to France for their honeymoon and returned back to their home in Wilmington, Delaware, after the trip.
Explore more on eCelebrityBabies and get updates on Celebrity Babies, Celebrity Parents, Celebrity Siblings, and More.