Amy Poehler is one of Hollywood's favorite persons. She is famous for her performance on Parks and Recreation and Saturday Night Live. The Upright Citizens Brigade Theatre founder, Amy Poehler, was born to Eileen Poehler and William Poehler, who were school teachers. Amy Poehler's father, William, is of German, Portuguese, and English blood. He grew up in foster care. However, later his childhood became more stable.
Here, learn more about Amy Poehler's father, William Poehler, including his professional and personal life.
Amy Poehler's Father Was A Teacher
The SNL star, Amy Poehler's dad, William Poehler, was born William Grinstead Poehler on 21 September 1946 to Carl Poehler and Anna Marie Andrews. He grew up in Hamilton, MA, with his sister Peggy Laroche. Growing up, William Poehler attended Hamilton-Wenham Regional High School. Later, he joined Boston State College, where he met his wife, Eileen Poehler.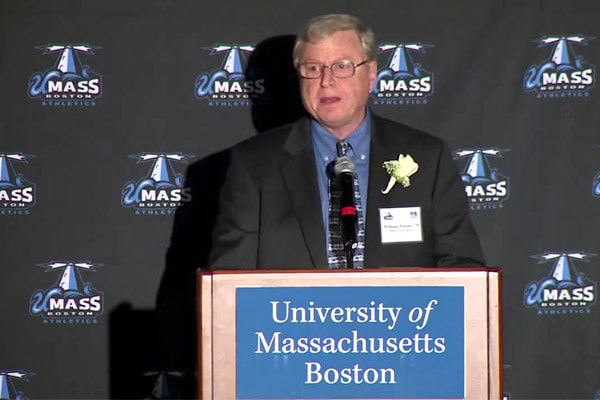 After graduating from Boston College, William pursued his career as a teacher alongside his partner, Eileen. William served as an elementary school teacher for over two decades. After retiring from the teaching profession, William started working as a financial planner. However, it is a mystery if he is still continuing the same job or not in the present.
Nevertheless, William Poehler seems to be currently living a happy life at his home in Burlington, Massachusetts, where his daughter, Amy, grew up.
ALSO READ: Richard Kent Adams, Amy Adam's Father
William Poehler Was A College Basketball Player
You might be surprised to know that Amy Poehler's father, William Poehler, was an active basketball player during his tenure at Boston State College. He was the All-NESCAS honoree and a team captain as a senior. Although William, aka Bill Poehler, left playing basketball in 1970, he got inducted into UMass Boston Hall of Fame in 2014.
During his career as a college basketball player, Amy Poehler's dad, William Poehler, won ECAC Player's title of the Week thrice. A four-year starter, William was the Warrior's second-best scorer as both junior and a sophomore, recording 12.7 and 16.0 points per game, respectively. As a senior, he ended as the Warriors top shooter, making an average of 18.3 points per game.
Moreover, William Poehler was also the captain of the 1965 undefeated Generals' hoop team when he was in high school. He played under the head coach Sherm Kinney who taught him things like hard work, commitment, and defense. In 2018, William Poehler was among the Hamilton-Wenham Hall of Fame. Although his daughter, Amy, and other family members could not attend the event, they had surprised him with a video tribute.
A Proud Father To Two Talented Kids Including Amy Poehler
William Poehler is a proud father to two children, including actress Amy Poehler. Besides Amy, William has a son named Greg Poehler, who is also a famous American Entertainment personality. He is popular among people as an actor, comedian, and producer. Also, William Poehler's son, with his wife, Eileen Poehler, Greg Poehler, is a lawyer.
View this post on Instagram

Moreover, William is blessed with five grandchildren from his son and daughter. He has three grandchildren from his son, Greg Poehler's marriage with Charlotta Meder. Similarly, William has two grandsons, Archie Arnett and Abel Arnett from his daughter, Amy's union with her ex-husband, Will Arnett.
Currently, William Poehler lives a blissful life with his beloved wife, Eileen Poehler in MA. He often goes to meet his children and grandchildren at their place during special occasions.
Explore more on eCelebrityBabies and get updates on Celebrity Babies, Celebrity Parents, Celebrity Siblings, and More.