Lalisa Manoban, or primarily known as Lisa, needs no introduction. The K-pop star has been causing ripples through her voice from the band Blackpink. After a surge in popularity in recent years, Lisa has been making the headlines more than ever.
Born in Buriram Province, Thailand, as Pranpriya Manoban, Lisa grew up with her Thai mother and a Swiss step-father. Her mother, Chitthip Brüschweiler, married her step-father Marco Brüschweiler after she parted ways with Lisa's biological father. Lisa's parents have made the most number of appearances out of all the members' parents of Blackpink. In addition, Lisa seems to enjoy spending a lot of time with her parents.
Her Mother Married Twice 
Chitthip Brüschweiler was previously married to Lisa's biological father. But as the looks of it, things did not turn out as expected, and the couple had to part ways. Chitthip married Marco when Lisa was just a child, so it was Marco who was there the whole time while Lisa was growing up. However, Lisa's biological father's identity has not been revealed yet.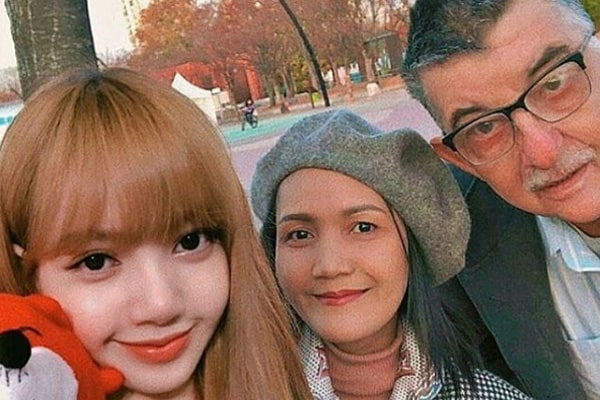 Either Lalisa Manoban's father was not there for her, or she just does not want to reveal the identity of her father. Whatever is the case, Lisa got a wonderful and fun dad in Marco, who loved her more than enough. Marco and Lisa share a bond, unlike any other stepdad and daughter. 
Lisa's Step-father Is A Well-Known Chef
Blackpink star Lisa's step-father Marco Brüschweiler is a well-established chef in Thailand. Although of being a Swiss national, Marco has found expertise in Thai cuisines after living a fair amount of his life there. He has also worked in some famous restaurants around the world, like the Sun City Casino in Rustenberg, South Africa.
Currently, in his sixties, Marco has become one of the leading specialists in Thai cuisine. Lisa has also complemented his cooking skills countless times. He currently works as a chef for a popular food adversary in Bangkok called KCG. Thanks to his excellent cooking skills he has established quite a reputation for himself in a country he is not native of. 
Lalisa Manoban's Parents Made An Appearance On Blackpink House
Chitthip and Marco gave a surprise to the girls after appearing on the Episode 4 of 'Blackpink House' in 2018. They had cooked a meal for the girls before they suddenly made an appearance.
Lisa had come back to the hotel after shopping, overjoyed by all the dishes at the table; she said that it was a dish her family made at home. Not only the food, but she also recognized her home's silverware. The girls were surprised and skeptical until Lisa's parents made their appearance through the front door. The crew took no time to grow fond of them and had a blast of a meal.
Out of all the members of Blackpink, who currently consists of Jisoo, Jennie, Rosé, and Lisa, Lisa's parents have appeared the most number of times in the media. Lisa can be regularly seen spending quality time with them. Chitthip and Marco seem very understanding and loving parents, which can also be seen through their frank and humble behaviors. 
Explore more on eCelebrityBabies and get updates on Celebrity Babies, Celebrity Parents, Celebrity Siblings, and More.