Paul Scheer, born Paul Christian Scheer, is undoubtedly one of the most loved actors and comedians of the Hollywood Industry. He is best recognized for his role on the FX/FXX series The League as Andre Nozick. Moreover, Scheer is also the creator and star of the comedy-action series NTSF:SD: SUV. Besides starring and producing numerous TV series, Paul Scheer co-hosts the Earwolf network's podcast How Did This Get Made? His wife, June Diane Raphael, and comedian Jason Mantzoukas also hosts the podcast alongside him.
Apart from being a successful TV personality, Paul Scheer is a dedicated family man. He has two adorable sons, Sam Scheer and August Scheer, whom he shares with his beloved wife, June Raphael. Here, learn some more about Paul Scheer's sons, August Scheer and Sam Scheer.
Paul Scheer's First Child With June Diane Raphel, August Scheer
August Scheer is the first child of the celebrity couple, Paul Scheer and June Diane Raphael. The beautiful married duo, Paul and June, welcomed their son August on 30 August 2014. It is speculated that as Paul Scheer's son, August joined the Scheer family in the month of August, they named him after his birth month.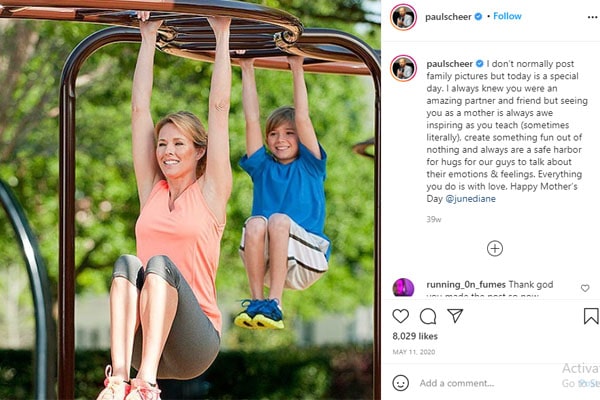 The US weekly magazine notes that some days after August's birth, the couple joked, saying that their family was really excited to get their son ready to be a contestant on next season's Dancing With the Stars. However, the privacy loving comedians Paul and June made sure not to show their then-new born son before the public.
Paul Scheer's son, August, nicknamed Gus, will be seven years old soon in August 2021. Despite being in intense fame, his parents have succeeded in giving him a normal upbringing. Undoubtedly, he is getting great care and love from his parents and enjoying his childhood to his best behind the camera.
Second Son Of Paul Scheer With June Raphael, Sam Scheer
Sam Scheer is the second child of Paul Scheer and actress June Diane Raphael. June gave birth to Paul Scheer's son, Sam Scheer, in August 2016. Sam's secretive parents were mute when his mom, June, was pregnant with his big brother. However, when June was 39 weeks pregnant with Sam, she did proudly flaunted her baby bump during an event organized by The Michael J. Fox Foundation.
View this post on Instagram

Paul and June even posted June's photo with Sam on her womb on their respective Instagram page. June tagged The Michael J. Fox Foundation and captioned the photo saying,
"Do u guys ever have the feeling of being inspired by yourself? I do. Here I go looking right and tight at 39 weeks for an amazing cause!"
Some months before the arrival of youngest Scheer Sam, his parents even joked about their pregnancy, telling the public to find who the baby's father is. The humorous couple, Paul and June, had even told the media that they were so excited to welcome their new baby, and he was available for all endorsements and sponsorships. However, it was a joke, just like the previous one, as to the date, they have not revealed a single picture of their second son.
Paul Scheer And His Wife, June Raising Their Kids Well
As mentioned earlier, Paul Scheer and his longtime wife, June Diana Raphael, are usually tight-lipped regarding their personal life, especially their sons. They rarely bring their little ones in public and always ensure that they keep them hidden from media eyes. But, the celebrity parents, Paul and June, are surely raising their both sons well away from media scrutiny.
ALSO READ: Matt Bomer's Sons With His Gay Partner Simon Halls
While talking to Fatherly, Paul Scheer said that his kids and wife are the only things that keep him the happiest and the most grounded. Even though that line feels like something stolen from some movie, he really means it. Despite having a busy schedule, both Paul and June always get back to their kids at the end of the day. When Paul is not working, he always makes sure to drop off at least one of his sons at school every morning. Sometimes, he also makes his sons' lunches and does other similar things for them. And a must to mention, they have a nanny because of whom they feel that they can be better parents.
Sam and August are fortunate enough to have parents like Paul and June. Despite being famous personalities, their parents act like normal parents to them. The Scheer family often goes for family vacations and enjoys every moment. Sometimes, Paul even plays different games with his sons. Nevertheless, Paul Scheer's sons, Sam and August, are growing up like other normal kids and their parents are happy to have them in their life.
Name Meaning: August and Sam Scheer
The name August is derived from the Latin word Augere which means to increase. Similarly, the boy name Sam is short for Samuel. It means God has heard.
Explore more on eCelebrityBabies and get updates on Celebrity Babies, Celebrity Parents, Celebrity Siblings, and More.