Patty Hanson is an integral part of the American Film Industry. She is known for her contributions in numerous unreleased and released films, including Tin Cup. Mainly, Patty is famous for being the wife of the American comedian, musician, and actor Charles Esten, nicknamed Chip Esten. Her husband Charles is best recognized for portraying the role of a country singer Deacon Claybourne in Nashville.
Over a decade of Patty Hanson and Charles Esten's marital life has made them proud parents of three talented children. Here, in this article, get to be familiar with some interesting facts about one of Patty Hanson's daughters with Charles Esten, Addie Puskar.
Youngest Daughter Of Patty Hanson With Charles Esten
Addie Puskar is the youngest daughter of the American Entertainment personalities Patty Hanson and Charles Esten. She joined the Puskar family in 2000. Patty Hanson's daughter, Addie, spent most of her childhood years and some of her teenage days in Los Angeles, California. Later, she moved to Nashville with her parents.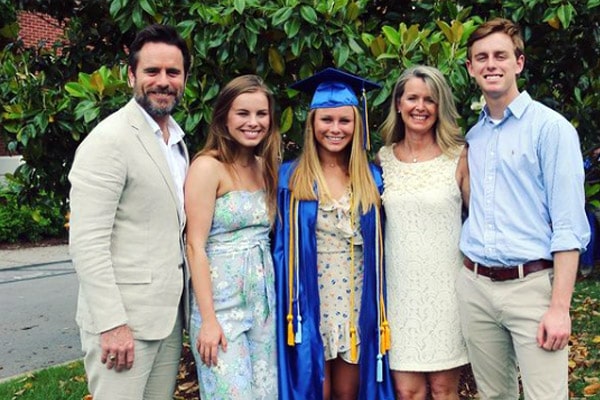 Growing up, Charles Esten's daughter Addie Puskar attended Brentwood High School in Tennessee. After completing high school, she joined William & Mary University, planning to major in business analytics. Her parents, Patty and Charles, are also alums of the same university.
Addie Puskar is the younger sister of Patty Hanson's other two children with Charles Puskar. Her elder sister, Taylor Puskar, is a graduate of Belmont University. Currently, Taylor is pursuing her career in the music industry as a local singer and song-writer. Similarly, Addie's brother, Chase Puskar, is a Research Assistant at Colorado Center for Astrodynamics Research. Going through their respective social media handles, we can clearly see that Addie shares a great bonding with both of her siblings and parents.
An Active Women Soccer Player
Patty Hanson's daughter, Addie Puskar, had a great passion for sports since her early childhood. She grew up seeing her older siblings playing soccer while living in Los Angeles and began playing it when she was six years old.
Addie Puskar's passion for soccer began to gain speed after joining Brentwood High School. Puskar was a member of the varsity girls soccer team, where she played the position of a center back and defensive midfield. Addie got the title of the most valuable defensive player when she was in the second year of high school. Also, she achieved the All-District team during her fourth year.
View this post on Instagram

Soon after graduating from Brentwood, Charles Esten's daughter Addie joined Division I soccer at William & Mary in 2020. She plays as a mid-fielder in the W&M's women's soccer team. During an interview with Tribe Athletics, Addie said that she aims to be in the sports industry as a sportscaster and dreams of being an actress. We wish her all the best for whichever field she chose in her future.
Besides being a determined soccer player, Patty Hanson's daughter, Addie, is a talented singer as well. According to Addie, she learned both soccer and singing from her dad, Charles Esten. Also, Addie takes her mom and dad as her biggest role model and inspiration.
Addie Puskar Is A Leukemia Survivor
When Charles Esten's daughter Addie Puskar was two and a half years old, she was diagnosed with Acute Lymphoblastic Leukemia (ALL). It was a terrifying time for her siblings and parents as well as her relatives and friends. Being born to celebrity parents, Addie was fortunate to have helpful family friends and experts as she and her parents battled against her blood cancer. Several doctors, nurses, and the Leukemia & Lymphoma Society (LLS) helped her recover from the disease. At the age of five, Addie finished all her blood cancer treatment and started living her life to the fullest.
Also Read: Georgia Gracie Slovin, Amy Ryan's Daughter With Eric Slovin
Ever since Addie Puskar survived from blood cancer, she is actively participating in LLS fundraising events. She and her whole family also participate in various events through different organizations to raise awareness about leukemia, Lymphoma, Hodgkin's disease, and myeloma. They raise funds to assist LLS in its aim to cure blood cancer. The latest event organized by Addie and her parents with the help of different organizations is a virtual 8th Light The Night Walk in Nashville on 12 November 2020.
Name Meaning: Addie Puskar
The name Addie is of Old English and Old German origin, which means Sweet or pleasant.
Explore more on eCelebrityBabies and get updates on Celebrity Babies, Celebrity Parents, Celebrity Siblings, and More.