The Parks and Recreation star, Amy Poehler, is not the only person in her family to gain fame in the American Entertainment Industry. Her younger brother, Greg Poehler, is also a famous name in the industry. Amy Poehler's brother, Greg Poehler, is an acclaimed actor, producer, and comedian known for his work in Welcome to Sweden, Wine Country, and many more.
One of the top female Comedians, Amy Poehler's little brother, Greg Poehler, is a father to three talented kids with his wife, Charlotta Meder. Here, get to know some unrevealed facts about Greg Poehler's children, Lily Poehler, Charlie Poehler, and Ben Poehler.
Greg Poehler's Children With Charlotta Meder
The Fordham University School of Law graduate, Greg Poehler is fathering three kids with his long-time wife, Charlotta Meder. The beautiful couple, Greg and Charlotta, welcomed their first child, a son, Ben Poehler, on 1 March 2005. Greg Poehler's son, Ben, arrived a year before his parents' marriage.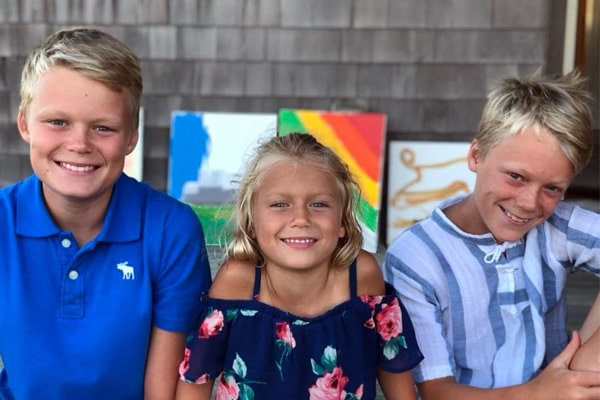 Furthermore, Greg Poehler's second son, Charlie Poehler, arrived some years after Ben's birth, on 7 October 2007. Greg's third child with his partner, Charlotta, Lily Poehler, completed the family on 12 January 2013.
The proud father of three kids, Greg Poehler often posts pictures of his adorable kids on his social media pages. He never forgets to wish them on their birthday via his Instagram page. The happy family of five, Greg, his wife, and their children, currently resides in Stockholm, Sweden. Greg Poehler's children also fly to the United States with their parents to meet their cousins, Archie Poehler and Abel Poehler, and their grandparents, William Poehler and Eileen Poehler, during their holidays.
Greg Poehler's Kids Are Great Sports' Fans
Most of the Poehler family's fans might know that Amy and Greg Poehler's father, William Poehler, was a college basketball player. Like their paternal grandfather, William, Greg Poehler's children are also a great fan of sports, mainly of the Boston Celtics. They often travel to Boston with their parents to support their favorite team, the Celtics, during their match with other teams.
ALSO READ: James Patrick Huggin's Daughters With His Wife Penelope Ann Miller
Moreover, Amy Poehler's brother, Greg's sons and daughter are not only fans of sports but are also in their school's athletic team. Greg Poehler's youngest son, Charlie, even grabbed the second position in a tennis tournament in 2017. Similarly, Greg's other son, Ben, won a gold medal in a swimming competition in 2015. Besides, the Poehler kids are also equally interested in cycling. They often go cycling with their parents in their spare time.
The Poehler Siblings Often Visits Their Father's Workplace
Greg Poehler does his best to save some time from his busy schedule for spending quality time with his kids. Sometimes when he does not get time from his work, he rather takes his children to his workplace. In 2018, while Greg was filming for the American-Canadian comedy-drama series, You Me Her, he took all of his three kids on the set.
View this post on Instagram

Greg Poehler is undeniably a very proud father. He must be glad that his kids are interested in learning about every field, either it is sports or acting, or any other field. As all the three children of Greg Poehler are in their teens, there is still time to know which field they really want to pursue their career in.
Name Meaning: Ben, Charlie, And Lily Poehler
The boy's name Ben is of Hebrew origin, which means son. Similarly, the name Charlie refers to a free man. The feminine name Lily's meaning is pure, passion, and rebirth.
Explore more on eCelebrityBabies and get updates on Celebrity Babies, Celebrity Parents, Celebrity Siblings, and More.