American actor James Patrick Huggins is known for the movie Carry Me Home. Even more so than his own fame, James is known as the husband of popular actress Penelope Ann Miller. Miller is known in the industry for her roles in movies like Biloxi Blues, The Freshman, Chaplin, and Adventures in Babysitting.
James and Penelope have been married for more than two decades, and the couple shares two daughters Eloisa May Huggins and Maria Adela Huggins. Both of them are growing up to become gorgeous siblings their mother can be proud of. Eloisa and Maria are more than likely to follow their parents' footsteps into the entertainment industry, so let's have a look at how James Patrick Huggins and Penelope Ann Miller's daughters are growing up.
James and Penelope's Eldest Daughter Is Also An Actress
As obvious as it may sound for someone who comes from a family lineup of actors and filmmakers, James Patrick Huggins and Penelope Ann Miller's eldest daughter Eloisa May Huggins is also on her way to make a name for herself in the American film industry. The couple had welcomed Eloisa on December 10, 2000, as their first child.
From accompanying her mother to premieres and movie events, James Patrick Huggins' daughter has grown up to be an emerging actress starting her way into the industry. According to IMDb, she is in the way of filming Good Girl Jane, an independent feature film. Another film that she has wrapped up with is The Virgin of Highland Park.
Eloisa Is Taking Acting Classes
James and Penelope's daughter Eloisa completed her high school studies from the Palisades Charter High School, where she was enrolled in a drama program. She has also graduated from a dance group, and she has learned almost all forms of dance in the past eleven years.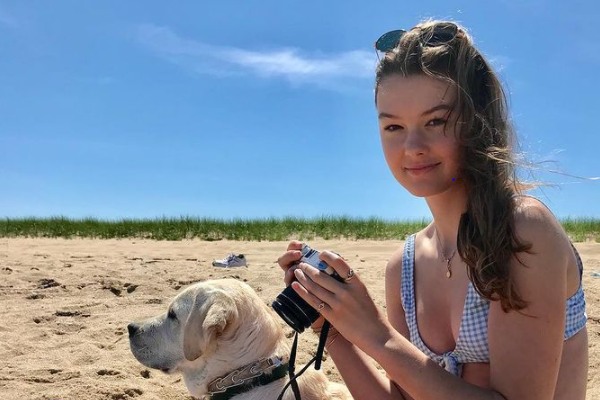 As of now, James Patrick Huggins' daughter Eloisa has been trying to polish her acting skills and aspires to make her name as one of the acclaimed actresses of her time. For that, she is currently taking professional acting classes from the Michael Woolson Studio. She not only has a passion for acting but is also blessed with a physique of a supermodel.
Also Read: Who Is Whoopi Goldberg's Great Granddaughter Charlie Rose? 
Penelope's Youngest Daughter Maria Just Turned Eleven
Born on March 23rd, 2009, Maria Adela Huggins is the second daughter of actress Penelope Ann Miller with her second husband, James. Maria came to this world when Eloisa was already eight, so there is quite some age gap between the two sisters. James and Penelope were thrilled to welcome their second child with so much joy. Her birth surely made the family complete.
James Patrick Huggins' daughter Maria is now eleven and spends most of the time with her family and especially her elder sister. All of the family spent their quarantine together, with everyone loving each other's company. Maria and Eloisa were regularly seen lighting up the mood of their parents by making TikTok videos and whatnot. The two siblings just love each other's company.
View this post on Instagram

As Maria is just eleven, we can not say for sure what are her career interests, but one thing is for sure that she looks up to her sister. Eloisa is now set to become a fine actress cum model. So, we can expect Maria to follow a similar pattern.
Name Meaning Of James Patrick Huggins and Penelope Ann Miller's Daughters
Eloisa is a name that comes from the German names 'Eloise' and 'Louise.' It's meaning is 'Famous Warrior.' May is a name of English origin which means 'The Fifth Month.' Maria is a name of Latin origin which means 'The Sea' or 'Bitter.' Adela is a name of German origin which means 'Noble' or "Serene.'
Explore more on eCelebrityBabies and get updates on Celebrity Babies, Celebrity Parents, Celebrity Siblings, and More.