American golfer and model Blair O'Neal is known for hosting the Golf Channel. An accomplished golfer herself, she has been even better as a model and host. The 39-year-old is married to Jeff Keiser since 2013 and recently gave birth to her son Chrome Andy Keiser amidst the COVID-19 pandemic.
Chrome was born after seven years of blissful and love-filled marriage between Jeff and Blair. He joined this amazing family with excellent health. Soon after his birth, it took no time for the media to notice this adorable little guy. Let's go through some interesting things you probably did not know about Blair O'Neal's son Chrome Andy Keiser.
Born Amidst The Height Of COVID-19
Blair O'Neal had previously announced that she was pregnant, and her baby was due in April 2020 through her Instagram back in November 2019. But as soon as the year 2020 began, things did not go as smoothly. Because of the outbreak of coronavirus, the world had to suffer a pandemic.
View this post on Instagram

Blair had taken full safety measures to ensure that it does not affect her baby. She had been quarantining herself since the outbreak began and safely gave birth to Chrome on April 7 April 2020.
The baby boy Chrome joined the family at 5:47 a.m., weighing 8 pounds, 1 ounce.  All the precautions and safety measures Blair took were extremely beneficial as Chrome came to this world as healthy as he could have.
Came Up With The Name Chrome On A Roadtrip
Blair O'Neal and husband Jeff Keiser came with the name Chrome while on a road trip. This is just as romantic as it sounds. The couple reached this name after stumbling upon different words such as colors and metals. After, some brainstorming Jeff came up with the name Chrome. Both of them loved the name.
Chrome Keiser got his name from his parents' road trip, which is too good to be true, and the fact that is true makes it even more special. The kid will possibly be overjoyed when he learns that he got his name from a romantic trip between his parents.
Blair O'Neal's Son Chrome Already Has An Instagram
If he was not already grabbing enough attention, Blair O'Neal's son Chrome has an Instagram account dedicated to him. The account was made by his mother, Blair, to feature some of Chrome's most memorable moments as a child. Although the account is private at the moment, we can expect it to soon get public.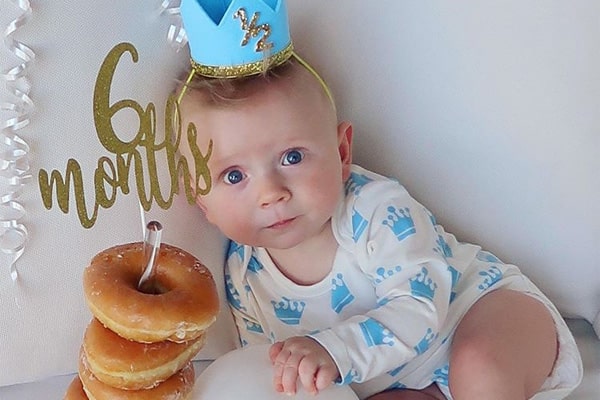 The baby recently celebrated his half-year with his family. The six-month-old is already looking sharp, and it will take no time for him to grow up into a fine young man. Furthermore, Chrome is on the road to becoming one of the cutest and most sought-after babies in the coming days. As fans, we can not wait to see more wholesome and blissful pictures of this little toddler in the coming days.
Name Meaning: Chrome Andy Keiser
The name Chrome signifies metallic color. The term 'Chrome' was first named as the element which gave its compound a metallic color, which is now called 'Chromium.' In addition, it is believed to be originated from the Greek term 'khrōma,' which means color.
Explore more on eCelebrityBabies and get updates on Celebrity Babies, Celebrity Parents, Celebrity Siblings, and More.