American professional golfer Stacy Lewis rose to fame after reaching the top spot on the Women's World Golf Rankings for the first time in 2013. She is currently playing on the U.S.-based LPGA Tour. The talented golfer has had a thrilling career with two major championship wins and thirteen LPGA tour wins.
Well, you might already know enough about this wonder of a golfer, and we are certainly not focusing on Stacy in this article. Rather, we will be looking onto the wonderful souls who brought her into this world that is, Stacy Lewis's parents, father Dale Lewis, and mother, Carol Lewis.
Stacy Lewis's Father Dale Was Her Caddy
Dale was always the prime supporter for Stacy since her younger days. Stacy said in an interview that the primary reason she liked golf was due to the initial days of golfing she did with her father. At that time, it was more than golf and established the unbreakable bond between the two. Furthermore, Dale was thrilled that Stacy was the only Lewis girl interested in golf and was happy that he got a golfing partner for the rest of his life.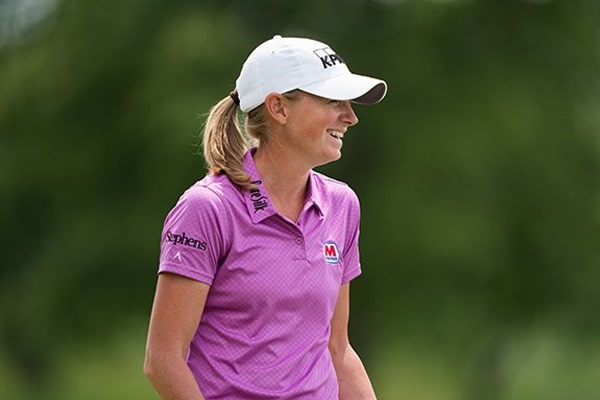 After Stacy's six and half-year battle with Scoliosis, which required her to have surgery, it was not quite sure whether she could walk again, let alone play golf. Stacy Lewis's father's only wish at that moment was to see her play in at least one college tournament. Fortunately for both of them, Stacy was back to playing golf for the second collegiate season.
During Stacy's ANA Inspiration run, Dale caddied her and helped her in every possible way he could. The duo went on to have a lot of success later on. The bond between Stacy and her father is unlike any and transcends way beyond your casual father-daughter relationship.
Dale Is Stacy's Only Pick On Her Dream Foursome
In an interview after Stacy won the Rolex Player of the Year the first of two times in 2012, she got a question about her pick for her dream foursome. Without a double thought, Stacy's first pick was her father and only her father. She added that the two of them would be more than enough. This again solidifies the magical bond these two share. LPGA also made an article on him as a tribute for him on father's day.
Happy Father's Day Dad! https://t.co/aPn9SlzQJe

— Stacy Lewis (@Stacy_Lewis) June 22, 2020

Stacy is certainly lucky to have such an inspiring and supportive father by her side all the time. The duo has already set a path for others to follow. We hope to see more from this father-daughter combination in the coming days.
Dale And Carol Spend Much Of Their Time Off From Media
While the golfer is pretty active on social media platforms like Twitter, Stacy Lewis's parents, on the other hand, are pretty passive in terms of media appearances. Dale did use to make appearances here and there in Stacy's early days but has not been appearing much recently.
As for Stacy Lewis's mother Carol, she is totally off the grid, and little to no information about her is known. But one thing is certain that she is an amazing mother. To raise her daughter to be top of the game is not a small feat. She must feel proud of what Stacy has achieved after coming from a tragic childhood.
Explore more on eCelebrityBabies and get updates on Celebrity Babies, Celebrity Parents, Celebrity Siblings, and More.