Born as Philip Douglas Jackson, Phil Jackson is one of the most successful coaches in NBA history. The former LA Lakers coach, Jackson has created a monumental career and dedicated half of his life to NBA even though it affected his relationship.
Despite working with some of the biggest names, including Shaquille O'Neal, Michael Jordan, and Kobe Bryant, Jackson found it difficult to balance his personal life. Phil Jackson had to endure two failed marriages and called-off engagement, but he sure is a happy father of five kids, including four with his second wife, June. Here, we will be talking about Phil Jackson's son, Ben Jackson.
Twin Son To Phil And June
Phil Jackson's son, Ben Jackson, was born with his second wife, June Jackson. 
Ben Jackson's parents, Phil and June Jackson, shared their vows in 1974 in front of friends and families. They were blessed with four kids Chelsea Jackson, Brooke Jackson, and twins Ben and Charlie Jackson, throughout their decades-long marriage.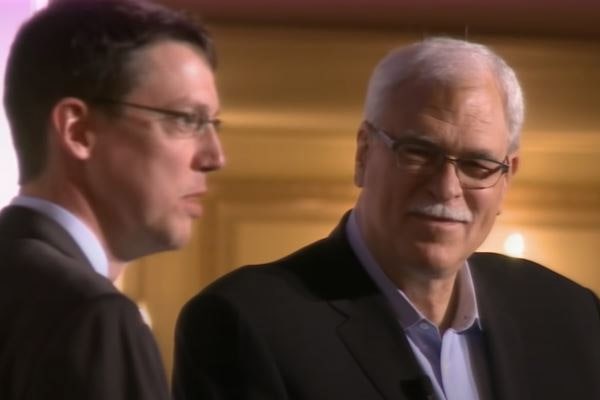 Phil Jackson's kid, Ben, shied away from the media's approach as a child. However, his father talked about him every once in a while. According to the Chicago Tribune, he studied at Bannockburn School along with his brother. Both Ben and Charlie were very athletic and were the leading scorer when they were in 6th grade. 
Likewise, Ben and Charlie frequently made appearances during their father's game. Despite having less information about Phil Jackson's children, Ben's childhood, he must have enjoyed a joyful childhood. And as an adult, Ben continues to make his father proud of his achievement. 
Benjamin Jackson Is An Executive director of The Writing Salon
Phil Jackson's kid, Benjamin Jackson, aka Ben Jackson, has been serving as the director of The Writing Salon since March 2016. Besides working in the Writing Salon, he had taught at several colleges, schools, and universities, including the University of San Francisco. 
One of Phil Jackson's twin son, Ben's writing has appeared in New England Review, Southern Review, FIELD, Poetry Daily, etc. The Warren Wilson graduate, Ben Jackson, holds the degree for MFA Program for Writers and has won awards from the Tor House Foundation, Warren Wilson College, Vermont Studio Center, etc. 
Unfortunately, Ben Jackson has maintained a low-profile and is leading a serene life away from social media. Therefore, he must be living a very comfortable life away from the media's approach, embracing his life and family. While maintaining secrecy, Ben loves to read and works rigorously. 
While talking to The Rupture Mag, Ben is a family man, a father of a daughter. He also mentioned a son-to-be and must have welcomed him already.  
Involved In Family Organization 
Phil Jackson is also known for his philanthropy. He further initiated a family foundation names P.D. Jackson Family Foundation in Northwest Montana. 
The foundation supports a holistic approach to the well-being of the community and environmental preservation. Phil Jackson's son is further associated with the organization and his siblings Chelsea Jackson, Elizabeth Jackson, Brooke Jackson, and Charlie Jackson. 
Despite having a tremendously successful parent, Benjamin Jackson, aka Ben Jackson, maintains life away from the media unnecessarily. However, he occasionally makes headlines in his field of expertise, i.e., writing.
Phil Jackson's son is living a courteous life while maintaining a peaceful life. Let's hope he cares to appear on social media and let the world peek in his life sometime. 
Name Meaning- Benjamin
The name Benjamin is of Hebrew origin which means Son Of My Right Hand.
Explore more on eCelebrityBabies and get updates on Celebrity Babies, Celebrity Parents, Celebrity Siblings, and More.