American comedy queen Aubrey Plaza is best known for her role as April Ludgate in the NBC sitcom Parks And Recreation. Over the years, her roles in movies and TV shows has only grown. The 36-year-old actress has been featured in movies like Ingrid Goes West, The To Do List, Dirty Grandpa, and Mike and Dave Need Wedding Dates.
Aubrey's professional life is nothing short of accomplishments, but what about her personal life? The actress has two younger sisters Renee Plaza and Natalie Plaza. Now that her new movie Black Bear is out, people are wondering, are her sisters as humorous as her?
So, why don't we take a look at Aubrey Plaza's sister Natalie Plaza and see if she is also into acting?
Natalie Inspired Aubrey For Her Character In Parks And Recreation
Aubrey's character in Parks And Recreation as April Ludgate was inspired by her own sister Natalie. Aubrey's lively and colorful personality was heavily taken from Natalie. But that is not the only part played by Natalie in regards to the show; Aubrey's character's sister in the show had the name Natalie Renee Ludgate which is the combined name of Aubrey Plaza's sisters Renee and Natalie.
The bond Aubrey shares with her sister is truly amazing that she decided to portray her own sister in a widely popular show. The three siblings are emotionally attached to each other, like no one else.
Also Read: Facts About Leonardo DiCaprio's Step-Brother Adam Farrar
Is Aubrey Plaza's Sister Natalie Also Into Acting?
While Aubrey and her sister Renee have both played their parts in acting, fans are wondering if Aubrey Plaza's sister Natalie is also into acting. The short answer to that question is 'No.' Natalie has not yet made an appearance in the acting industry. But we can definitely hope to see her in the future. Natalie remains pretty secretive about her personal life, unlike her sisters, so it is quite hard to know what she is doing now.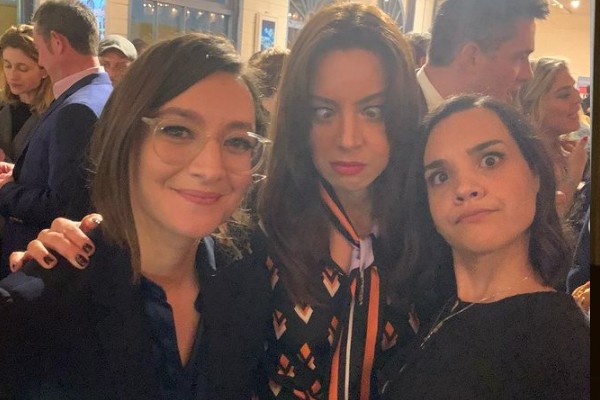 Aubrey has been an Amazing elder sister as Natalie and Renee look up to her. Even though Natalie's career might be different from her sisters, she is definitely getting all the support from them. Aubrey must be proud that she has such an amazing sister in the form of Natalie. Let's hope the sisters remain just as they are now for many more years. Plus, their parents, Bernadette Plaza and David Plaza, must also be pretty happy looking at their children's bonding.
Natalie Was Groomswoman On Her Father's Marriage
Natalie, along with her two sisters, was the groomswoman at her father David Plaza's wedding with Mihaela Ghetau. The couple married elegantly in 2017, and David had his three daughters by his side during his wedding. Natalie and her sisters sure took on the stage, and everybody was talking about their tuxedos.
View this post on Instagram

The marriage sure was breathtaking, and a lot of people really appreciate their style of presentation.
Natalie Has A Private Instagram
Unlike her older sisters, Natalie has opted to remain away from social media. She has a private Instagram with about 4.8k followers, which most probably consists of her family and friends. Natalie also has a Twitter account, which is private as well. The reason for her privacy might be to avoid unnecessary attention. Being the sister of a world-famous celebrity definitely comes with consequences.
As Natalie continues to make a career for herself, we as fans of her sister need to be patient and wait for her to reveal more about her. Let's hope that happens as soon as possible.
Explore more on eCelebrityBabies and get updates on Celebrity Babies, Celebrity Parents, Celebrity Siblings, and More.