If you have heard the name Aubrey Plaza or watched any of her work, it is safe to say she is the comedy queen of this generation. Best known for her role in the NBC series Parks And Recreation, Aubrey has been a household name for the last decade. From hit after hit, some of her movies include The To Do List, Child's Play, Dirty Grandpa, and the recent addition Black Bear.
Aubrey can almost make anyone laugh with her weirdness and sense of humor, but she is not the only one with a sense of humor in the family. Aubrey is the eldest of three daughters, meaning she has two younger sisters Renee Plaza and Natalie Plaza. The trio was born to parents Bernadette Plaza and David Plaza.
Out of the two, Aubrey Plaza's sister Renee has caught the eye of many fans, so let's see what she does.
Renee Has Some Acting Credits
Renee also set her foot in the entertainment industry like her elder sister and has some acting credits of her own. According to IMDb, she was featured in the 2013 videos Center Jenny and Item Falls. Even though her roles have not been as prominent as her sister, she sure left her mark in the industry. In addition to acting, she also worked as the production manager for the 2018 short movie Tiktaalik.
Aubrey Plaza's Sister Renee Is A Mental Health Clinician
Well, even though Renee has had some acting credits in the past, she professionally works as a mental health clinician at Joseph J. Peters Institute. She got her Bachelor of arts as well as a bachelor of fine arts in psychology from Chapman University before completing her Masters of Arts in forensic psychology from The George Washington University.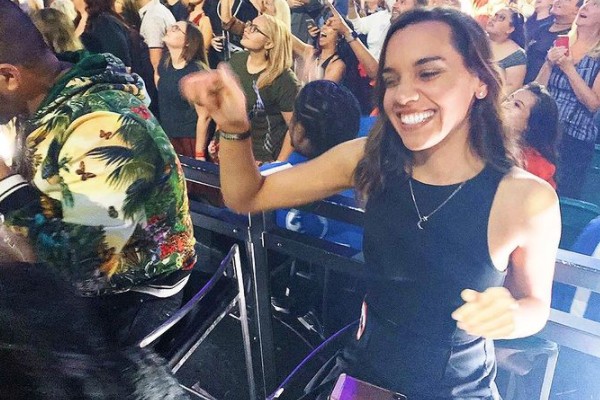 Renee has been involved in a lot of volunteering work in the past in places like Delaware Theatre Company and Ronald McDonald House of Delaware. She is currently enrolled at Philadelphia College of Osteopathic Medicine in Ph.D. in Clinical Psychology. Renee has been doing pretty great as a mental health clinician and also runs an Instagram page dedicated to mental health.
Also Read: Who Are Eminem's Siblings? 
She Is A Big Fan Of Joe Jonas
Aubrey Plaza's sister Renee is a big fan of the Jonas Brothers and particularly Joe Jonas. Renee and her sisters used to go to the Jonas Brothers' concert back in the days. Renee even got a surprise gift from Aubrey when she dmed Joe inquiring about tickets for the concert.
View this post on Instagram

The sisters met backstage while Renee also shared a photo with Joe on her Instagram account. Aubrey revealed that during her interview on the Ellen Degeneres Show and told the audience how she approached Joe on social media.
Renee Was Groomswoman During Her Father's Wedding
Renee took on the role of groomswoman during her father  David Plaza's wedding with Mihaela Ghetau back in 2017. The couple had an elegant wedding and Renee along with her two sisters wore tuxedos and became his groomswoman. Aubrey mentioned that her grandma was against the idea of wearing tuxedos but they did it anyway and everyone liked their new take on the marriage.
Renee Seems To Be In A Relationship With Mitchell Scott Rosenberg
Aubrey Plaza's sister Renee seems to be in a relationship with Mitchell Scott Rosenberg. Mitchell is a political enthusiast and is also the founder of nowsimplified, which makes it easy for normal people to easily understand politics. The couple regularly shares pictures with each other, and they really seem to enjoy each other's company.
Renee and Mitchell also look really cute together, so let's hope their relationship stays as vivid as it is now. Renee and Mitchell are both making a career for themselves; let's hope the best for them.
Explore more on eCelebrityBabies and get updates on Celebrity Babies, Celebrity Parents, Celebrity Siblings, and More.