Rainn Dietrich Wilson, famed for playing the role of Dwight Schrute in the famous sitcom The Office, was born to Robert G. Wilson and Shay Cooper. Wilson's parents divorced when he was just two years old. After their divorce, Rainn stayed with his father, Robert, who taught him a love of art, music, storytelling, and spirituality. Though Rainn Wilson's father principally raised him, his mother also played an important role during his growth and to become the person he is today.
Here, get to know more about Rainn Wilson's parents, Robert Wilson and Shay Cooper, including their professional and personal facts.
Robert G. Wilson Was A Novelist And Artist
Rainn Wilson's father, Robert G. Wilson, was notable as an artist and abstract painter. Robert's arts have been shown at the prestigious Francine Seders Gallery, Seattle, Washington, and other art galleries in New York, Chicago, Connecticut, and Atlanta. Robert Wilson's highly-acclaimed and arresting works are in collections all over the United States. Art lovers can view his works at robertwilsonart.com and Robert's official Instagram page.
Furthermore, Rainn Wilson's father, Robert, was also a published author of both works on business management and science fiction books. The books authored by Robert Wilson include the science fiction novel Tentacles of Dawn, business management guide Top Shops!, and many other major books.
ALSO READ: Kid YouTubers Vlad and Nikita's Parents, Victoria and Sergey Vashketova
Robert G. Wilson was a Baha'i for the past fifty-seven years. Since he joined to Baha'i community, he provided service on countless assemblies, committees, and councils. Rainn's father was inspired by the Baha'i universal vision of peace and unity and the healing power of the words of Baha'i's founder, Baha'u'llah.
Rainn Wilson's Father Passed Away At The Age of 78
The artistic and a person with a gentle heart, Robert Wilson, passed away at the age of 78 on 3 August 2020 at the Central Washington Hospital. He drew his last breath from the complications from open-heart surgery due to advanced heart disease. The Office star Rainn Wilson had announced the death of his dad via his Instagram page.
View this post on Instagram

While announcing Robert's death, his son, Rainn, shared some of his final paintings entitled 'Heart.' He also let his fans know the incredible bond that he had with his father. According to Rainn, he would not have been an actor without his dad's guidance, support, and inspiration. He added in his Instagram post that Robert brought humor, positivity, love, and creativity to every room he entered.
Robert Wilson used to reside in East Wenatchee, Washington, with his third wife, Carla Wilson. Before getting hitched with Carla, Robert was in a marital relationship with a woman named Kristin, with whom Rainn lived from the ages of three to five. Although Rainn Wilson's father, Robert Wilson, is no more, he is always alive in people's hearts through his arts.
Shay Cooper Is A Yoga Teacher And A Former Actress
Rainn Wilson's mother, Shay Cooper, born Patricia M. 'Shay' Whitman, is the daughter of Roland Harrison 'Rollie' Whitman and Katherine J. Whitman. She has been working as a Yoga teacher for more than half-a-century. Moreover, she also tried her luck in acting in some films in the past.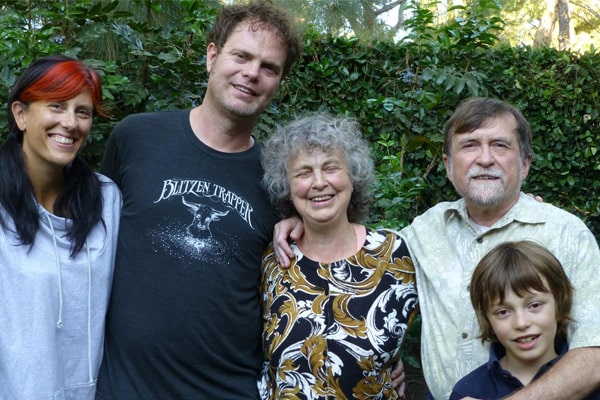 After separation from Robert Wilson, Shay Cooper tied her marital knot with Charles Cooper. Shay Cooper's husband, Charles, works in medical massage and pain therapy at Green Tea Yoga on Colonial Road in Salem. Charles and Shay co-own it and run it as Prana Health and Yoga. Moreover, both Charles and Shay are also followers of the Baha'i Faith, a new religion that teaches the essential worth of all religion.
Besides being a Yoga Instructor, Rainn Wilson's mom, Shay Cooper, also does community work around healing racism in Western Mass. In the past, she even studied rap history to have a greater understanding of black culture. As for now, Shay Cooper lives a blissful life with her husband Charles Cooper in Wendell, Massachusetts.
Explore more on eCelebrityBabies and get updates on Celebrity Babies, Celebrity Parents, Celebrity Siblings, and More.