Jenna Fischer is an American author and an actress who rose to fame after starring in the NBC Sitcom The Office as Pam Beesly. She began her career in acting when she was just six years old. From theatre to small roles in films and TV shows, Fischer finally got a significant role in the sitcom The Office for nine seasons. Since then, Jenna Fischer has starred and worked in numerous films, including Blades of Glory, You, Me and the Apocalypse, and Splitting Up Together. As an author, she wrote a book named The Actor's Life: A Survival Guide for the struggling actors.
Jenna Fischer was born as Regina Marie Fischer to Anne Fischer and James E. 'Jim' Fischer in Fort Wayne, Indiana. With Jenna's rising fame, her parents, Anne and Jim, are also coming to the highlight. Many of Jenna's fans are curious to know more about her father and mother. So, here, in this article, get to know where are Jenna Fischer's parents along with some extra doses of their professional and personal life.
Anne and Jim Attended Their Daughter's Acting Project
The inspiring and supporting parents of Jenna Fischer, Anne, and Jim Fischer often attend their daughter's shows and film sets. However, they are hardly ever talked about in the media pages and appear in the public eyes. Lately, Jenna Fischer's parents appeared alongside their daughter, Jenna, in the show Celebrity Family Feud in October 2020. Jenna Fischer's mother, Anne, took part in the show along with her other daughter Emily Fischer whereas her father watched them playing from the audience.
Furthermore, Jenna Fischer's mother, Anne, even accompanied her during her beginning career in the acting sector. She is the first person to encourage Jenna in acting. Anne introduced Jenna and her sister to all the great musicals and to classic movie actresses who later became Jenna's idols. But, Jenna's mother, Anne, is always her real idol.
On the contrary, Jenna Fischer's father, Jim, does not seem to have ideas on the acting industry, but he enjoys attending and watching his daughter's shows. Jenna Fischer's mom and dad also regularly listen to their daughter's podcast 'Office Ladies' with her co-star and best friend, Angela Kinsey, on Earwolf.
Jenna Fischer's Mother Is A History Teacher
Anna Fischer (nee Miller), born on 20 March 1948, is the daughter of Harold William 'Bill' Miller and Helen J. Miller. She grew up in Missouri, United States. Growing up, it seems like she got inclined towards the teaching sector. So, she flourished in her career as a teacher. For many years, Anne was engaged in the teaching profession, mainly as an eighth-grade history teacher in Henry School in St. Louis. At the moment, she is enjoying her retired life and resides in Chesterfield, St. Louis.
ALSO READ: YouTuber Nastya Radzinskaya's Parents Yuri and Anna Radzinskaya
Moreover, apart from teaching, Jenna Fischer's mother, Anne Fischer, tried her hand in the acting industry also. She appeared in various well-known films and shows, including Petits Secrets Entre Voisins, in 2013. Also, Anne gave her voice in the comedy movie LolliLove, directed and co-written by her daughter, Jenna Fischer.
Jenna Fischer's Father Is A Consultant
James R. 'Jim' Fischer, born on 27 September 1946, is currently working as a consultant in the JEFischer Consulting Services in Chesterfield, Missouri. He started his own business of consulting services at the beginning of 2012. Before this, Jenna Fischer's dad, Jim, was the Customer Service Director in Silgan Plastics. He served there for more than eighteen years, from April 1993 to December 2011.
Furthermore, Jim Fischer has experience working in Rexham Containers of DRG Plastics, Inc as a technical director for two years. Similarly, the graduate of the University of Missouri-Rolla in Bachelors Of Science in Mechanical Engineering, Jim served in Sonoco Graham of Boise Cascade Corporation in the past. He was the technical manager of machine design and process development in Sonoco Graham.
Grandparents To Four Grandkids
Jenna Fischer's parents, Anne and Jim Fischer are blessed with four grandkids from their daughters, Jenna and Emily. They have a grandson, Weston Lee Kirk, and granddaughter, Harper Marie Kirk, from Jenna's marriage with Lee Kirk. Similarly, they have another grandson, Eddie Elmore, and granddaughter CeCe Elmore from Emily's marriage with Dwight Elmore.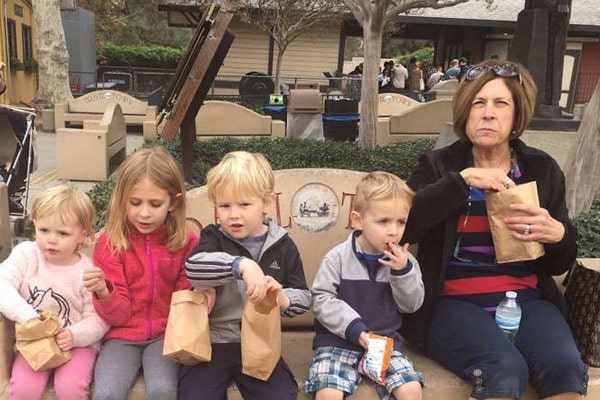 All the four grandkids of Anne and Jim often go to meet them at their home in Chesterfield. Moreover, they are always connected to each other via various social networking handles. The proud grandparents, Anne and Jim's social media pages are filled with photos of their charming grandkids.
For now, Jenna Fischer's parents, Anne Fischer and Jim Fischer live a blissful and happy life together in their Chesterfield, Missouri home. They even go on vacation to various beautiful destinations together.
Explore more on eCelebrityBabies and get updates on Celebrity Babies, Celebrity Parents, Celebrity Siblings, and More.