Penelope Ann Miller is one of the famous American Entertainment personalities known for her work as an actress in several award-winning movies. Particularly, the Tony Award nomination receiver, Penelope Miller, is popular for her performance in the late 80s and early 90s movies. Some of the movies starred by Penelope include Adventures in Babysitting, The Freshman, Kindergarten Cop, and Year of the Comet. Currently, she is busy with her upcoming acting project, a biographical historical drama, Reagan.
The 20th Satellite Awards winner, Penelope Miller, is the daughter of TV actor and producer Mark Miller and former journalist Beatrice Miller. Here, get familiar with some interesting facts on Penelope Ann Miller's mother, Beatrice Miller, born Beatrice Ammidown.
Penelope Ann Miller's Mother, Bea, Is A Former Costume Designer
Goddaughter of the businessman Aristotle Onassis, and Penelope Ann Miller's mother, Beatrice 'Bea' Miller, was a costume designer, journalist, and publicist. The New York-born Bea Miller earned her educational degrees from Paris and Switzerland, surrounded by diverse diplomats and artists.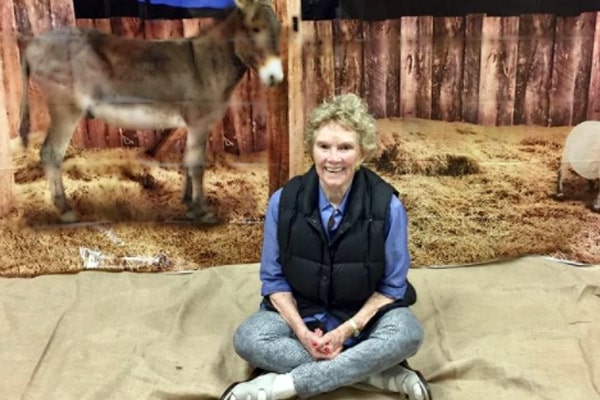 Penelope Ann Miller's mother, Beatrice, was a top designer of her time. She used to design costumes for various prestigious modeling agencies and Broadway showgirls, including The Copa Girls. Moreover, Bea also designed costumes for the cast members of numerous movies and TV shows.
Furthermore, Beatrice Miller was also an editor for Life Magazine and Harper's Bazaar. She was a journalist with the LA Times and a publicist for MGM Studios. Also, fluent in French and Spanish, Bea had enrolled in Peace Corps volunteer training for some years.
Beatrice Also Tried Her Hand In The Film Industry
Penelope Miller's mother, Beatrice Miller, also tried her luck in the American Film Industry between the 1960s and early 1970s. After getting married to Penelope Miller's father, Mark Miller, she got some minor roles in the movies written and directed by him. Bea portrayed the role of a stewardess in the film Ginger in the Morning, written and starred by Mark in 1974.
ALSO READ: Whoopi Goldberg Became Mom When She Was Just 18 Years
Similarly, Beatrice Miller also appeared as Harper's Bazaar model as Bea Ammidown in Back Street in 1961. After appearing in the 1974 movie Ginger in the Morning, Beatrice might have worked in various other movies as well. However, Bea's later works in the film industry are not available to the public to date.
Penelope's Mother, Bea, Is A Yoga Instructor
The celebrated actress, Penelope Ann Miller's mother, Beatrice Miller, aka Bea Ammidown, started her yoga journey as a student in 1964. Bea became certified as a Yoga Instructor in 1986 and has been working as a Yoga Instructor founding The Yogability Institute, a non-profit corporation. Bea's Yoga institute is a therapeutic approach to Yoga for those with special needs or disabilities.
According to Bea Ammidown, she suffered terrible injuries in a head-on auto collision. Luckily, she survived, but her then-fiance lost his life. To regain her physical functioning, Bea went through four years of the major rehabilitation process and developed a form of Yoga for healing. Through the Yogability institute, she offers her form of Yoga for healing and other yoga therapeutics to people with mental and physical challenges.
Besides, Beatrice Miller is also a founder and director of HumoRx – Laugh Wagons at Childrens Hospital, Los Angeles. It is a program dedicated to the healing effects of encouraging emotions on the immune system. Moreover, over eighty years young mom of Penelope, Bea teaches yoga classes around town and in her home studio. Also, she has created numerous videos, including a DVD named Special Needs Yoga.
A Proud Momma To Two More Talented Daughters
Penelope Ann Miller's mother, Beatrice Miller, is a proud mom to two more talented daughters, excluding Penelope. Her other daughter with her ex-husband, Mark Miller, is Savannah Miller, whom she gave birth to on 30 April 1970. She is also famous as an American actress and a social worker. She also represents Arbonne, Skin-care products.
View this post on Instagram

Moreover, Beatrice Miller's third daughter is Marisa Anne Miller, born on 28 July 1962. She is also an actress popular for off-beat comedic roles. Currently, Marisa resides in Los Angeles, California, with her husband, Jonathan Berzer. 
Furthermore, the active Yoga Instructor, Beatrice Miller, is blessed with six grandchildren from her three daughters. She has two granddaughters, Eloisa May Huggins and Maria Adela Huggins, from her daughter Penelope's marriage with James Huggins.
Currently, Penelope Ann Miller's mother, Beatrice Miller, resides in Santa Monica, California, and enjoys serving needy people as a Yoga Instructor.
Explore more on eCelebrityBabies and get updates on Celebrity Babies, Celebrity Parents, Celebrity Siblings, and More.