Mark Geragos is a famous American Celebrity Lawyer. He is a criminal defense attorney and the managing partner of Geragos & Geragos Law Firm based in Los Angeles. To date, Geragos served as a defender for numerous celebrities, including Michael Jackson, Greg Anderson, Cameron Brown, and Chris Brown. Moreover, he was involved in Scott Peterson's case over killing his wife and their unborn child.
Besides being a successful lawyer, Mark Geragos is also a successful family man. He has a daughter named Teny Geragos with his wife, Paulette Kassabian Geragos. Here, get a closer look at some facts about Mark Geragos' daughter, Teny Geragos, including her professional life.
Mark Geragos' Daughter, Teny Geragos Is An Attorney
Trial Lawyer Mark Geragos' daughter, Teny Geragos, follows the footsteps of her father in the Law business. She is currently an attorney at Brafman & Associates, P.C., a New York-based boutique criminal defense firm. Teny's practice area ranges from state criminal cases to complicated federal matters and federal appeals.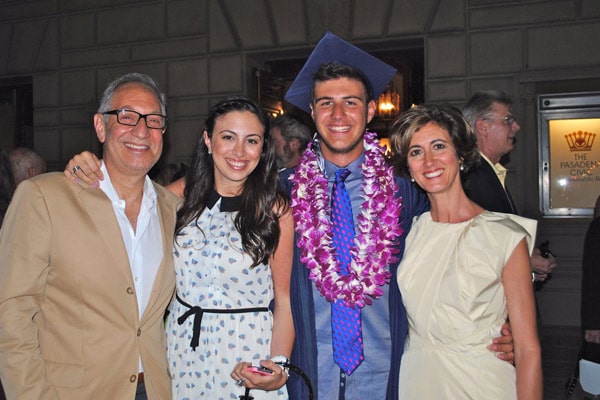 The 2016 graduate of Loyola Law School, Los Angeles with Doctor of Law – JD, Teny Geragos got California State Bar's license in 2017 from State Bar of California. During her tenure in the Loyola Law School, she served as a Judicial Extern at Supreme Court Justice John G. Ingram. Similarly, Teny was also an intern at Brooklyn Defender Services. Also, she worked as a Judicial Extern for Honorable Michael W. Fitzgerald at the US District Court for the Central District of California.
Furthermore, Mark Geragos' daughter, Teny Geragos, also has experience working as a Research Assistant for Professor Kevin Lapp. Besides, she worked as a Legal Intern for Legal Aid Society, Criminal Trial Practice for some months. Teny even served as a certified Law clerk at Los Angeles County District Attorney's office. The former Research Assistant to Executive Director Sean Kennedy at her alum, Teny Geragos, also worked as a Law Clerk for GERAGOS & GERAGOS, APC for nine months before joining Brafman & Associates.
Geragos' Daughter Did Not Get A Job At The US Attorney's Office
The Art History and Media, Culture & Communications degree holder from the New York University, Teny Geragos, applied for a job as an assistant US Attorney in 2019. She appealed to fill the vacancy created by Moira Kim Penza, the former lead prosecutor for Keith Alan Raniere. However, the court order suggested that she will not be getting a job there.
ALSO READ: Jillian Michael's Daughter With Heidi Rhoades, Lukensia Michaels Rhoades
Various assumptions were made regarding the rejection of Mark Geragos' daughter, Teny Geragos's application to the Department of Justice. According to sources, Teny herself might have withdrawn her application, or probably, the DOJ decided to employ someone else in that position. Some even speculated that her father, Mark Geragos, was the reason. Teny's dad, Mark's role in a criminal case being prosecuted in the Southern District of New York, might have played a major role in the decision for Teny not to go to work there.
However, the exact reason behind not hiring Teny at the US Attorney Office is not available for the public to date.
Only Daughter Of Mark Geragos With Paulette Geragos
Teny Geragos is the only daughter of Mark Geragos with his long-time wife, Paulette Geragos. Besides Teny, the Geragos couple has one son named Jake Geragos, who is younger than Teny. Teny Geragos' brother, Jake, seems to prefer a life away from unnecessary media scrutiny. So, he does not seem to be available on any social media handles.
When your son takes over he cooking chores on Christmas Day pic.twitter.com/vPr3AorOgO

— Mark Geragos 🇦🇲 (@markgeragos) December 26, 2016

However, as mentioned by Mark on his Twitter, Teny's brother, Jake, loves cooking for his family during special occasions. Moreover, Teny and Jake enjoy spending their spare time together with their family. We wish we could see their brother-sister bonding via their social networking handles. But, unfortunately, Teny's Instagram is not available to the public, and she posts less on her Facebook and Twitter.
Her Father Owns A Restaurant On Her Name
Mark Geragos' daughter, Teny Geragos, seems to be very close to his heart. Almost every fan of Mark Geragos might know that he never leaves a single chance to express how proud he is of his girl. But his expression of love for his daughter does not end there. He owns a restaurant in her name named '10e'.
10e is a Mediterranean restaurant and cocktail lounge located in Los Angeles. It offers handcrafted cocktails and Lebanese beer and wine to pair with Armenian dishes. Besides, 10e, Teny's father, Mark, also owns various other law firms and hotels, including the Capri Hotel in Southampton.
Name Meaning: Teny Geragos
Teny is a Greek origin name which means Reaper.
Explore more on eCelebrityBabies and get updates on Celebrity Babies, Celebrity Parents, Celebrity Siblings, and More.