Nick Offerman is an American comedian, producer, and writer famous for his role as Ron Swanson in the political satire TV series 'Park and Recreation.' Other blockbuster films played and produced by Nick Offerman include The Founder, Fargo, The Lego Movie, and Hotel Transylvania 2. As a writer, Offerman has released three books, including the Gumption: Relighting The Torch of Freedom with America's Gutsiest Troublemakers. Besides, Nick is also a professional woodworker and owns a woods store named Offerman Wood Shop.
Married to actress Megan Mullally since 2003, Nick Offerman is not the only son of parents, nurse Cathy Roberts and school teacher Ric Offerman. He has a brother named Matt Offerman, who helps him in his wood crafting business. Here, learn everything you need to know about Nick Offerman's brother, Matt Offerman's career, and many more.
Nick Offerman's Brother, Matt Offerman, Is Also A Woodcraftman
The handsome brother of comedian Nick Offerman, Matt Offerman is also a woodworker and carpenter like his celebrity brother. Matt and his father, Ric, help his brother Nick at his woodshop located in Los Angeles, California. According to the Linkedin profile of Matt Offerman, he is continually serving as a woodworker at Offerman Woodshop since the beginning of 2003.
View this post on Instagram

Furthermore, before lending his hand to his brother in the wood carving business, Matt Offerman was a Realtime Coordinator at CaptionMax. Also, the Illinois State University graduate with BASc in Cable television and Beer, Matt was an employee at Christ N' Sons Carpentry from 2007 to 2012 as Archbishop. Similarly, he also served as a Rate Lock Team Lead at No Red Tape Mortage for some years.
Besides being a woodworker at Offerman Woodshop, Matt Offerman works at Iron & Glass Minooka as Taproom Manager. Also, he is a brewer at Tribe Beer Co.
Matt Offerman Appeared Alongside Nick In Parks And Recreation
Nick Offerman's brother, Matt Offerman is also a part of the American Film Industry since the early 2000s. Although Nick gained a lot more fame than him in showbiz, he has also tried his hand in a couple of movies. Matt played the role of Don Swanson, brother of Ron Swanson, starred by Nick Offerman in the TV series Park and Recreation. Matt first appeared in the eighth episode 'Ms. Ludgate-Dwyer Goes to Washington' where he can be seen as an employee at Ron's company 'Very Good Building Co.'
Moreover, Matt Offerman is also known for his appearance in the movie Pee Shy and Live N*de Girls. His latest acting credit goes to the 2020 horror thriller film Lunar Effect as Jack.
Nick Offerman's Brother, Matt Is A Family Man
Matt Offerman, Nick Offerman's brother, is a family man. He is in a marital relationship with Lise Bellefeuille Offerman since 2008. He often shares photos with his beloved wife on his social media pages. Seeing the pictures of Matt and Lise, it seems like they are so much in love with each other, and their love is still as fresh as it was in the beginning.
ALSO READ: Andy Samberg's Sister, Johanna Samberg
Furthermore, Matt Offerman and his wife, Lise, are proud parents to two adorable girls who show great interest in their father's work. They enjoy learning wood-crafting works from their uncle, Nick, and father, Matt. Matt is undoubtedly a blessed dad as his little girls love his work and often helps him in the workshop during their spare time.
Matt Is One Of The Four Kids Of Ric Offerman And Cathy Roberts
Nick Offerman's brother, Matt Offerman, is one of the four children of a former teacher, Ric Offerman, and nurse Cathy Roberts. Besides brother Nick Offerman, he has two sisters, Laurie Offerman and Carrie Offerman. His sister, Laurie Offerman, is currently an Executive Director at Three Rivers Public Library District, while his other sister, Carrie, is a social studies teacher.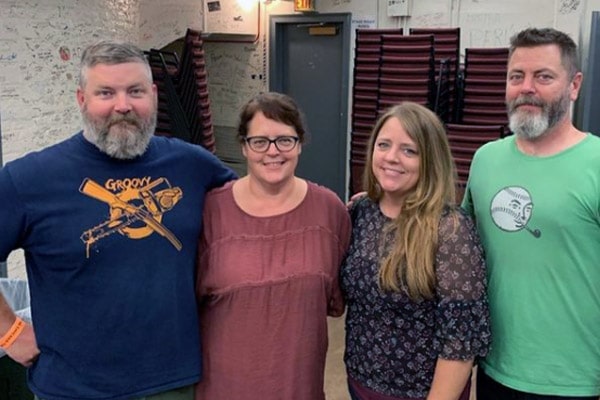 Matt Offerman shares a great bonding with all of his siblings. He can often be seen having fun in family get-togethers and traveling various destinations with his sisters and brother. Moreover, Matt never hesitates to express his immense love for his siblings via his social networking handles. We hope their bonding gets even stronger with each passing day.
Explore more on eCelebrityBabies and get updates on Celebrity Babies, Celebrity Parents, Celebrity Siblings, and More.