Actor Nick Offerman is famous for portraying anti-government bureaucrat Ron Swanson's role on the comedy show Parks and Recreation. He is an American writer, comedian, and producer born to nurse Cathy Roberts Offerman and former teacher Ric Offerman in Joliet, Illinois. The husband of Megan Mullally, Nick Offerman, has two sisters, Laurie Offerman and Carrie Offerman.
Here, have a closer look at comedian Nick Offerman's sisters, Laurie Offerman, better known with the name Lauren and Carrie, including their professional achievements.
Nick Offerman's Sister, Laurie Is A Librarian
Laurie Offerman, aka Lauren Offerman, Nick Offerman's sister, is an active librarian at Three Rivers Public Library District based in tri-county areas, Will, Kendall & Grundy counties. She joined the Three Rivers Library in 2009 as its Assistant Director. After working as an Assistant Director for four years, Lauren is currently serving the Three Rivers Library as an Executive Director.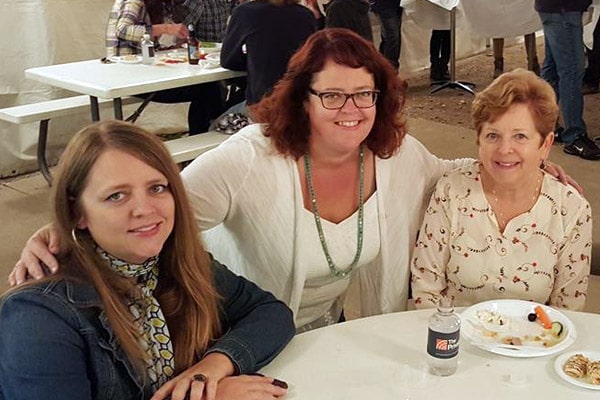 Before this, Nick Offerman's sister, Laurie Offerman, served as a Substitute Reference Librarian for a decade at Plainfield Public Library District. Also, the graduate of the University of Wisconsin-Madison with MLIS, Library and Information Studies, Laurie worked at New Lenox Public Library District as an Adult Services librarian from 2001 to 2009.
The elder sister of actor Nick Offerman, Laurie, earned her BA in Sociology and Anthropology from Eastern Illinois University. Laurie is currently living with her husband in Minooka, Illinois, where she grew up with her brother, Nick Offerman.
Carrie Offerman Is A Teacher
Nick Offerman's sister, Carrie Offerman, does not post much on her social media pages like her celebrity brother, Nick, and sister, Laurie. Moreover, she seems to prefer a quiet life away from the extreme media spotlight and paparazzi. However, according to various online sources, Carrie Offerman is a school teacher like her father, Ric Offerman.
Nick Offerman's other sister, Carrie Offerman, is a social studies teacher at Aux Sable Middle School. Moreover, she is also working as Aux Sable's instructional coach. The dedicated elementary school teacher, Carrie Offerman, has received numerous honors for her dedication and commitment in the educational field. In 2014, Carrie was honored with the Educator of the Year Award for her more than two decades of service in Aux Sable Middle School.
Carrie Offerman earned her Bachelors of Arts in Education from Eastern Illinois University in 1997. Later, she graduated from National Louis with an MA in Education in 2009 and another in 2015 from Concordia. Currently, she lives with her daughter, Sunshine 'Sunnie' Offerman, and five pets in Illinois. She loves to bake, travel, taking pictures, go for walks, and to read mainly history.
The Offerman Siblings Has One More Brother Besides Nick
Nick Offerman is not the only brother of the Offerman sisters, Laurie and Carrie Offerman. Besides Nick, they have one more brother named Matt Offerman. At the moment, Nick Offerman's brother, Matt Offerman, works as a Taproom Manager at Iron & Glass Minooka. A proud father of two, Matt, is also a Brewer at Tribe Beer Co.
ALSO READ: Will Arnett's Siblings, Tannis Arnett, Shanly Arnett, And Charles Arnett
Nick Offerman's sisters, Laurie and Carrie, have a great bonding with both of their brothers. They can often be seen attending various family functions and traveling to different places together. The Offerman sisters also often help their brother, Nick Offerman, with his business of wood-crafting.
Though the Offerman siblings are usually busy with their respective professions, they always separate some time for spending their time together. We hope their brother-sister bond lasts till eternity.
Explore more on eCelebrityBabies and get updates on Celebrity Babies, Celebrity Parents, Celebrity Siblings, and More.