B. J. Novak, born in 1979 as Benjamin Joseph Manaly Novak, is famous for his work on NBC's Emmy Award-winning comedy series The Office. He worked in NBC's series as a writer, director, executive producer, and actor. Also, Novak is popular for his standup comedy and his acts in motion pictures. Moreover, B. J. Novak is an author of the New York Times bestselling book of short stories, One More Thing and The Book with No Pictures.
The godfather of The Office star Mindy Kaling's children, B. J. Novak currently resides in Los Angeles, California. He has two brothers who are also artistic and creative like him. Here, in this article, get to know if one of B.J. Novak's brothers, Lev Novak is also in acting or involved in any other profession.
B. J. Novak's Brother Is In The Film Industry
Lev Novak, B. J. Novak's brother is also a part of the American Film Industry. However, to date, he has not tried his hand at acting like his celebrity brother. Instead, he is a founding team at a stealth start-up. Lately, he is searching for some new cool actors with solid followings on social media pages like Instagram and Twitter. Also, he is in search of casting directors to find and access talent.
Hey!

Do you know any cool actors with solid followings? (e.g, 20k+ followers) who'd like to make short, scripted videos?

DM me, I've got some potential paid work.

— Lev Novak (@LevNovak) December 4, 2020

Before being a team member of a stealth start-up, B. J. Novak's brother, Lev Novak, worked in various organizations, mainly as a writer. Lev was the Senior Writer and Project Manager at Civic Entertainment Group, LLC. Moreover, he also served as a senior writer and content consultant at CertiK Foundation for a year.
Similarly, Lev Novak is the founder of Cactus Games. He works with programmers to make custom, embeddable micro-games. Besides, Lev also worked as a senior marketing writer and in the business development of Mohawk Group, Inc. He was the director of Emerging Platforms in CAFE, New York. As a writer, Lev contributed to The Washington Post as a freelancer and Soho Press as an author. He is the co-author of the book 'Black Sabbath' with author John Hamburg and the novel Beyond Average.
Tufts University Graduate
B. J. Novak's brother, Lev Novak, is a graduate of Tufts University, Boston, MA. He joined Tufts in 2009 and completed his university education from there in 2013. During his tenure at Tufts University, Lev wrote many articles, stories, and journals. He also wrote for Hack College and College Humor.
Soon after graduation, Lev Novak wrote for Thought Catalog as a contracted freelancer for some period. Also, he wrote twelve-monthly pieces and managed a famous advice column, 'Go Ask Lev' for Thought Catalog. Then, he taught Hebrew at after-school programs in Kesher Newton for two years, cobbling together money as he wrote.
A Stand-up Comedian
B. J. Novak's brother, Lev Novak, is a stand-up comedian just like his brother. The Novak brothers learned the rules to be a stand-up comedian from their father, William Novak, who is also an author. Lev began doing comedies from his early childhood days. He even won the 'funniest kindergartner' award at the age of five in kindergarten. Lev continued doing stand-up comedies till his high school.
ALSO READ: Kevin Krasinski, John Krasinski's Brother
In an interview with uCribs, Lev Novak revealed that lately, his focus is on his career as a writer, but stand-up will always remain close to his heart. We hope we will soon see Lev Novak with his Lev Novak Show on Comedy Central.
Youngest Of Three Novak Siblings
Lev Novak is the youngest of three Novak siblings. Besides, The Office star B. J. Novak, Lev has an elder brother named Jesse Novak, nine years older than him. Currently, Lev Novak's brother, Jesse, is flourishing his career as a music composer in the American Entertainment Industry alongside his brother, B. J. Novak.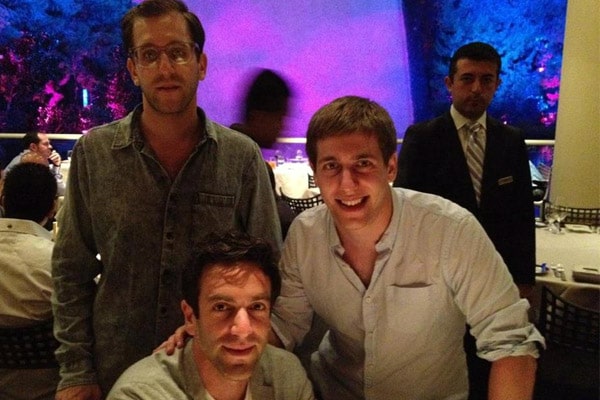 As the youngest of three Novak siblings, Lev grew up always feeling distant. He used to think that his big brothers were light-years ahead of him. He often asked his mother, Linda Novak, when he would be the oldest brother, which was obviously impossible. Lev used to think that he would be a kid forever. However, his thought changed after he began teaching at after-school programs in Boston. Soon, he realized that there is no secret marker of adulthood.
Lev Novak is very close with his big brothers, B. J. Novak and Jesse Novak. We can see their brotherly bonding on their respective social media pages and sometimes during sociable events as well.
Explore more on eCelebrityBabies and get updates on Celebrity Babies, Celebrity Parents, Celebrity Siblings, and More.