Aaron Paul is a household name in the entertainment industry. The 41-year-old actor gained massive fame after portraying the fan-favorite character of Jesse Pinkman on the show Breaking Bad. Aaron has been making massive leaps in the entertainment industry throughout the years. After winning several awards for his performance in Breaking Bad, Aaron has now taken a role as Caleb Nichols in the HBO science-fiction drama series Westworld.
Breaking Bad was a career-changing project for Aaron, which made his professional life jump a lot higher. His exploits in the industry are pretty much known by all, but what about his personal life? The actor was born youngest in a family of four children. While Aaron has three siblings, in this article, we will be only focusing on Aaron Paul's sister Danielle Hart.
Elder Sister Of Aaron Paul
As we mentioned earlier, Aaron Paul was born in a family of six. The actor has three older siblings Danielle Sturtevant Hart, Rachelle Sturtevant Evans, and Stephen Sturtevant, all born to parents Darla Haynes and Robert Sturtevant. The family of six are pretty close to each other and can be seen having a good time together pretty frequently. As Danielle is the elder sister of Aaron, she was also the part of raising him; not just Danielle, all of Aaron's siblings played an important part in his childhood.
He won't be wearing this to the EMMYS but its pretty cute!;) @aaronpaul_8 from my IG "@americanhips" GoodlucklilB!!! pic.twitter.com/URUXkMlo

— danielle hart (@daniellehart8) September 23, 2012
Aaron and his wife, Lauren Parsekian, are especially close to Danielle and can be seen supporting each other through the likes of platforms such as Instagram. One thing is for sure that there is nothing but love and respect for each other in this beautiful family.
Aaron Paul's Sister Danielle Hart Is Married To Ben Hart
Aaron Paul's sister Danielle Hart is married to her husband, Ben Hart. Ben is the founder of an online clothing store called Palmer Cash, which includes a variety of clothing options. The couple married on February 11, 2001, and celebrated their 19th anniversary this year. The couple can be seen spending most of their time together in each other's arms and they really seem inseparable.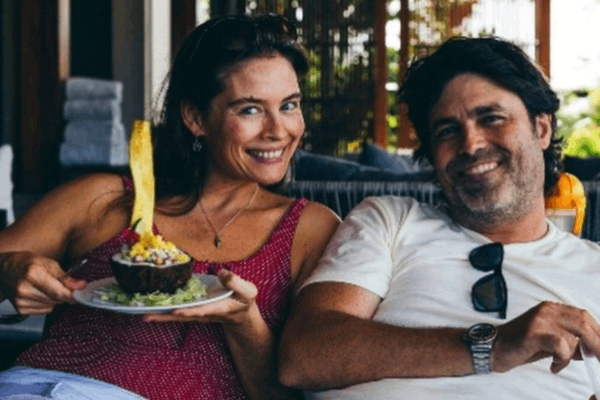 As for Danielle, there doesn't seem to be any information regarding her professional life, so we don't really know what she really does. All we can do is be patient and wait for her to talk about her profession.
Also Read: What Does Aziz Ansari's Brother Aniz Ansari Do? 
Danielle Is A Mother Of Six
While we don't know what Aaron Paul's sister Danielle's profession is but we do know that she is a wonderful mother of six. Danielle and Ben are parents to six boys Noah Hart, Oweb Hart, Aaro Hart, Bowie Hart, Moby Hart, and Oslo Hart. The family sure is big, and Danielle must be pretty busy making sure all of her boys are growing up to become amazing people.
View this post on Instagram

Aaron is also particularly close to his nephews, as he once shared a screenshot of him talking to Bowie while he was in the bath. Danielle must be blessed to have all of these kids who will definitely love her all throughout their lives.
Explore more on eCelebrityBabies and get updates on Celebrity Babies, Celebrity Parents, Celebrity Siblings, and More.