Indian-American actor Aziz Ansari is the main character and creator of the Netflix series Master of None. Also known for his role in the popular NBC sitcom Parks and Recreation, the 37-year-old actor has won two Emmys and a Golden Globe. He is the first Asian American actor to win a Golden Globe for acting on television.
Aziz Ansari is not putting brakes on his relatively prospering career, so we would have plenty to talk about his professional life. In the meantime, let's have a look at his personal side of things. Aziz was born to mother Fatima Ansari and father Shoukath Ansari. Well, his parents have definitely been in the spotlight after starring in Master Of None, but did you know Aziz also has a brother?
So, Why don't we take a deeper look at Aziz Ansari's brother Aniz Ansari aka Aniz Adam Ansari?
Who Is Aziz Ansari's Brother Aniz Ansari?
Aniz Ansari is the only brother of talented actor Aziz Ansari. The seven-year-old younger sibling grew up very close to Aziz in a rural community of South Carolina. The two brothers were always a fan of the TV, and they would always make jokes and stuff out of it to amuse themself. Unlike Aziz, who is pretty active on social media, Aniz remains pretty low key and does not seem to have a social media account.
Despite a considerable age gap, Aziz and Aniz ended up being pretty close to each other, and they are still each other's best friends. The two can be seen casually spending quite a lot of time together.
Also Read: What Does Nick Offerman's Brother Nick Offerman Do? 
Aniz Is A Screenwriter
As we mentioned earlier, the two Ansari brothers were a big fan of television from a very young age. This developed a deeper interest for them to pursue a career in it. While Aziz chose to do it through acting, Aniz has chosen to be part of the TV industry through his writing. The 30-year-old has been part of multiple projects, including his brother's show Master Of None and the much recent addition Forever.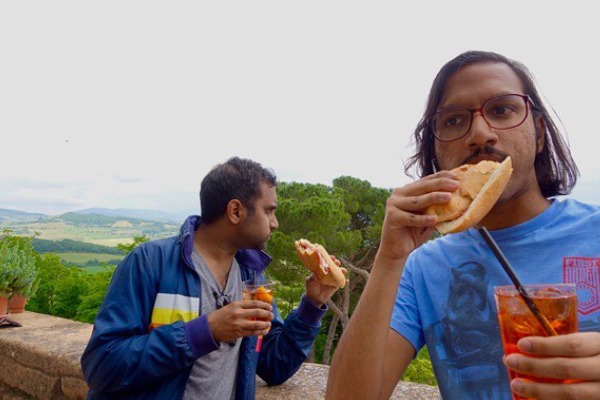 Aniz was also featured in Forever in the role of a character named Aaron, which he portrayed pretty eloquently. In an interview with Entertainment Weekly, Aniz mentioned that he was working on other projects as well, but he could not reveal their names. Let's hope we get to see more of his amazing work in the coming days.
Aniz Joined DC Comics Back In 2013
Aziz Ansari's brother Aniz Ansari joined Dc Comics back in 2013. The writer took on the position of Assistant Editor of DC Comics in their Digital Division based in Los Angeles. Aniz worked with Senior Editor Jim Chadwick on projects such as Batman 66 and Injustice, and Masters of the Universe in conjunction with Mattel.
Aniz was previously an alum of comic experience which helped him a lot in taking the role. He graduated from Comics Experience's Comic Writing course in 2012. Aniz is a natural when it comes to comics has been working hard to make as much impact as possible. We may also see him take on some role at the DCEU and work on some blockbuster movies pretty soon.
Aniz Is The Secret Weapon Behind Master Of None
While big brother Aziz and father Shoukath are stealing the show after Master Of None's unprecedented success there, one who is left out from receiving enough praise is none other than Aziz Ansari's brother Aniz. Aniz has been part of the show since season one, even though he was not that close to the production back then. Aniz moved to New York from LA for the second season so that he could dedicate a lot of time to the show. As an onset writer, Aniz is responsible for a lot of jokes and dialogues in the show.
View this post on Instagram

Aziz also mentioned that his brother Aniz and Eric Wareheim were the bigger creative forces of the show. This makes Aniz the secret weapon behind the show's success. Master Of None is the first project Aniz has worked on, and given the fact that it is so good, we can't wait to see what he has under his sleeve next.
Explore more on eCelebrityBabies and get updates on Celebrity Babies, Celebrity Parents, Celebrity Siblings, and More.