Best known for his role as Jim Halpert on the NBC sitcom The Office, John Krasinski is an American actor and filmmaker. The 41-year-old actor also served as a producer and occasional director for the show. He is the recipient of several awards, including four Primetime Emmy Award nominations and two Screen Actors Guild Awards.
John Krasinski's career has been phenomenal, and looking into his personal side; it also has quite some talking points from marrying Emily Blunt to attending Brown University's honors program. John was born in a family of three brothers and had a friendly relationship with all of them, which has not bygone. Krasinski has two elder brothers but in today's article, let's look into John Krasinski's brother Kevin Krasinski.
Eldest Brother Of John Krasinski
John Krasinski's parents, mother, Mary Claire, is a nurse, and his father, Ronald Krasinski, is an internist currently living in Newton, Massachusetts. John's brother Kevin was the firstborn child in this family of three brothers. The middle child Paul Krasinski and John came later on. All three of the Krasinski siblings grew up pretty close to each other and were bonded by a bond stronger than anything. Ronald and Mary were pretty great as parents, which made it easier for the kids.
The three brothers are still very close to each other; you can also see that from their time together on different occasions. The siblings' love for each other is pretty strong, and all of them respect each other. Even though the siblings are engaged in different fields, the three brothers do support each other every time.
ALSO READ: John Cena's Brother Dan Cena Is A Police Officer 
John Krasinski's Brother Kevin Is A Doctor
John Krasinski's brother Kevin Krasinski is a doctor. He is currently serving as an Orthopaedic surgeon at EmergeOrtho—Triangle Region. Kevin has been in the medical field for almost two decades and is a respected doctor. Kevin must have been inspired by his parents, who were also in the medical field. He was heavily influenced by Marie and Ronald as he is the eldest.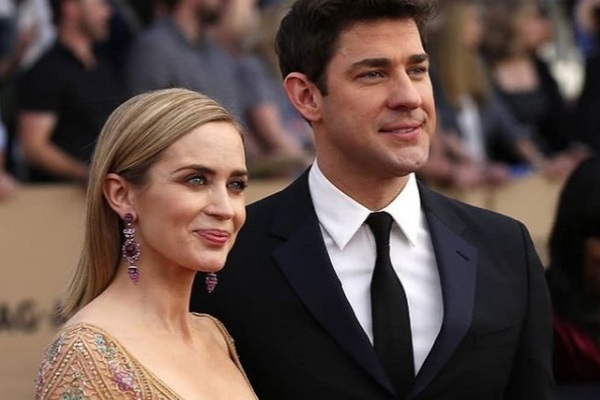 Kevin completed his undergraduate degree from Colgate University in biology and was a member of the Tri-Beta National Biological Honors Society. After that, he got his medical degree from Tufts University School of Medicine in Boston, graduating as a member of the prestigious Alpha Omega Alpha Medical Honor Society. John Krasinski's brother Kevin also got the Charles and Jane Brusch Prize during his time at Tufts. Nevertheless, he made his parents and brothers really proud.
Works As A Team Physician And Consultant For Burlington Royals
Apart from his usual job as an orthopedic surgeon, John Krasinski's brother, Kevin, also works as the Team Physician and Medical Consultant of the baseball team Burlington Royals. Kevin specialized in sports medicine, so sports is definitely his forte. He previously served as a team physician for Boston College athletics and was an assistant team physician for both Duke University and North Carolina Central University.
Kevin has definitely made a big impact on his brothers' life. First guiding them through different stages of life and then being a role model for the brothers, Kevin has definitely been a very reliable big brother.
Explore more on eCelebrityBabies and get updates on Celebrity Babies, Celebrity Parents, Celebrity Siblings, and More.