American actor Chad Lowe is known for his roles in Life Goes On, ER, Melrose Place, and Now and Again. The actor is also the brother of another popular actor and producer, Rob Lowe. Chad has appeared in a variety of movie and TV shows over the years and also won an Emmy for best supporting actor on his role in Life Goes On.
If you are a fan of Chad and Rob, you must be eager to know if the two also have other siblings who are into the entertainment industry. In fact, Chad and Rob have two half brothers Micah Dyer and Justin Lowe, from their parents' second marriage. While all of the brothers are pretty close to each other, this time around, we will be only focusing on Chad Lowe's brother Justin Lowe and see if he is also into the entertainment industry.
Chad Lowe's Paternal Half Brother
Justin Lowe is the only paternal half brother of actor Chad Lowe. After Chad's father, Charles Davis Lowe, and mother, Barbara Lynn Wilson, separated, both of them got married and had additional children. Charles gave birth to Justin, while Barbara gave birth to Micah, who is also in the entertainment industry as a producer.
The four siblings sure know how to make the best of what they are good at. Even though we don't know much about their relationship, the four brothers seem to be pretty close to each other. Both Charles and Barbara must be pretty proud that their kids have grown up to become successful people in their respective fields.
Also Read: Is Aaron Paul's Sister Danielle Hart Also Into Acting? 
What Does Chad Lowe's Brother Justin Do?
Chad Lowe's brother Justin Lowe is an installation artist. The 44-year-old graduated from Columbia University with an MFA and has been pursuing a career in it. While most of Justin's work remains unrecognized, we do know he gained a commendable amount of fame after making intricate, disorienting areas of junk-filled rooms that feel like deserted movie sets. He used to team up with Jonah Freeman, who is an NYU film graduate, to re-­create meth labs.
The two made a huge success through their project Hello Meth Lab in the Sun, which was an instant hit, and coincidently it was opened just at the right time when Breaking Bad was airing, so meth was definitely in the air. After working on recreating meth labs with his artistic talent, Justin remains distant from media nowadays, so it's quite hard to know what he is doing these days.
Justin Lays Low In The Media
As we mentioned above, Chad Lowe's brother Justin Lowe remains low on social media. The talented artist seems to have no social media accounts and rarely makes a public appearance. As both of his half-brothers are big shots in Hollywood, he must be laying low to avoid any sort of possible controversies. Justin wants to live a normal life for which he needs to get as much as less attention as possible. Nevertheless, we can expect Justin to be close with his nieces too.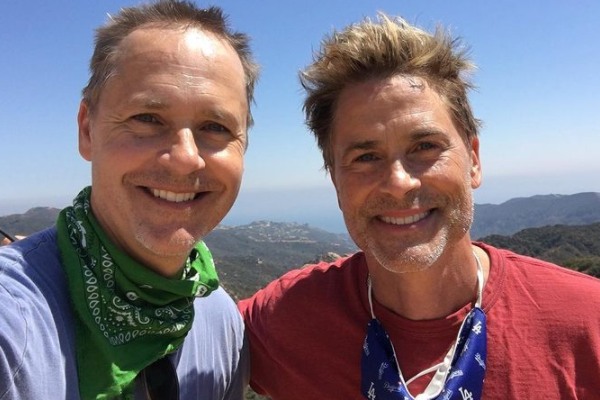 Justin's engagement after his meth lab run is pretty much unknown and not to mention his personal life, which is even a bigger mystery. Let's hope we get to hear from him soon about what he is doing nowadays.
Explore more on eCelebrityBabies and get updates on Celebrity Babies, Celebrity Parents, Celebrity Siblings, and More.