Chad Lowe (Charles Davis Lowe II) is an Emmy-winning American actor. Chad received the accolade for his supporting role as a man with HIV in the movie Life Goes On. He has also been a part of many television series and soap operas like ER, Melrose Place, 24, and Now and Again. But he is most famous for his role as Byron Montgomery in Pretty Little Liars, an American teen mystery thriller drama.
You probably know much about his personal life, so in this article, we will talk about his daughters. Chad Lowe was previously married to two-time Oscar-winning actress Hilary Swank from 1997-2007. After their divorce, Lowe started dating producer Kim Painter and eventually got married in August 2010 in Los Angeles. To date, this couple has been blessed with three amazing daughters. Continue reading this article to learn facts about all of Chad Lowe's daughters.
Mabel Painter Lowe- The Eldest Daughter Of Chad Lowe With Kim Painter
Actor Chad Lowe and producer Kim Painter welcomed their first child Mabel Painter Lowe on May 16, 2009. The couple had started dating in January 2007 and welcomed Mabel after two years of dating. As you might have already known, Chad and Kim had not tied their marital knots at the time of Mabel's birth. They got married only after a year of Mabel's birth, and to our surprise, their 15-month-old daughter was the ring bearer of the ceremony.
View this post on Instagram
ma
Mabel inherited her mother's maiden name as her middle name. And as of now, Chad Lowe's daughter Mabel is 11 years old. She is a big fan of Sabrina Carpenter. And another surprising fact about her is that she looks exactly like her grandmother Barbara Lynn Wilson Hepler.
Fiona Hepler Lowe- Chad Lowe's Second Kid With Wife Kim
Fiona Hepler Lowe is the second daughter of Chad Lowe and Kim Painter. The couple gave birth to Fiona on November 15, 2o12. The couple decided to give her the middle name 'Hepler'- the maiden name of Chad's late mother, in honor of her.
Like all of Chad's daughters, Fiona also loves skiing. And at singing, she is the best among the bunch. She even sings solo songs, and the best thing is that her father always has her back that she can rely on when she is frightened to face the stage.
ALSO READ: Will Arnett's Siblings, Tannis Arnett, Shanly Arnett, And Charles Arnett
Nixie Barbara Lowe- The Youngest Daughter of Chad Lowe With Kim Painter
The couple welcomed their youngest daughter, Nixie Barbara Lowe, on March 18, 2016. It seems like she is the most pampered kid among the three. Although Nixie is only 4 years old, she loves being adventurous. Her dad calls her 'A Pro Snow-ball Maker.'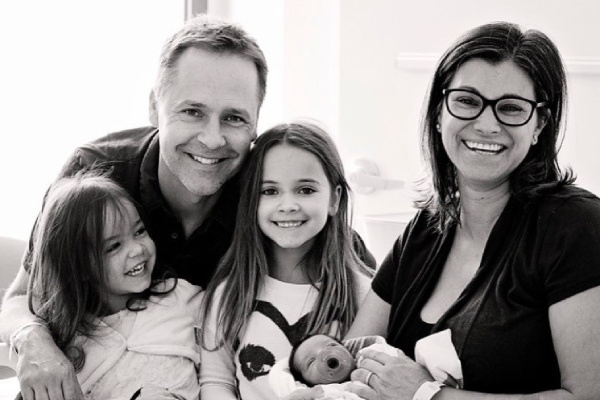 Nixie, Fiona, and Mabel share a great bond, which demonstrates Chad and his wife Kim's good parenting. Unlike most kids today, they are very adventurous and often spotted spending time in nature. They love cycling, skiing, skating, and whatnot. The trio once even attempted to cut their father's hair. \
Another cool fact is that Chad Lowe's daughters are nieces of actor Rob Lowe (Robert Hepler Lowe). He also shares his middle name with his niece Fiona Hepler Lowe.
Name Meaning: Mabel Painter Lowe, Fiona Hepler Lowe, and Nixie Barbara Lowe
'Mabel' is the name of Latin origin, and it means 'lovable.' 'Fiona' is the name of Scottish origin, and it means 'fair.' Lastly, 'Nixie' is a girl name meaning 'water sprite.' It is of Old German origin. And 'Barbara' is a Greek name that means ' strange or foreign.'
Explore more on eCelebrityBabies and get updates on Celebrity Babies, Celebrity Parents, Celebrity Siblings, and More.