Aaron Paul is a name that barely needs any introduction. The 41-year-old actor has established himself in the hearts of millions of fans worldwide. Aaron gained major popularity through the series Breaking Bad which is regarded as one of the best TV series ever made in history on the small screen. Aaron's partnership with Bryan Cranston is definitely something that remains in the history books of television.
We already know how versatile and hardworking actor Aaron is, but do you know where his passion for his work comes from? Aaron was born to parents Robert Sturtevant and Darla Sturtevant. Being the youngest of the family, he was destined to get love and support not only from his parents but also his siblings. Robert and Darla have been part of a huge chunk of his life, so why don't we take a look at what Aaron Paul's parents did back in the days.
Aaron Paul's Parent's Profession
Aaron Paul's father, Robert Sturtevant, was a baptist minister and raised his kids under the Christian faith. The Breaking Bad star even mentioned in an interview that he had learned a lot from his father in terms of respecting a woman and how to communicate well with your significant other. Robert has inspired all of his children in the faith of God, and he must be proud that all of them have now gone onto becoming succesful in their respective fields.
Well, we have mentioned what Aaron Paul's father Robert did, as for his mother, she works for Mix106, a local radio station. Robert and Darla have been incredible parents throughout their life. Thanks to their dedication, we got to see Aaron take on some iconic roles which will forever remain in our hearts.
Also Read: Who are Adam Scott's Parents, Anne Scott And Douglas Scott? 
Aaron Paul's Mother Darla Gave Birth To Him In the Bathroom Prematurely
Aaron Paul's mother prematurely gave birth to Aaron a month before his due date in the bathroom. Darla even had to cut her own umbilical cord due to the unexpected birth. Luckily nothing went sideways, and Aaron came to this world as a healthy boy. Darla has played a significant role in Aaron's life. From helping him go to LA and start his career to always support his actions, she has been a mother like none.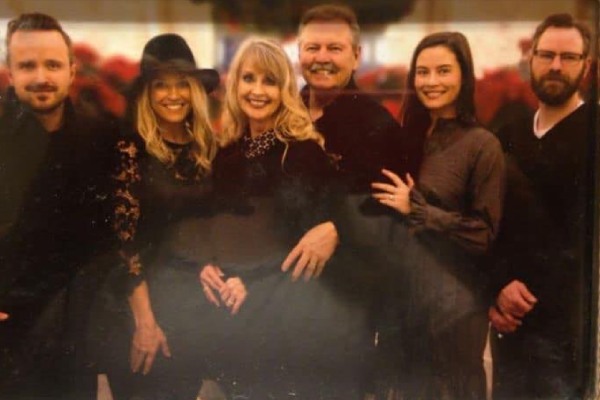 Aaron wanted to be an actor from a young age, and when he decided to move, it was a pretty big move, and it was his mom Darla who helped him start his amazing career. Darla mentioned in an interview that it was pretty bizarre at first to see Aaron appear on television, but now she is really proud of her son. She sure is lucky to have such an amazing personality full of love and care for her children.
Robert And Darla Are Parents Of Four
Apart from Aaron, Robert and Darla are also parents to three other children Danielle Sturtevant Hart, Rachelle Sturtevant Evans, and Stephen Sturtevant. All three of them are elder siblings of Aaron, and they have always been really supportive of the actor. The family of six maintains a closely-knit relationship and can be seen having a get-together every now and then. Let's hope this family remains as lively as they are for many more years.
Explore more on eCelebrityBabies and get updates on Celebrity Babies, Celebrity Parents, Celebrity Siblings, and More.