If you are an avid lover of the basketball game and are updated on every whereabouts of it, then you might be familiar with the NBA assistant coach, Jason Kidd. Kidd is an American professional basketball coach who is currently serving as Los Angeles Lakers' assistant coach. Before beginning a career as a basketball coach, Kidd played as a point guard in the NBA, winning various titles and championships.
One of the most inspiring and greatest sports personalities, Jason Kidd, gives most of the credit for his successful basketball career to his father, Steve Kidd. Here, in this article, get to know about Jason Kidd's father, Steve Kidd, with whom Jason learned many things.
Married To Anne Kidd
The famous basketball coach, Jason Kidd's father, and mother did an interracial marriage. Jason's father, Steve Kidd, is of an African-American ethnicity who married a woman of Irish-American ethnicity named Anne Kidd. They gave birth to Jason some years after their marriage.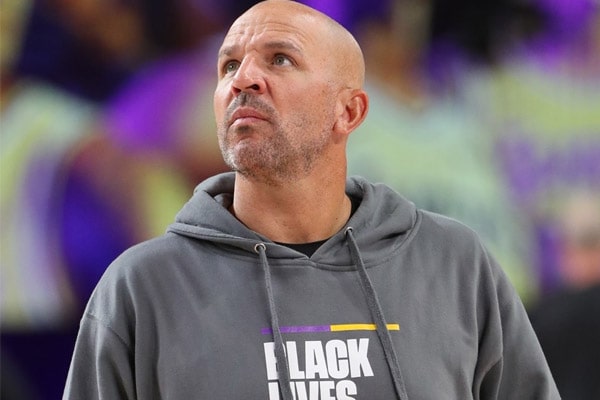 Although Jason Kidd's parents were from different cultural backgrounds, they found love in each other. They remained together as a husband and wife duo for more than a decade. However, due to some unrevealed reasons, Jason Kidd's parents separated officially and remained close as friends for raising their children.
Is A Father To Two More Kids
The proud father of Jason Kidd, Steve is also a father to two more children with Anne Kidd besides Jason. He has two daughters named Kim Kidd and Denise Kidd, who usually stay away from the media limelight.
Moreover, Steve Kidd is also a grandfather to seven grandchildren from his son Jason's side. He became a grandfather for the first time when his son welcomed his grandson, Jason Kidd Jr., on 16 November 1993 from an affair with a woman named Alexandria Brown. Later, Steve's first daughter-in-law, Joumana Marie Kidd, gave birth to three of his grandchildren, Trey Jason Kidd, Miah Kidd, and Jazelle Kidd. Similarly, his second daughter-in-law, Porschla Kidd, delivered three more grandkids of Steve, Noah Grace Kidd, Cooper Anne Kidd, and Chance Kidd.
According to TMZ, Steve's son, Jason, was speculated to have his eighth child in 2017, making Steve, grandfather for the eighth time. However, the Kidd family has not disclosed any details regarding the arrival of the baby.
Jason Kidd Learnt A Lot From His Father
As mentioned earlier, Jason Kidd credits his father, Steve Kidd, for his successful career on the basketball court. In many interviews, Jason Kidd revealed that he learned several life lessons from his dad, Steve. However, among all of those teachings of Steve, Jason took one as the most important instruction. And that is Steve's instruction to stay in the course and remain patient.
ALSO READ: Here Are Some Facts About Vin Diesel's Father Irving H. Vincent
Jason Kidd went through various obstacles and failures during his career in basketball as a player as well as a coach. But he took all those hardships during the game as a lesson and remained patient. And currently, with patience, hard work, and dedication, Jason Kidd has established himself as one of the most celebrated coaches in the NBA.
Died Of A Heart Attack In 1999
The motivating father of Jason Kidd, Steve Kidd, passed away at the age of sixty-one in May 1999. According to the official website of Jason Kidd, the reason for Steve Kidd's death was a heart attack. Jason had hugged his father and bid goodbye to him at the end of a visit to Phoenix just three days before Steve's sudden demise.
After losing his father, Jason Kidd began playing more vigorously and staying even longer than before for practice. His father, Steve Kidd's death made him realize that the wasted times eventually wear a man down, not the heavy minutes which he used to think. Steve's unexpected demise made Jason value things more.
We hope Jason Kidd's father, Steve Kidd's soul, is resting in peace.