Joel Osteen is one of the most-loved pastors, televangelists, and authors of the United States. Currently, he pastors the United States' largest evangelical non-denominational Christian megachurch situated in Houston, Texas. Averaging about 52,000 followers of Jesus Christ attend his congregation per week. As an author, Joel Osteen published his first book, Your Best Life Now, in October 2004, which reached the first position on The New York Times Best Seller list. His second book is Become a Better You, published in October 2007.
The famous evangelist Joel Osteen is the son of John Osteen and Dolores 'Dodie' Pilgrim Osteen, who were also pastors. Joel Osteen's father, John, handed over his post as a pastor to Joel before his death by a heart attack in January 1999. Here, get to know everything about Joel Osteen's parents' life events, including their journey towards God's work and pastorship.
Joel Osteen's Parents Are The Founders Of Lakewood Church
John and Dodie Osteen, Joel Osteen's parents, founded The Lakewood Church in 1959, where Joel Osteen serves as a senior pastor in the present. The Osteen couple started their Church in an abandoned, dusty feed store in Northeast Houston for charismatic Baptists. The congregation soon omitted Baptist from its name and became open for everyone.
Joel Osteen's father, John Osteen's work for God, began in 1939. In 1939, he started preaching about God in Paris and Texas. Eventually, a church affiliated with the Southern Baptist Convention ordained him to the gospel ministry, shortly before becoming 18 years old. Later, John served as an assistant pastor at First Baptist Church in San Diego, Texas. By the late 1940s, he got the post of a minister at First Baptist Church, Hamlin, Texas.
Before founding the Lakewood Church, John Osteen was a Central Baptist Church pastor at Baytown, Texas. In 1955, he resigned his pastorate position from the Central Baptist and entered the pastoral ministry at Hibbard Memorial Baptist Church, which he left in 1958. The same year, John and Dodie's first-born, Lisa Osteen, arrived in their life with severe health issues.
As Joel Osteen's parents wrestled with their daughter's circumstances, their theological believes shifted to ecstatic religious experiences, based on what they called 'baptism of the Holy Ghost.' So, in 1959 on Mother's Day, John and his wife, Dodie, founded the Lakewood Church in Houston's outskirts.
Dodie Osteen Is A Cancer Survivor
In 1981, Dodie Osteen, Joel Osteen's mother, was diagnosed with metastatic cancer of the liver. Her doctors told her that with or without chemotherapy, Dodie had just some weeks to live. With no hope from the medical practitioners, her spouse, John Osteen said the doctors that they have faith in miracles and the miracle worker, i.e., Jesus. The Osteen couple went home to pray and seek God's help.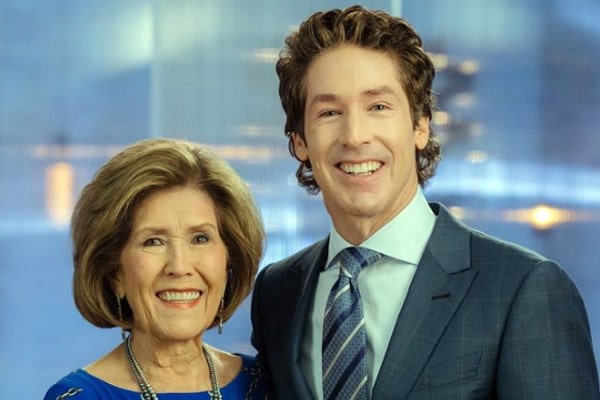 In fact, Dodie Osteen was the first to say not to do necessarily what she did. She said one must seek God and do what brings peace in one's mind as peace is the barometer for what one needs to do in any circumstance. After returning home, Dodie's close friends and relatives prayed for her.
Several well-known pastors for healing prayed for Joel's mom. According to Dodie, one night, she heard God telling her heart that other's faith will not heal her. Instead, it's Dodie's faith that she must go on that time. So, she started living her life as if she was not sick and prayed fervently. So, as per Dodie, she got healthier since then, and a few years later, finally, doctors also confirmed that she was healthy like a young woman. According to Osteen's family and her doctors, she healed supernaturally, which is the only clarification.
Joel Osteen's Mother Is His Father's Second Wife
You might be surprised to know that Dodie Osteen, aka Dolores Pilgrim, is not the first wife of John Osteen. In fact, before taking the wedding vows with Joel Osteen's mother, Dodie Osteen, John was in a marital relationship with Emma Jean Shaffer.
ALSO READ: Roy Lee Ferrell, Will Ferrell's Father And Former The Righteous Brother's Keyboardist
As John Osteen mentioned in his biography, after landing the post of pastor at the Central Baptist Church, Baytown, John and Emma started to experience marital unrest. They began having various marital issues leading to their divorce. Some months later, Joel Osteen's father, John Osteen, married his mother, Dodie, on 17 September 1954. Since then, John and Dodie lived a happy life as husband and wife till John Osteen's death in 1999.
Parents To Five Children Including Joel Osteen
Joel Osteen's parents, John Osteen and Dodie Osteen are parents to five children, including Paul Osteen, Lisa Osteen, and April Osteen. All of their children actively participate in God's service and the Church's events.
View this post on Instagram

Besides, Dodie and John Osteen also have nineteen grandchildren, including Alexandra Osteen and Jonathan Osteen, and five great-grandchildren. Dodie Osteen often shares photos with her children, grandchildren, and their children on her social media pages. She seems to be enjoying her senile years with her kids to her best, along with participating in Church Ministries' events.
Explore more on eCelebrityBabies and get updates on Celebrity Babies, Celebrity Parents, Celebrity Siblings, and More.