Many kids come to prominence through their parents. Jonathan Osteen is one of them, who is widely famous for being Joel Osteen's son with Victoria Osteen. However, Joel is not a film star or anything of some sort like other celebrities. He is an American author, televangelist, and pastor of the Lakewood Church. Furthermore, Jonathan Osteen's mother, Victoria, is also an author and the co-pastor of the Lakewood Church.
Like Joel, his son, Jonathan, is also spreading the word of God, actively participating in the events organized by Lakewood Church, founded by his grandfather John Osteen. Due to this, the young son of pastor Joel is also in the media's prying eyes. So, without any delay, get to learn some facts about this handsome man, including his professional and personal life.
Eldest Son Of Joel Osteen And Victoria Osteen
Jonathan Osteen is the first-born of preachers of God, Joel Osteen, and Victoria Osteen. The Osteen husband-wife duo, Joel and Victoria, welcomed their son, Jonathan Osteen, on 20 April 1995 in Houston, Texas. American nationality holder, Jonathan also has a younger sister named Alexandra Osteen, born in 1998.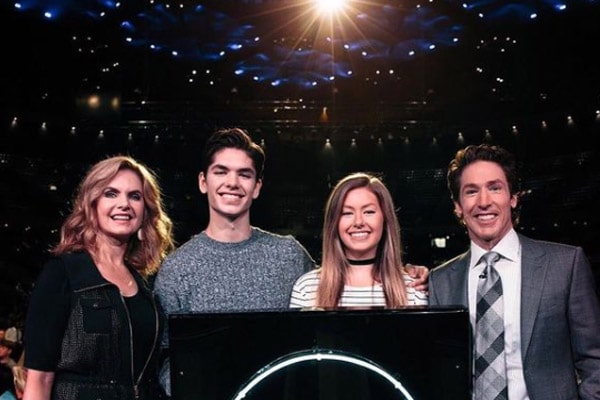 The charming and adorable son of Joel Osteen, Jonathan Osteen, grew up around the people dedicated to God's work in the ministry. Growing up, he attended the  University Of Texas, where he graduated with a degree in Radio, Television, and Film in 2017. Currently, he shares God's heart for people, along with his parents and sister.
ALSO READ: J.J. Philbin And Michael Schur's Son, William Xavier Schur
Following The Footsteps Of His Parents
Joel Osteen's son with Victoria Osteen, Jonathan Osteen, is already following his parents' footsteps to preach the word of God. He appeals to a new generation, calling many youths to the faith and a new life being an active part of the ministry.
View this post on Instagram

On 12 May 2019, Jonathan was at the pulpit of the Lakewood Church for the first time to celebrate the church's 60th anniversary. During that time, he preached his first message, which was a great achievement for him. Jonathan passionately delivered his speech about his faith in God.  He also spoke about God's reward for his family's commitment to the ministry.
Joel Osteen's son, Jonathan, never thought that he would necessarily step into his parent's footsteps to God's service. But, as his mom and dad raised him in the church, it just naturally began to occur that he got more involved there, and here he is today. Jonathan said ABC13 Eyewitness News that he expects that one day he may step into his father, Joel's shoes. However, for now, Jonathan is taking it one day at a time.
Joel Osteen's Son Is Also A Songwriter And Music Producer
The son of one of the most celebrated pastors in the country, Jonathan Osteen is the lead vocalist of the band Lakewood Young Adult Ministry (LYA). Since his childhood days, he has had a keen interest in music. With a passion for music, Jonathan joined the church's worship team, singing and playing guitar. Currently, he is famous among the public as a music producer, singer, and songwriter.
In 2016, he and his small sister, Alexandra, assisted lead worship in front of over forty-five thousand people at America's Night of Hope in San Francisco. Since then, Jonathan regularly participates in the Night of Hope Events at stadiums and arenas across the United States.
Jonathan and the Lakewood Young Adults Ministry's first album is Live in the Wonderful, released in 2016. Joel Osteen's son, Jonathan, wrote it's title song and In the Name of Love, Etched, and Become. Other singles released by Jonathan's band, LYA, are Feelin, Rush, Victory, and many more.
Jonathan Osteen's Love Life
Every fan and follower of Jonathan Osteen might be curious to know about his love life. Well, the emerging singer and songwriter Jonathan Osteen is single at the moment. So far, the handsome hunk has not been seen being in an intimate relationship with anyone to date.
While answering the questions asked by ABC13 Houston, Jonathan answered that he does not have a girlfriend. He added that he is definitely looking to have one and is currently single, enjoying his time, but he is ready for it when that comes.
Some Extra Facts On Joel Osteen's Son
He likes to listen to classical 80s music.
His favorite songwriter is John Mayer.
Jonathan enjoys spending his spare time with his family and his dogs.
Jonathan is an Instagram star with over 100k followers as of December 2020.
Name Meaning: Jonathan Osteen
The Hebrew origin male name Jonathan means God has given.
Explore more on eCelebrityBabies and get updates on Celebrity Babies, Celebrity Parents, Celebrity Siblings, and More.