Ziggy Marley is a Jamaican musician and philanthropist. Apart from his extraordinary music career, he is also the son of legendary musician Bob Marley and his wife, Rita Marley. Following his father's footsteps into the reggae genre, Ziggy has also been a phenomenal musician winning multiple Grammys.
While Ziggy being a wonderful musician, is already given, he is also a great father. He is the father of seven amazing children, who are growing into incredible people. Among his seven children with three different women, we are going to focus on Ziggy Marley's daughter Justice Marley. We are going to cover some interesting facts about her, so don't forget to stick to the end of this article.
Eldest Daughter Of Ziggy Marley
Born in 1991, Justice is Ziggy Marley's eldest daughter and his second child with his relationship with Lorraine Bogle. Although Justice's parents separated at a pretty early stage of her life, she got all the necessary nourishment from both her parents. Justice is also pretty close to her big brother Bambaata Marley, who is also a singer-songwriter.
Apart from Justice's elder brother, she is also pretty close to her five half-siblings: Zuri Marley, Judah Marley, Gideon Marley, Abraham Marley, and Isaiah Marley. The family can be seen in a lot of get-togethers having some quality time, although having different mothers.
Ziggy Marley's Daughter Justice Is An Entrepreneur
Unlike her elder brother Bambaata who followed their dad's and grandad's passion for music, Justice took a different approach with her career. She owns a merchandise brand called 'More Justice, ' which is doing fairly well. The brand features numerous clothing products ranging from hoodies to caps that are available for purchase through her website.
View this post on Instagram

While Justice continues to grow as a successful entrepreneur, she is deemed to have success with all the support she has gotten from all her friends and family. Her clothing brand is growing day by day and will reach new heights very soon.
Justice Designs Her Own Merchandise
Ziggy Marley's daughter Justice designs her merch on her own. While most business owners hire designers to design clothes for them, Justice has taken the role to herself. The 29-year-old went to The Fashion Institute Of Design and Merchandising, where she learned and fell in love with multiple things. Some of which include graphic designing, sewing, and even the business side of things.
Moreover, she is the wardrobe stylist for Bambaata Marley. She also worked as a stylist for a vagabond film starring Donald Glover and junior stylist for Winnie and Kat Spring/Summer 2015 LookBook.
READ MORE: Alastair Stewart, Father Of Four Children, Meet All Of Them
Justice Spends A Lot Of Time With Her Siblings
While spending quality time with siblings is not something unheard of, Justice spends a lot of time with her siblings, especially her brother Bambaata, sister Zuri, and cousin Jo Mersa Marley. The four can be seen together on multiple occasions and even work together on some projects.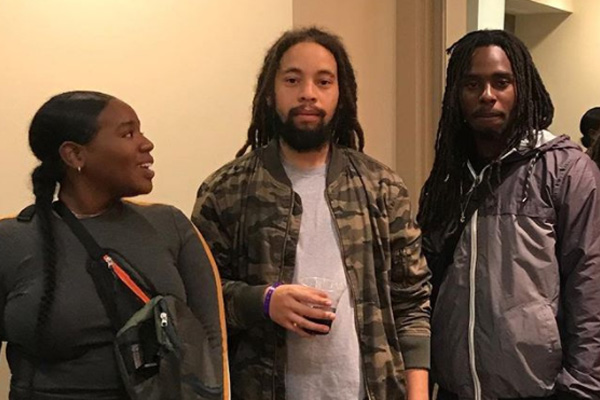 The Marley family shares a close bond with each other. Justice has no scarcity of love with so many siblings, cousins, uncles, and aunts. The precious connection between these beautiful souls should last for eternity due to the amount of understanding they have for each other.
Name Meaning: Justice Marley
Justice is a unisex name of English origin. The literal meaning of the word Justice is 'Doing Right By The Law.'
Explore more on eCelebrityBabies and get updates on Celebrity Babies, Celebrity Parents, Celebrity Siblings, and More.