The New Zealand-born actress Lucy Lawless is famous for portraying the title role in the hit TV show Xena: Warrior Princess. The show aired on TV from 1995 to 2001. Lawless's first appearance on the screen was in 1994 from the guest's appearance on the blockbuster show Hercules: The Legendary Journeys as a female warrior, Xena. Lucy Lawless's latest project is the TV Series My Life Is Murder, in which she performed the role of a brassy ex-cop.
Talking about the personal life of the talented actress, Lucy Lawless, she is a married woman and a mother of three kids. Today, in this article, learn some facts about one of Lucy Lawless's son, Julius Robert Bay Tapert, with her husband Robert Bay Tapert.
First-born Of Lucy Lawless With Robert Tapert
Lucy Lawless and her husband Robert Tapert welcomed their son, Julius Robert Bay Tapert, on 16 October 1999 at 7:01 PM. Lucy Lawless delivered her baby boy at her home in Auckland, New Zealand. The first-born of Lucy and Robert together, Julius, weighed eight pounds thirteen ounces at the time of his birth.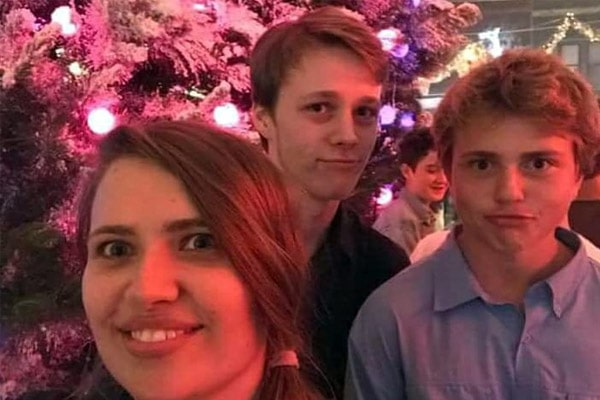 Lucy Lawless's husband, Robert Tapert, had proudly announced every detail of their oldest son's birth, Julius, on Lucy's official site. According to Tapert, his wife had made up her mind to deliver her baby at home in a tank of water, and she did what she said. Lucy had a normal delivery at home, and Robert witnessed every single moment of their son's birth.
After Julius's birth, his over-whelmed father walked the newly born Julius around the house and showed him Kitchen and the living room. It was Robert's way of welcoming his son, Julius, home.
Has A Half-Sister From Lucy Lawless's Ex-Husband
Julius Robert Bay Tapert is the first child of Lucy Lawless and Robert Tapert together. His mother, Lucy, has one daughter named Daisy Lawless from her first marriage with Garth Lawless. Julius's mom, Lucy, gave birth to his elder half-sister, Daisy Lawless, on 15 July 1988.
The eleven-years older half-sister of Julius, Daisy, stayed with Lucy Lawless after her parent's separation. Robert helped Lucy to raise her. Julius grew up with Daisy playing with him and getting the love and care of an elder sister. So, undoubtedly Julius has a great bonding with Lucy Lawless's daughter, Daisy Lawless.
Besides, Lucy Lawless's son, Julius, also has a biological younger brother named Judah Miro Tapert, born on 7 May 2002. He joined the Tapert family weighing eight pounds and five ounces.
There are very few photos of Julius Robert Bay Tapert and his siblings together available on the social media pages. However, those photos are enough to prove that the Tapert siblings have a great connection and love for each other.
Prefers A Life Away From Limelight
Like many other celebrity babies, Lucy Lawless's son, Julius Robert Bay Tapert, also seems to prefer to live his life low-key. In fact, his famous parents, Lucy Lawless and Robert Tapert, also do not talk or show much about their child in public.
Julius does not seem to be active on any social media pages like Facebook, Instagram, and Twitter. There are a couple of Facebook accounts that match the details of Julius Robert Bay Tapert. However, due to the lack of exact proof and availability of fewer posts, we cannot be sure if it is really Lucy Lawless's son, Julius Tapert.
Nevertheless, Julius Robert Bay Tapert might be living a bling life away from the limelight. He might be enjoying a peaceful life far from the unnecessary media dramas and flourishing his career in his chosen field.
Name Meaning: Julius Robert Bay Tapert
The masculine name Julius is of Latin Origin, which means Youthful or Downy.
Explore more on eCelebrityBabies and get updates on Celebrity Babies, Celebrity Parents, Celebrity Siblings, and More.