Lucy Lawless is one of the notorious on-screen personalities of the New Zealand Entertainment Industry. Lawless is mainly famous for her work in the hit TV Series such as Xena: Warrior Princess, Parks and Recreation, and Ash vs. Evil Dead. Similarly, Lucy is also a singer, philanthropist, and a former Greenpeace activist.
The former beauty Pageant winner, Lucy Lawless, married the executive producer of Xena, Rob Tapert, in 1998. The happily married couple has two talented sons. Here, in this article, know some unrevealed facts on one of Lucy Lawless's sons with her husband, Rob Tapert, Judah Miro Tapert.
Born To Lucy Lawless And Her Current Husband, Robert Tapert
The celebrity couple, Lucy Lawless and Robert Tapert, aka Rob Tapert, welcomed their son, Judah Miro Tapert, on 7 May 2002, Tuesday, at her Auckland home. Judah joined the Tapert family healthy, weighing 8 lbs. 5 ounces. He is the third child of Lucy, whereas second to Rob Tapert.
Lucy Lawless is very strict concerning the privacy of her children. Like many other famous peoples, Lucy also wants her son to enjoy his childhood like a normal kid and gain fame independently. So, not much is known about the childhood of Judah. However, being the son of a celeb, he must be enjoying a blissful life far from the limelight.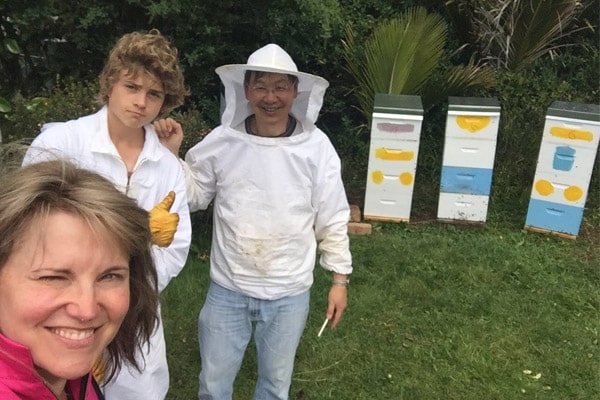 Judah Tapert's parents, Lucy and Rob, tied their marital knot on 28 March 1998 after dating for some period. They had met on the set of Xena: Warrior Princess, where the two developed a romantic bonding leading to their marriage and parenthood.
Judah Miro Tapert's Siblings
Lucy Lawless' son, Judah Miro Tapert, is the youngest child of Lucy and Rob Tapert together. Besides Judah, Lucy and Rob are proud parents to a son, Julius Robert Bay Tapert, three years older than Judah. Lucy gave birth to Judah's big brother, Julius Robert, on 16 October 1999.
Furthermore, Judah is also the younger half-brother of Daisy Lawless, Lucy's daughter from her previous marriage to Garth Lawless. Lucy Lawless welcomed Judah's half-sister, Daisy, on 15 July 1988. Currently, she is flourishing her career in the New Zealand film industry like her famous mom.
Lucy rarely brings Judah and his siblings to the media paparazzi. Seeing the rare pictures of Judah with his mom and siblings on the public, we can speculate that they might be sharing a great bond and enjoying each other's company.
Life Away From Limelight
Like his elder sister, Daisy, Judah Tapert also seems to prefer a life away from the limelight. Hence, he rarely appears on the red carpet and other public events with his famous mom and dad. 
Moreover, the eighteen years old son of Lucy and Rob, Judah, does not have social media accounts registered on his name. Also, his parents never share photos of him on their respective social networking handles. We hope Judah will soon show up on the public platforms so that his well-wishers can know about him a little bit better.
Name Meaning: Judah Miro Tapert
The masculine given name Judah is of Hebrew origin. It's meaning is praised. Similarly, the middle name Miro means peace, world.
Explore more on eCelebrityBabies and get updates on Celebrity Babies, Celebrity Parents, Celebrity Siblings, and More.