The well-known sports personality Byron Scott is a three-time NBA Championship winner. After the end of his playing career in 1998, Scott began his career in coaching from Sacramento Kings as an assistant coach. After that, he worked as the lead coach for numerous prestigious teams like New Jersey Nets and Cleveland Cavaliers. Scott last coached the Los Angeles Lakers of the NBA and retired in 2016.
The 2008 NBA Coach of the Year, Byron Scott, married for the second time to a registered nurse, Cece Gutierrez, on 11 July 2020. Before tieing the knot with Gutierrez, Scott was married to Anita Scott from 1985 to 2014, with whom he has three children. Here, in this article, get to know some interesting facts about Byron Scott's daughter, LonDen Scott.
Eldest Daughter Of Byron Scott With Anita Scott
LonDen Scott is the only daughter of Byron Scott with his ex-wife Anita Scott. The former husband-wife duo, Byron and Anita, welcomed their daughter, LonDen Brenae Scott, in 1987. Besides LonDen, the ex-couple has two more kids: Thomas Scott, 37, and Daron Scott,29, who share a strong brother-sister relationship with LonDen.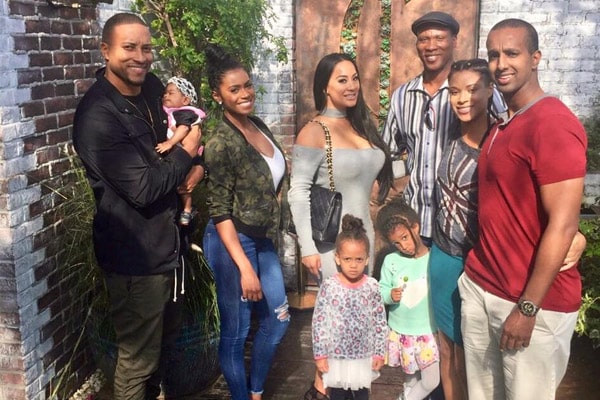 Byron Scott's daughter, LonDen Scott spent her childhood in the bright limelight. She used to attend various games with her celebrity father and is familiar with many famous sports personalities. Growing up, LonDen attended Livington High School from where she graduated in 2004. After completing high school, she joined the Aveda Institute Los Angeles and graduated with a first-class honors degree in Esthiology in 2018.
Furthermore, talking about the hobbies of Byron Scott's daughter, LonDen, she seems to have a keen interest in horse riding since her early childhood. Currently, she is a trainer at Ride With Me Academy in Los Angeles, California.
A Part-Time Model
Byron Scott's daughter, LonDen Scott, is a part-time model. The five feet seven inches tall, brown-eyed LonDen also has experience in acting. She has taken training in organic preparation, on-camera, scene study, and cold reading from the Chad McCord Actors Studio in 2010.
ALSO READ: Facts About Jeff Van Gundy's Daughter With Kim Van Gundy
With modeling as a part-time job, LonDen is also a senior stylist in L.B.S. Beauty, which mainly focuses on Lash, brows, and skincare. As mentioned earlier, LonDen Scott is an Esthiology honors graduate of Aveda Institute Los Angeles. So with the knowledge, she gained at Aveda Institute, she is currently establishing herself as one of the preferred Estheticians of Los Angeles.
Can't Stand Her Step-mother, Cece Gutierrez
Some of the family members of Byron Scott, including his daughter, LonDen Scott, did not attend his marriage ceremony with his current wife, Cece Gutierrez. The main reason was LonDen does not have a good relationship with Byron Scott's wife, Cece. LonDen, her siblings, and their partners have not accepted Gutierrez as a member of their family yet.
Byron Scott's daughter, LonDen, and her siblings take their step-mother, Cece Gutierrez, as the main reason for their parents' divorce. LonDen does not feel like her step-mom Cece is supportive and empathetic enough. Moreover, her sisters-in-law, Kristen Scott, feels like Cece is not encouraging Byron enough to visit her daughter.
So, Byron Scott's daughter, LonDen, cannot stand her father's second wife, Cece. The family feud still continues in various places whenever the two meet. We hope Byron Scott will keep an end to his family problem soon.
Mother To Two Daughters
Byron Scott's daughter, LonDen Scott, tied her marital knot with Los Angeles County Sheriff's Department employee, Joshua Aklilu. But, it seems like they could not keep the flame of their marriage burning for long as the Facebook page of LonDen says that she is divorced. Although LonDen and Joshua are no more together, they are co-parenting their two daughters together, Kyla Aklilu and Laila Aklilu.
View this post on Instagram

Both of LonDen Scott's daughters with Joshua Aklilu, Kyla, and Laila, are also passionate about horse-riding like their momma. They often go horse-riding with their mom, LonDen, and even take horseman lessons at Ride With Me Academy. Moreover, Londen's little girls, Kyla and Laila, have interests in modeling and acting too. Her eldest Kyla aims to be a model in her upcoming future, while her youngest, Laila, wants to be in the acting field.
At the moment, Byron Scott's daughter, LonDen, lives a happy and blissful life in Los Angeles, California, with her two daughters. You can stay connected with her through her Instagram, Facebook, and Twitter.
Explore more on eCelebrityBabies and get updates on Celebrity Babies, Celebrity Parents, Celebrity Siblings, and More.