John Beilein is an American professional basketball coach who recently served as the head coach of the Cleveland Cavaliers in the NBA. His overall career wins counting the time spent in Cleveland is 843 games. John was an NCAA Division I coach most of his life. He spent more than a decade at Michigan Wolverines winning two NCAA regional- Final Four Championships and two Big Ten Tournament Championships.
John's extraordinary career will surely be remembered in the history books but apart from his splendid career, his personal life is often disregarded. John is married to his wife Kathleen Beilein for more than four decades. The couple has four children together and one of them is Andy Beilein. So, without further delay let's get straight to the article and know some surprising facts about John Beilein's son Andy.
John Beilein's Son Andrew Works As Senior Director of Government Relations
Born in 1990, Andrew Beilein is the youngest child of John with his wife Beilein. Unlike his father who devoted his life to basketball, Andrew chose a different path. The thirty-year-old is currently working as the Senior Director of Government Relations at Business Roundtable. He is primarily responsible for the Roundtable's outreach to Capitol Hill and the Administration. He also manages advocacy campaigns and coalition building for the association of CEOs of leading U.S. companies.
Beilein has led successful efforts on several significant issues. The most notable being: reauthorization of the Trade Promotion Authority and passage of the Tax Cuts and Jobs Act as well as the United States-Mexico-Canada Agreement.
Beilein worked in the Federal Trade Commission's Bureau of Competition before joining Business Roundtable in 2014. He received his B.A. in Public Policy from the Gerald R. Ford School of Public Policy at the University of Michigan and currently lives in Washington, D.C.
Andrew's Brother Is Also A Basketball Coach
As we mentioned above, Andrew is the youngest of the four siblings. And among the four only one followed their father's footsteps into basketball. John Beilein's son Patrick Beilein attended West Virginia University, where he played on the school's basketball team when his dad was the coach. He later continued his passion for the game and is recently served as the head coach of NCAA Division I team Le Moyne College.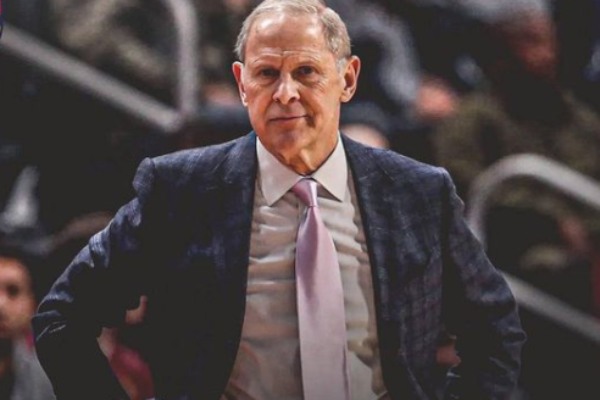 All of Andrew's siblings have grown up and have a life of their own. His sister Seana Hendricks is married and has three children while his other brother Mark Beilein is a marketing director for a non-profit organization. The family spends quality time together whenever they get to spend time together.
ALSO READ: Brian Sloan, Facts About Jerry Sloan's Son With Bobbye Sloan
Andy Had An Amazing Wedding
Andrew Beilein married his wife Morgan Gerich on a lovely summer day in Detroit, Michigan. The ceremony happened at Townsend Hotel in Birmingham as the couples and their bridal party donned their wedding attire. It had a 'Black Tie Affair' feel and the guys all wore handsome tuxedos while Morgan's attire was exquisite.
The couple had invited friends and family to the wedding and the ceremony was carried by their family priest from Washington DC. Overall, the wedding was visually breathtaking.
Andy Enjoys A Private Life
Andy is the son of one of the greatest coaches in the NCAA Division I but he has remained out of the spotlight for most of his life. He has an Instagram account but it is private for his friends and family only.
Andy seems to enjoy keeping things to himself and does not have the media attention to affect his lifestyle. Andy's Twitter account is also mostly full of retweets and reposts from others. Until and unless Andy himself decides to reveal much about his personal life, we can not say anything for certain. Let's hope that day comes soon.
Name Meaning: Andrew Beilein
The name Andrew is derived from the Greek 'Ἀνδρέας, Andreas.' It's meaning is 'manly.'
Explore more on eCelebrityBabies and get updates on Celebrity Babies, Celebrity Parents, Celebrity Siblings, and More.