Seana Hendricks is the daughter of an American basketball coach John Beilein with his long-time wife, Kathleen Beilein. Her father, John Beilein, recently served as the head coach for the Cleveland Cavaliers of the National Basketball Association (NBA). Before signing with the Cavaliers, John Beilein coached several prestigious basketball teams, including West Virginia Mountaineers, Michigan Wolverines, and the Canisius Golden Griffins in the NCAA Division I. Moreover, he is the only collegiate coach to achieve 20 win seasons at four different levels.
Here are some fascinating facts about John Beilein's daughter, Seana Beilein Hendricks, which you might be curious to know.
Eldest Child Of John Beilein With Kathleen Beilein
Seana Beilein Hendricks was born to John Beilein and Kathleen Griffin Beilein in 1979. She is the only and the eldest daughter of the famous sports personality, John Beilein, who joined the family when her father was signed to Eric CC as a head coach. John Beilein's daughter, Seana, grew up in Syracuse while her father toiled as a Division II coach for eight years at Le Moyne.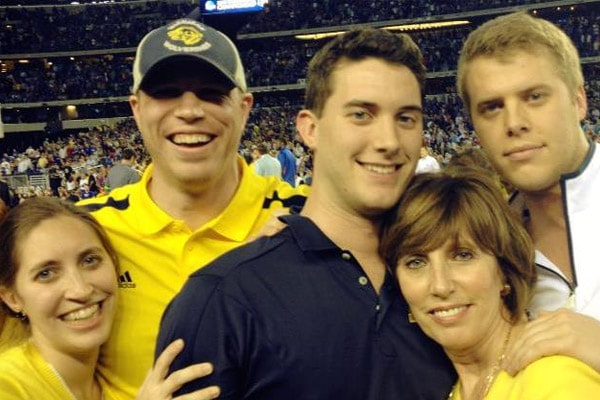 Later, Seana Hendricks relocated to Buffalo for her senior year of high school and stayed with an extended family. With frequent visits and phone calls, her dad, John Beilein, often wrote her letters to tell her how proud he was. After completing high school, Seana joined the University of Richmond, where she graduated in education and communication.
Furthermore, Seana Beilein Hendricks is the eldest sister of John Beilein's three sons, Patrick Beilein, Mark Beilein, and Andrew 'Andy' Beilein. Seana's brother, Patrick, is currently a head coach at Le Moyne College. Similarly, her other brother, Mark, works as a Risk Management Strategist at the Oswald Companies, Greater Detroit Area. Seana's youngest brother, Andy, is a Senior Director of Government Relations.
Married And A Mother Of Three
John Beilein's daughter, Seana Hendricks, is married to a Senior Principal Therapy Consultant-Structural Heart at Medtronic, Ryan Hendricks. The couple tied their marital knot in front of their close friends and family members on 1 July 2006. Seana and Ryan are enjoying their happily married life since then. The beautiful husband-wife duo, Seana and Ryan, often share their photos together on their respective social media pages.

The over a decade of togetherness of Seana and Ryan Hendricks has blessed them with three gorgeous kids, a daughter, and two sons. Seana Hendricks' daughter, Finley Hendricks, joined the Hendricks family on 24 February 2013, making Seana a proud mother for the first time. Likewise, her second son, Johnny Hendricks, arrived on 4 November 2012. Finally, Seana Hendricks's youngest son, with husband Ryan Hendricks, Charlie Hendricks, made the family complete in April 2015.
Currently, Seana Hendricks lives a happy and blissful life with her husband and three children in Ann Arbor, Michigan. Her parents, John Beilein and Kathleen Beilein, also reside in the same city so that they can spend quality time with their grandkids.
A Stay-At-Home Mom
John Beilein's daughter, Seana Beilein Hendricks, is a stay-at-home mom at the moment. She raises her three young kids and manages the households staying at home while her spouse, Ryan Hendricks, goes for work.
ALSO READ: Joseph McHale, Facts About Kevin McHale's Son With Lynn McHale
According to Seana Hendricks' Facebook, she used to work at Henrico County Public School and the University of Michigan in the past. However, her role in the school and the university is not available to the public. Probably, she was a teacher as she is a graduate of Education from the University of Richmond. For now, she has left her job to bring up her kids.
Name Meaning: Seana Beilein Hendricks
The girl name Seana is of Irish and Gaelic origin. Its meaning is a gift from God.
Explore more on eCelebrityBabies and get updates on Celebrity Babies, Celebrity Parents, Celebrity Siblings, and More.