Longtime head coach of the Utah Jazz, Jerry Sloan, died at the age of 78 on 22 May 2020. Sloan was diagnosed with Parkinson's disease and Lewy body dementia in 2016, which became the main reason for his death. Besides being the head coach of the Jazz for twenty-three years, he had served for Chicago Bulls as well. Moreover, before beginning the coaching career, Sloan, nicknamed 'the original Bull,' was a basketball player for Baltimore Bullets and Chicago Bulls in the NBA.
Late Jerry Sloan married two times in his lifetime. His first wife was his high-school girlfriend, Bobbye Sloan, who died in 2004 from pancreatic cancer. Then, Jerry married Tammy Jessop in 2006, who was with him till his death. Although the Jazz coach did not have any kids with Tammy, he has three children with his first wife, Bobbye. Here, in this article, get to know some facts about Jerry Sloan's son with Bobbye Sloan, Brian Sloan.
Only Son Of Jerry Sloan With Bobbye Sloan
Brian Sloan is the only son of the legendary NBA coach, Jerry Sloan, with his wife of forty-one years, Bobbye Sloan. The then-couple, Jerry and Bobbye, gave birth to their son, Brian, on 22 February 1965. He arrived in the Sloan family the same year when his father, Jerry Sloan, joined the Baltimore Bullets with the 1965 NBA draft's fourth pick.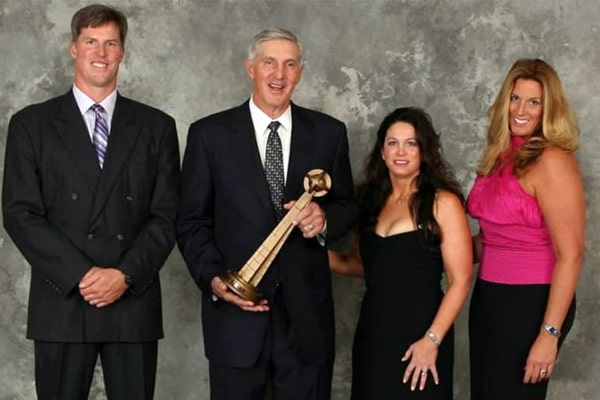 Jerry Sloan's son, Brian Sloan, has two sisters, Kathy Sloan Wood and Holly Sloan Parish. Brian has a powerful relationship with both his sisters. The brother-sister duo rarely shows up before the public together. However, there is no doubt that the Sloan siblings are sharing a great bonding behind the camera.
Moreover, focusing on the hobbies of the eldest Sloan, Brian enjoys hunting, reading, and adventure travels. He also loves coaching youth sports.
Played As A College Basketball Player For Four Years
Jerry Sloan's son, Brian Sloan, grew up around the NBA. He used to attend several games with his famous dad and got to learn lots of tips and tricks of basketball while growing up. Right after joining McLeansboro High school, Brian became a member of its men's basketball team as an all-state center. He helped his team to defeat Mt. Pulaski and finish the season with a 35-0 record. It earned him the name Illinois Mr. Basketball and McDonald's All-American in Illinois for 1984.
Furthermore, Jerry Sloan's son, Brian Sloan, chose Indiana University for his further education, where he played five seasons under Coach Bob Knight. He led his team, Hoosiers, to the NCAA Tournament four times during his tenure in the IU.
ALSO READ: Randy Auerbach, Facts About Red Auerbach's Daughter With Dorothy Auerbach
According to Indiana Hoosiers' head coach Bob Knight, Jerry Sloan's son, Brian Sloan, was IU basketball history's greatest screener he ever coached. Although six foot eight inches, Brian averaged just over two points per game, he gave himself up more entirely to win and do what he could to assist his team win. However, Brian Sloan did not continue basketball further as his career.
A Licenced Doctor
Although Jerry Sloan's son, Brian Sloan, was a great basketball player, he chose totally different field as his career. After a short walk of life on the basketball court, Brian returned to Bloomington and became a graduate from the IU School of Medicine in 1997. Likewise, he graduated from the IUEM residency program in 2000.
Jerry Sloan's kid, Brian Sloan, completed a fellowship in primary care sports medicine in South Bend, Indiana via St. Josephs Medical Center and the University of Notre Dame in 2001. Thereafter, he joined the faculty of Eskenazi Health Emergency Department in Indianapolis. Sloan served as an EM nocturnalist for fourteen years in the Eskenazi Emergency Department.
Furthermore, Dr. Brian Sloan's interests are in exertional heatstroke, musculoskeletal medicine, and sports medicine related topics. In 2016, he even invented a medical device and initiated MD2, which works to bring a novel medical device to the market for wound irrigation.
According to Brian Sloan's sister, Kathy Sloan Wood, he is still serving as the ER at Eskenazi Hospital. We keep Brian in our prayers as he is a hero fighting against the ongoing coronavirus pandemic keeping his life at risk.
Married With Three Children
The versatile son of late Jerry Sloan and Bobbye Sloan, Brian Sloan is a family man. Brian is in a happy marital relationship with his long-time wife, Leslie Sloan. The husband-wife duo, Brian and Leslie, has three kids together, a daughter Megan Jane Sloan and two sons, Grant Sloan and Ben Sloan.
Brian Sloan's children, Megan, Grant, and Ben, are making them proud of their different skills. His son, Grant, and daughter, Megan, are the athletes of Indiana University. Brian Sloan's little girl, Megan, transferred from Louisville to join the Indiana volleyball program. Similarly, Grant joined as a Hoosier baseball pitcher after a year at Virginia.
It really is a matter of pride for the Sloan family that the legacy of Jerry Sloan is continuing with each generation. Although every future offspring of Jerry Sloan chose a different game, they are making a name in sports individually.
Name Meaning: Brian Sloan
The male given name Brian is of Irish and Breton origin. Its meaning is possibly high or noble.
Explore more on eCelebrityBabies and get updates on Celebrity Babies, Celebrity Parents, Celebrity Siblings, and More.