Kathy Sloan Wood is the daughter of late Jerry Sloan with his first wife, Bobbye Sloan. As much as we know, almost every basketball fans recognize Jerry Sloan, the legendary sports personality. Sloan spent three decades of his life as a coach for the National Basketball Association (NBA), twenty-three years of which he used to serve the Utah Jazz as a head coach. Before starting a coaching career, he played in the NBA for eleven seasons from 1965 to 1976.
Nicknamed 'the Original Bull,' Jerry Sloan passed away at the age of 78 on 22 May 2020 in Salt Lake City, Utah. He is survived by his second wife, Tammy Jessop, and his three kids, Kathy Sloan Wood, Holly Sloan Parish, and Brian Sloan.
This article will be unfolding some untold facts about one of Jerry Sloan's daughters, Kathy Sloan Wood. So, please keep reading till the last to be familiar with them all.
Eldest Daughter Of Jerry Sloan With Bobbye Sloan
Kathy Sloan Wood is the first and eldest daughter of Hall of Fame coach Jerry Sloan with his first wife, Bobbye Sloan. Jerry and Bobbye Sloan gave birth and raised Kathy in suburban Chicago, Northbrook, Illinois.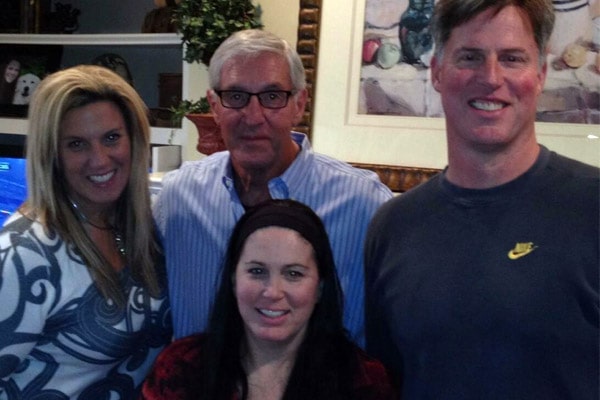 Jerry Sloan's daughter, Kathy Sloan Wood, is a 1982 graduate of Glenbrook North High School. Then, she attended DePaul University for some period and later got transferred to the University of Evansville. Kathy earned a Bachelor of Science in Public Relations and Broadcasting in 1987.
Kathy Sloan Wood is the elder sister of Jerry Sloan's other daughter with Bobbye Sloan, Holly Sloan Parish. Similarly, she has an older brother, Brian Sloan, who was a basketball player and is currently flourishing his career as a doctor.
A Former College Basketball Player And An Author
Being a daughter of a sports personality, sports runs in the bloodstream of Kathy Sloan Wood. She used to play basketball since her early childhood. Kathy even played college basketball in the past. She had got a full-ride basketball scholarship from DePaul University. Later, the former athlete Kathy Sloan ended her playing career from the Purple Aces of the University of Evansville.
Jerry Sloan's daughter, Kathy Sloan Wood, is also an author. Kathy grew up watching her dad hunt and dig for treasure at garage sales, flea markets, and someone's junk. So, she decided to help anyone with a desire to make some extra money by finding some great bargains and turning around and sell them for a lot of money via her book Bargains to Bucks. The step-by-step guide, written by Kathy Sloan Wood, was released in 2004.
An Award-Winning Realtor
As mentioned earlier, the active and versatile daughter of late Jerry Sloan, Kathy Sloan Wood, showed her interest in playing basketball and authoring an inspirational book. However, she pursued her career in the real estate business. At the moment, Kathy Sloan Wood is a realtor at Century 21 Scheetz in St. Zionsville, IN. Sloan is currently in her 7th year of real estate and a regular high achiever. Since she began her real estate career, she is earning Century 21 Scheetz Masters Award almost every year.
Hard work pays off!#century21 #zionsvillerealestate#listingleader#sellyourhome#zionsville #realestateindy pic.twitter.com/QRcDqzZdry

— @zvillehomesales (@zvillehomesales) October 6, 2020

Furthermore, Jerry Sloan's daughter, Kathy Sloan Wood is serving as a Vice President of Zionsville Women in Network (ZWIN) since 2013. Sloan is also one of the co-founders of ZWIN, the largest women's business networking group in Boone County, which has over 50+ members. Before this, Kathy even worked as a senior executive representative for GlaxoSmithKline Pharmaceuticals for thirteen years. She earned numerous sales awards during her tenure in GlaxoSmithKline.
Moreover, Kathy was a vice president of PR at Omaha Racers from 1988 to 1991. Also, she worked in the continental basketball association for some time before it got defunct.
Married With Three Children
The oldest daughter of Jerry Sloan took the wedding vows with Regional Business Director at UCB, Todd M. Wood, in 1996. Together the happily married couple has three boys, Adam Wood, Collin Wood, and Brendan Wood. All the three kids of Kathy Sloan Wood, Adam, Collin, and Brendan are also passionate about sports.
ALSO READ: Thomas Scott, Facts About Byron Scott's Son Who Is Already Married
Besides having a keen interest in sports, Kathy Sloan Wood's husband and sons love fishing. They are often seen sharing photos of fishing together on their respective social media pages. Moreover, the three boys of Kathy also enjoy spending time together and traveling to several holiday destinations during their vacation.
Interested In Volunteering Whenever Possible
Apart from being an award-winning realtor, Kathy Sloan Wood shows interest in volunteering as often as possible. Volunteering during her free time is a huge part of her life. She constantly looks for the next charity, organization, individual, or pet to provide her help.
Kathy even ran her family's foundation named The Bobbye and Jerry Sloan Hand-in-Hand Foundation as its vice-president for five years. Their family foundation used to help in several different categories, including athletics, health and wellness, Pet Care, Education, and many more. However, the Sloan family shut it down after the death of Bobbye Sloan in 2004 due to pancreatic cancer.
Name Meaning: Kathy Sloan Wood
The female name Kathy is of English origin, which means Pure.
Explore more on eCelebrityBabies and get updates on Celebrity Babies, Celebrity Parents, Celebrity Siblings, and More.